Residential Investment in Bahria Town Karachi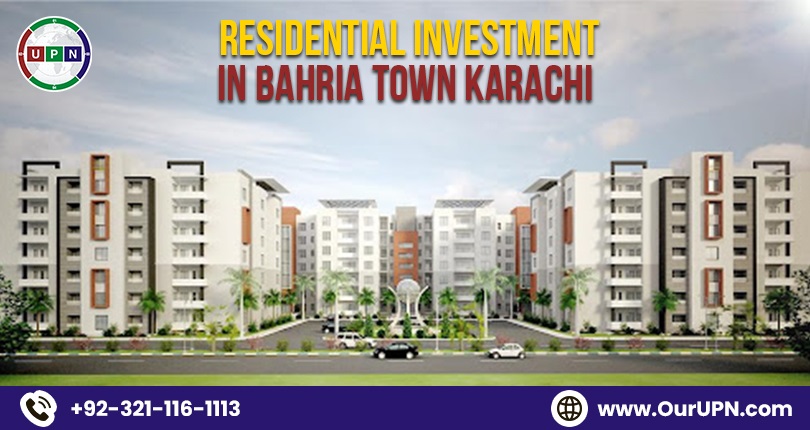 Are you planning for investment in Bahria Town Karachi? Do you desire to be a part of this luxurious and heart-winning community? That's why you are searching for the best residential options where you can confidently invest without thinking about the purpose of buying like residential or investment gains? So then, be ready to get the best deal in Bahria Town Karachi residential category.
Today, Universal Property Network is sharing with you the top 5 residential investment options in Bahria Town.
Investment in Bahria Town Karachi
These below-provided investments are safe, budget-friendly and highly profitable. So, without any delay, let us discuss the details together!
Descon Towers Karachi
It's an attractive high-rise buildings project located ideally. Previously it was a part of Bahria Heights, but now it is gaining popularity as Descon Towers. Comprising the grey structure buildings, it's a two bedrooms apartments project. Offering the luxury apartments of 1100 sq ft and 1150 sq ft, these living spaces are available in two categories, i.e., Outer Apartments and Inner Apartments.
More than 75% development work of Descon Tower is complete. But still, these are available with a convenient payment plan of 2.5 – 3 years.
Location Details
Descon Towers are located at the junction of Precinct 8 and Precinct 9. These towers are close to Precinct 12 and Grand Jamia Mosque. The distance of these buildings from the main gate of Bahria Town is only 6 to 7 kilometres. Moreover, Bahria Heights's two towers, Tower J and Tower K are adjacent. Other attractions in the proximity are Theme Park and Danzoo.
Buying in Descon Tower is suggesting on number 1 in the list because of there:
Reasonable Prices
Ideal Location
Availability on Easy Installments
High Investment Returns
Once the development work completes and possession is available, the prices of apartments in Descon Towers will surely increase to double.
ARY Residencia Villas
It's the second-best option for investment in Bahria Town Karachi. Offering the impressively planned 200 sq yards villas, these ARY Residencia Villas are ideal to prefer. Developing at the fastest pace of development, ARY Villas are a total of 300 – 350 in numbers. However, 94 of these villas are ready in grey structure. Even the model housework is complete and operational for visitors.
The latest prices of ARY Villas will cost you around 1.95 crores. Moreover, booking starts with a 10% down payment and remains in 3 years installments.
Location Details
ARY Residencia Villas are developing in Precinct 23 Bahria Town Karachi. This precinct is located in Old BTK. These villas are lying close to Rafi Cricket Stadium. Moreover, Precinct 27 and Precinct 31 Villas are also at a short distance.
Buying in ARY Villas is beneficial because:
Grey Structures are Ready, and Work is Progressing at Good Pace
Reasonable Prices and Easy Installments Option
Ideal Location and Easy Access
High Investment Potential
Investment in Bahria Town Karachi Plots
The third-best option for investment in Bahria Town is the non-developed plots of Old BTK, Bahria Sports City and Bahria Paradise Karachi. Yes, we suggest you buy in developing plots because these are available at the lowest rates. But before investment, please make sure these plots are available in the safe zone. The precincts of Bahria Town Karachi where you can invest in non-developed plots for future residence or investment gain purposes are:
Old BTK
Precinct 23, 24, 25, and 25A
Bahria Sports City
Precinct 33, 34, 37, 38 and 40.
Bahria Paradise
Precinct 41 and 54
Buying in these developing plots is good for:
Availability in Reasonable Prices
High Investment Returns in Future
Sports City Villas Karachi
It's another best investment in Bahria Town Karachi. Available in the sizes of 350 sq yards, Bahria Sports City Villas are perfect to consider. These are 4 bedrooms accommodation villas; you can buy for residence and rental gains. Also, it's a good option for investment gains, but living there will be a perfect choice.
Location Details
Bahria Sports City Villas is located in Precinct 35 Bahria Town Karachi. These beautiful villas are part of an impressively developed precinct. Sports City villas enjoy the proximity of Rafi Cricket Stadium. The distance of these villas from the main entrance of this mega society is around 14 KM. All the living facilities are available nearby.
Buying in Sports City 350 sq yards villas is good for:
Residence Purposes
High But Still Beneficial Rates
Rental Gains
Good Returns by the Next Few Years
Bahria Greens
If you are looking for a reasonable residential investment in Bahria Town Karachi, Bahria Greens can be a perfect option. This project is offering 75 sq yards plots for sale. These plots are also coming with a convenient payment plan. Moreover, have proximity to Rafi Cricket Stadium; these plots are available with the construction permission of ground + 2 floors.
Location Details
Bahria Greens Karachi is close to Rafi Cricket Stadium, one of Bahria Town's significant landmarks. It is located in proximity to Precinct 37. Moreover, its distance from Bahria Sports City is around 12 – 14 KM. The location of this project looks far from the main gate of this society, but soon new entrance will be operational in the proximity.
We suggest buying in Bahria Greens for:
Reasonable Rates of Plots
Permission of Ground + 2 Floors
Easy Payment Plan
High Return on Investment
Conclusion
That is all about the attractive and beneficial investment options in Bahria Town Karachi. We UPN recommend these projects because of safe and profitable returns. Starting from Descon Towers to Bahria Greens, these top 5 investment opportunities are equally attractive for investors and end-users. People with limited to medium size capitals, can buy their desire properties in Bahria Town Karachi for secure investment growths. Undoubtedly, this society is the best place for real estate investment in Karachi. Not only locals but people living abroad prefer buying in it because of numerous properties and reasonable prices. The luxuries and comforts in Bahria Town are hard to find at any other place. Contact us for further details and assistance!
Please contact Universal Property Network For More Information click here or visit our youtube channel further assistance