Bahria Town Karachi Villas Updates
by UPN
July 30, 2022
0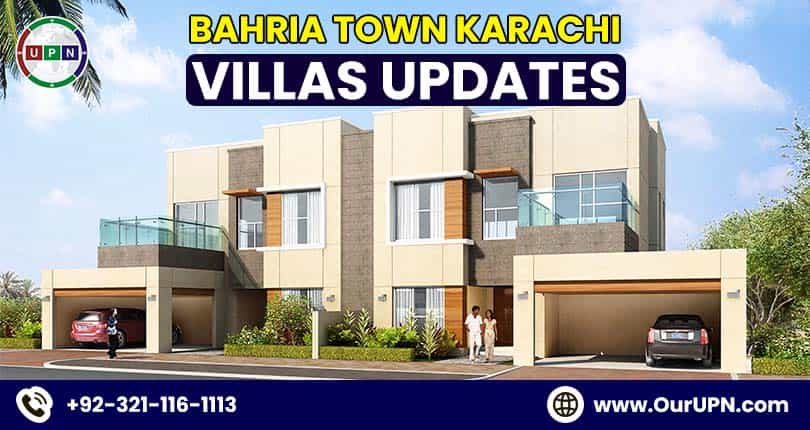 Bahria Town Karachi Villas has been the talk of the town since its inception. This mega housing project features several villa projects where both buyers and investors are investing their capital. This state-of-the-art housing venture has no comparison with others in providing opportunities for luxury living and profitable returns. If one is looking for the best prices villas in Bahria Town Karachi, here these are:
Bahria Town Karachi Villas
In this latest write-up, we will discuss the latest prices of villas available in Precinct 2, Precinct 10, Precinct 11, Precinct 27, Precinct 31, Bahria Sports City and Bahria Paradise. So, without any further delay, let's begin the discussion.
Precinct 2
It's a very beautiful precinct in Bahria Town Karachi, even among the first precincts of this society. Features 100% development, Precinct 2 is developers perfectly with the graceful Iqbal Villas and Quaid Villas. These are 152 sq yards, and 200 sq yards villas come with 3 bedrooms accommodation. All the living facilities are provided to their residents. Most importantly, these villas have an ideal location near the main entrance of Bahria Town.
Currently, the latest prices of Iqbal Villas are 1.85 crores to 1.95 crores. Similarly, you can buy the impressive Quaid Villas in the price bracket of 2.50 crores to 2.65 crores. There are some of the category villas that you can get by paying an extra amount. Only a few months ago, the same Quaid Villas was available in 2.70 crores. But, as the property market is down, it is benefiting the investors to buy Bahria Town Karachi villas at affordable rates.
Precinct 10A and Precinct 11A
Another beautiful villa project is developed in Precinct 10A and Precinct 11A. These precincts are impressive and feature the best 152 sq yards and 200 sq yards villas for sale. Having complete development, a good inhabitation ratio and many other attractions, this place is graceful for several reasons. Mostly, the prices of Precinct 10A and Precinct 11A villas are the same as their location is the same, and development status and nearby attractions are same. The marvellous Murree Point is also developed in proximity. The 3-bedroom accommodation villas of 200 sq yards in Precinct 10A and Precinct 11A are currently available in the price range of 2.05 crores to 2.15 crores.
On the other hand, 152 sq yards villas of Precinct 11A will cost you the price of 1.80 crores to 1.90 crores. Both these villas' sizes come with possession, and keys are available. Also, people can purchase these impressive Bahria Town Karachi villas for rent. The prices of these villas are increasing rapidly. But this market stability provides you with a chance of easy investment in Karachi's property.
Precinct 11B
Now we are heading to another iconic villas project developed in Precinct 11B. Located in the proximity of Precinct 10A and Precinct 11A, a short distance from Bahria Town's entrance, this precinct is developed with 152 sq yards of villas. Also, having 3 bedrooms accommodation, Bahria Town villas are the best in terms of prices, location, and amenities. You can confidently purchase these 152 sq yards similar to Iqbal Villas, ready houses in 1.70 crores to 1.80 crores. Keys for these villas are available.
Precinct 27 Villas
This completely developed precinct features villas of 235 sq yards for sale. Yes, Precinct 27 is a popular place to buy ready-to-move villas in Bahria Town Karachi. Having spacious living opportunities and all the latest amenities available to them, these villas are still available at the lowest rates. Buying in these is still equally beneficial for residence and investment growth.
Precinct 27 villas' latest prices are ranging between 2.05 crores to 2.15 crores. These are the prices for Jinnah Facing villas. On the other hand, you can get the same villas at the back at the price of 1.85 crores to 2 crores. All these villas come with keys, so buying is easy and suitable for everyone.
Precinct 31
Located at a short distance from the best Precinct 27 Villas, these Precinct 31 Villas are ideal to consider for investment and residence. Precinct 31 villas are also covering the space of 235 sq yards. The latest prices of these villas are also the same as the previous 235 sq yards villas. Bahria Town Karachi villas of Precinct 31 are now available at the price of 2 crores to 2.15 crores. You can confidently purchase them and move to have a peaceful and comfortable residence.
So, that's all are the latest updates of Villas in Bahria Town Karachi. Hopefully, this information will help you in taking the right investment decision in Karachi's property.
Please contact Universal Property Network For More Information or visit our Youtube channel for further assistance.