Bahria Town Karachi Hotel Apartments for Sale
by UPN
June 6, 2022
0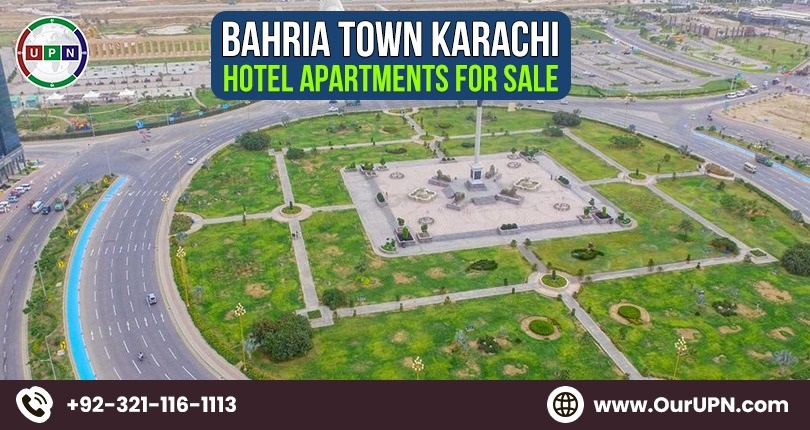 Bahria Town Karachi is full of options and opportunities. It's a masterpiece, a grand housing society with the best properties for everyone. It has unlimited options to choose from residential and commercial properties. However, Bahria Town Karachi hotel apartments are a recent addition to it/ It is one of the much-needed properties of the time. Have several attractive features; these apartments are also known as service apartments. These are the best to provide people with a chance of easy investment for good returns and regular rental gains.
Bahria Town Karachi Hotel Apartments
Recently, a new deal of hotel apartments in Bahria Town Karachi is launch at the best location. These luxurious and highly beneficial properties are design by the one and only Q-Links Developers. They are offering the exclusive quality, style and comforts in these services apartments. These are hotel service rooms with heart-winning planning. Moreover, the development work will be on the latest trends and modes. Your investment in these apartments will surely flourish and benefit you a lot. Important details are:
Hotel Apartments for Sale in Karachi
Almost 120 in number, this hotel apartment project is named as Q Hotel. It is presented under the supervision of Q-Links Developers. Furthermore, the location of these service rooms is outstanding. It is developing on the upper floors of Jasmine Mall Karachi, which is an iconic development. Also, these Bahria Town Karachi hotel apartments are available for sale on the 8th, 9th, and 10th floors of Jasmine Mall.
Q Hotel Apartments Prices and Payment Plan
These hotel service room apartments for sale in Bahria Town Karachi are also reasonable in the price. Its developers have exceptionally plan it on the latest trends, making it the right option for investment. The prices are low while booking starts from 17.8 lacs only. This amount varies from size to size and category to category. Overall, the booking amount for each hotel apartment is 30% of the total amount. Following are the prices and payment plan detail:
30% Booking Amount
48 Monthly Installments
30% on Possession
Please note: All these hotel apartments for sale in Bahria Town Karachi are available on 4 years easy payment plan. People can easily book this profitable property by paying in easy installments.
Hotel Apartments Location Bahria Town Karachi
The location of service apartments in Bahria Town Karachi is prime and beneficial. The best location is chosen for the development of this state-of-the-art project. This beautiful project is enjoying the graceful location of Precinct 1, a short distance from the main entrance of Bahria Town. Moreover, it lies in the front of Tauheed Square near Al-Falah Tower. You will find these hotel apartments on the 8th, 9th, and 10th floors of Jasmine Mall Karachi. Also, many well-known projects are lying nearby, making the surroundings highly attractive.
Now Invest in Hotel Apartments Karachi
Every investor desire to get the best property for sale in Karachi. That's why these hotel apartments are exceptional to consider. Following are some top reasons to choose this iconic project:
Affordable Rates and Reasonable Booking Amount
The prices for these Bahria Town Karachi hotel apartments are low and surprisingly affordable. Also, the booking starts from 17 lacs only.
Regular Rental Gains
These Q Hotel Apartments are exceptionally planned to provide people with the best property in Bahria Town. You can choose these apartments for reasonable rates, ideal location and unique features. However, you should buy on the top because of the regular rental income of 8%.
You can easily book your desired apartment with 100% up-front to earn good rental returns. For example: if you purchase an apartment that costs 80 lacs, you will get 40 thousand fixed rental income until the possession handover. The prices of these apartments will also be appreciated with time. So, you will be in profit from the day first of your investment.
Hotel Apartments Booking in Bahria Town Karachi
The booking of hotel apartments is already started. These are only 120 apartments, so investors will get benefits on a first-come-first-serve basis. We UPN assure you that your investment in this iconic project will be safe and have high returns. Contact us for further details, availability, booking process and price information!
Please contact Universal Property Network For More Information click here or visit our Youtube channel for further assistance.