All about Bahria Town Peshawar
by UPN
October 13, 2020
0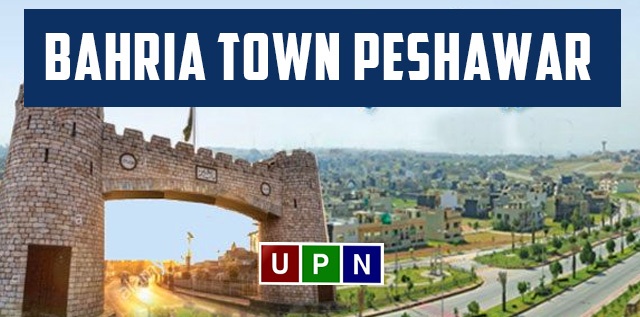 Bahria Town Private Limited after getting huge success in Bahria Town Islamabad, Lahore and Karachi is all set to expand the flagship of a residential project in the city of flowers, Peshawar. Also, the new housing projects are planned in Nawabshah, but Bahria Town Peshawar is the most awaited real estate development ever.
Undoubtedly, Bahria Town is a trendsetter and has revolutionized the living standards of people with its innovative and high-standard developments. Also, these modern projects and numerous opportunities ensure hefty profits for investors.
Recently, the CEO of Bahria Town Mr Malik Riaz has made a public announcement that Bahria Town Peshawar will be delivered in only three years of record time. Spanning over a land of over 1 lac Kanal, Bahria Town Peshawar will offer more than 2 lacs residential properties. These properties will have different sizes of plots and the best-constructed properties as well. Also, it was stated that the development work at the project site would progress day and night for its on-time completion.
Previously, Bahria Town Peshawar was set to launch in 2016, but it got delayed due to some legal issues. Unfortunately, everyone is still waiting for it.
However, it is clear that once this project is launch, it will change the fortune of Peshawar's real estate. Bahria Town Peshawar will not be the housing society only, but it will be the one-stop solution to all the property requirements.
So, by considering the importance and impact of this project on the real estate market of the country, we are here with the complete details of Bahria Town Peshawar along with the answers of most-commonly asked questions like location, properties, facilities and investment potential.
Let's get into the details one by one!
Bahria Town Peshawar – An Overview
From the last few years, Peshawar, the Capital City of KPK, has seen some of the significant developments in the construction and real estate sectors. We cannot forget the recent development of DHA Peshawar as well as anxiously waiting for the upcoming mega housing project "Bahria Town Peshawar".
Launching Date of Bahria Town Peshawar
In a tweet in November 2019, Mr Malik Riaz, the CEO of Bahria Town has announced the soon launch of Bahria Town Peshawar. The management of Bahria Town has not announced any official date of its launching. However, after this tweet, it was hinted that Bahria Town Peshawar would be launch in January 2020.
But this launch is once again delayed due to the global Covid-19 Pandemic and the lockdown. The new launching date of the society is not yet disclosed, but the management has confirmed that it will be a big surprise for everyone!
Location of Bahria Town Peshawar
Bahria Town Peshawar will be ideally located on Charsadda Road near to the Northern Bypass and M2-Expressway. This is not the officially disclosed location of the society, but there is some news that Bahria Town has acquired a large area of land there.
The location mentioned above is expected to be the project's location as the large area of land is available there, and the site is also easily accessible from multiple-routes.
Properties in Bahria Town Peshawar
Bahria Town Peshawar will offer the following properties:
5 Marla, 10 Marla, 1 Kanal and 2 Kanal Residential Plots
2 Marla, 4 Marla, 6 Marla, 8 Marla and 10 Marla Commercial Plots
125 sq yards and 250 sq yards Villas
1 Bedroom, 2 Bedroom and 3 Bedrooms Apartments
Booking Forms in Bahria Town Peshawar
The booking forms for the properties for sale in Bahria Town Peshawar will be soon available for the investors. It is expected that the different sizes of plots (commercial and residential) will be offered in the first bookings of Bahria Town Peshawar.
Currently, the registration of interested property firms is taking place from all across Pakistan. Moreover, Bahria Town has also hired staff for its head office in Peshawar.
Once the booking announced, these booking forms will be available in all the head offices of Bahria Town across the country.
Payment Plan for Properties in Bahria Town Peshawar
The payment plan for the plots in Bahria Town will release just after the official announcement. Not only the prices will be attractive, but the payment plan of 3 years is expected for all the plots launching soon.
Residential and commercial plots will be offered on 3 years installments. However, the payment plan for constructed properties such as villas and apartments will span over 4 years. Booking of the properties will start with 10% down payment while the remaining will be payable in equal installments.
Bahria Town Peshawar – Impressive Features and Attractions
Undoubtedly, the state of the art developments and thoughtful town planning by the Bahria Town makes Bahria Town Peshawar worth waiting. All the housing and commercials areas of Bahria Town Private Limited features modern and unmatched facilities. These amenities and attractions not only attract the local residents but also a reason behind the huge investments of Overseas Pakistanis.
So, working on the same path, Bahria Town will also offer such high-class facilities and luxuries to bring a positive change in the living style of people's living in Peshawar. Bahria Town Peshawar is perfectly planned with a smart combination of classic and modern infrastructure and architecture. Some of the top features of Bahria Town Peshawar are:
 Home Insurance Facility
Bahria Town is the only housing society that offers home insurance facilities for its residents. They provide full protection in case of any of theft or fire.  To offer such top-notch facilities to its residents, Bahria Town Pvt Ltd is partnered with the most reliable insurance companies of Pakistan.
Corporate Values
The management of Bahria Town believes in taking full responsibility for their residents and investors.  The main objective behind it is to obey the entire highest moral along with the ethical practices and the overall environment of the society.
Healthy Community
As described earlier, Bahria Town is not just a housing society with infrastructure and facilities, but it is something more than it. It's a place where you will find the best care and health facilities. To provide advance medical facilities, Bahria Town Peshawar has planned to organize medical camps regularly in all of its areas. Following treatments will be provided in the medical centres:
Free of Cost and  Medicines at low price
Vaccinations for Infectious Diseases
Awareness Campaigns and Programs
24/7 Ambulance Service
All these features make this project a highly attractive place to live peacefully, comfortably and happily. Moreover, some of the other facilities and attractions are:
State of the Art Infrastructure and Modern Developments
24 Hours Security and Patrols
Provision of Electricity, Clean Water and Gas
Standard Educational Institutes
Beautiful Parks, Landscapes, Green Areas and Lakes
Well-Planned Commercial Areas, Markets and Cinemas
Play Grounds and Jogging Areas
Sports Club, Health and Fitness Centers
Entertainment Facilities
Internal Transport System
Eco-friendly and Sustainable Environment
E-tag System
Maintenance and Support Departments
Investment in Bahria Town Peshawar
By looking at the success of Bahria Town's previous projects, we can conclude that investment in Bahria Town Peshawar will be safe and highly profitable. Not only are the local but overseas investors anxiously waiting for the society's launch and the booking phase to start. Everyone has high expectation and assumes that it will get a huge success. Investment in Bahria Town Peshawar can be profitable for its feasible location, top-class amenities, and low prices of property. Also, the ease of installment will play a significant role.
The society is planned to be developed on the high standards of developments followed in the housing societies of Dubai, Qatar and Kuwait. Modern methods of development along the use of the latest technology will be made for its development. Such high developments and standards guarantees that investors will earn a maximum return through investment in Bahria Town Peshawar.
Conclusion
This Peshawar's Bahria Town is a lifetime opportunity for both the buyers and investors. Once its launch, it will get guaranteed success, and features and facilities provided will be unparalleled. Here you will enjoy great living as well as the commercial properties are the best to run a successful business and generate rent. Overall, by investing in Bahria Town Peshawar, you can get maximum benefits.
So, get ready to invest in Bahria Town Peshawar as the society is going to be launch very soon. Looking for further property details, prices and investment analysis, do contact Universal Property Network any time!
Check out our site for more detail. Latest News