Facilities and Attractions in Bahria Town Housing Societies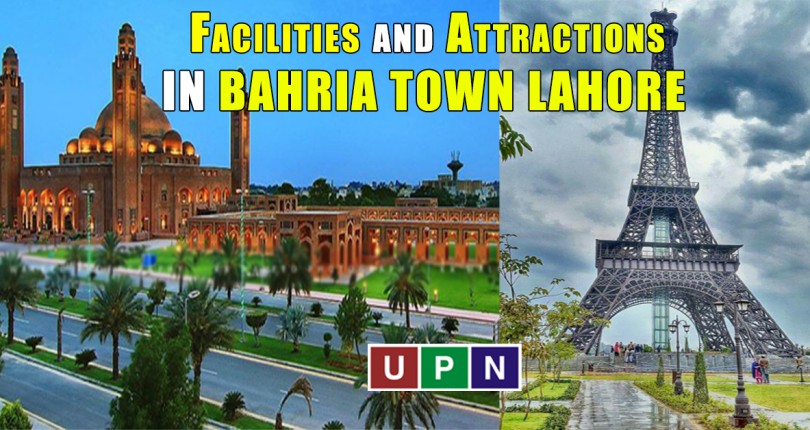 Bahria Town Housing Societies are the country's top housing ventures developed under the supervision of Malik Riaz, the top property tycoon of Asia. Bahria Town Private Limited has thoughtfully planned all the housing societies; indeed, attention is given in every project's detail. The higher level of facilities and attractions are available in Bahria Town Housing Societies that are impossible to find in other housing ventures. Bahria Town projects offer the best living spaces having the most luxurious facilities. These are the places where you will find the true meaning of luxury, class, and quality.
Comfortable residential opportunities to profitable investment options, Bahria Town Housing Societies are ideal to choose. The reason behind the great success of Bahria Town projects is high-quality living standards offered in them.
Bahira Town projects are perfectly developed by keeping the demands and desires of modern investors. Indeed, it would be right to say that Bahria Town is the only place where you will be facilitated in every walk of life.  Let's find out that which are the facilities and attractions that differs it from others!
Lifestyle Full of Luxuries
If you are looking to know the true meaning of luxurious living in Pakistan, consider residing in Bahria Town housing societies. These housing projects are smartly designed to provide you with maximum luxuries. Bahria Town can be your dream destination to enjoy all the leisure of modern lifestyle. Bahria Town top facilities include International Standard Theme Park, Standard Fitness Center, PGA 18 Hole Golf Course, Five Star Hotels, and much more than your imaginations.
Secure, Healthy and Peaceful Environment
It would be right to say that Bahria Town housing societies are the only projects where you will be free all security tensions. Bahria Town Private Limited have their own patrolling police. The security management of these societies has well-equipped with the latest security cameras and has automatic gates and trained guards' services. This latest technology and the professional security teams ensure the 100% safety of Bahria Town residents.
Uninterrupted Supply of Electricity
Pakistan is facing huge electricity problems. But there are no such issues in Bahria Town housing societies. Bahria Town is providing a complete solution to all the electricity problems by generating self – energy.  The uninterrupted electricity supply is indeed a great facility in Bahria Town as there is no disturbance due to energy shortfall.
Appealing Architecture and Modern Developments
Bahria Town housing societies develop with the state of the infrastructure. These projects have simply heart-winning structure and modern developments. Starting from the wide network of roads, spacious lanes, beautiful blocks, lush green parks, these societies are developed with eye-catching statues, monuments, art sculptures and also building architectures.
Also, each Bahria Town project features unique designing, which makes them most attractive than the previous one.
Heart-Winning Entertainment Facilities
Bahria Town Housing Societies are fabulous to add life into your living style. These are the housing ventures where you will be provided with the best and joyful entertainment facilities. You will find the top cinemas, parks, gardens, food courts, shopping malls and many other entertainment spots. You will also find the best places like the replica of Eiffel Tower, the Statue of Liberty, and many other iconic structures.
Top Healthcare Facilities
Along offering many other best facilities, Bahria Town housing societies features the top healthcare facilities in them. These projects have standard hospitals and clinics. Also, have specialized doctors, and the facilities to the immediate treatments are also available.
Best Community Centers
These Bahria Town Housing Societies features separated community clubs with all lavatories to entertain guests, arrangements for business dealing with clients. So, by becoming a member of Bahria Town clubs, you will be able to enjoy these facilities:
5-Star Hotel, Luxury Room, Banquet Halls as well as Signature and Private Lounge
There will also be luxury swimming pools, Ecstatic Bar Areas, fine dining, indoor sports such as a snooker club, squash, and much more.
Commercial Zones with Lots of Opportunities
Bahria Town Housing Societies are not only best for residence but also have the best commercial zones. Bahria Town commercial zones come lots of trade as well as business and investment opportunities.
Educational Facilities in Bahria Town
There is no comparison of educational facilities that are available in Bahria Town Housing Societies. Bahria Town ensures in all the educational institutes of Bahria Town. You will find the best schools, colleges, and universities in Bahria town housing societies all across the country.
While summing up all the details, we can say that these projects are best in every term. Bahria Town societies are safe, secure, and the most luxurious as well as have the most entertaining facilities. So, invest in the best properties for sale in Bahria Town to enjoy all these top-notch facilities and modern living attractions!
So, Contact Universal Property Network  for investment in all Bahria Town Housing Societies! We are the authorized dealers of Bahria Town Private Limited.