250 Sq. Yards Residential Plots in Precinct 16 Bahria Town Karachi – Latest Details
by UPN
February 12, 2019
0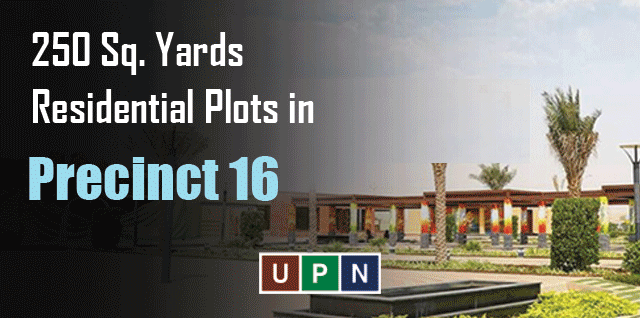 Bahria Town Karachi is such an amazing housing project of the country that wins the heart of National as well as overseas clients for the luxurious lifestyle provided in it. Comprised of many precincts but Precinct 16 is a wonderful example of outclassing architecture and management of Bahria Pvt. Ltd. This is another attractive precinct of Bahria Town Karachi that is beautifully surrounded by so many attractions. The amazing features and facilities of this precinct have made it a top choice for residence as well as for successful investment.
Precinct 16 is on the top of the hot-favorite precinct's list as the development of this precinct is 100% completed. All the plots are on the ground and all comprised of 250 sq. yards plots in it. Located on the prime location but still, the prices of the available plots are reasonable is simply a value-added point in this precinct.
By making a comparison of prices of 250 sq. yards plots available in Precinct 16 with the same category of residential plots available in its nearby precincts, it will be clear that the prices are attractive enough to invest. Further details are provided below.
Location Overview and Amazing Attractions
In term of location, Precinct 16 holds a high value for its amazing location and having so many attractions that beautifully surrounded it. It is located at the Main Jinnah Avenue and positioned in Front of Grand Jamia Mosque. Another attraction that makes its supreme place is that  Theme Park is located attached to it.
Bahria Paradise is located at the back of Precinct 16. 350 sq. yards luxury villas of Bahria Paradise will be soon become ready to move and as soon as it's become populated, this inhabitation will increase the value of this precinct. The commercial area near the Grand Jamia Mosque is located close to it. If you look at its attractions, all the four corners of Precinct 16 are surrounded by amazing attractions.
Updated Prices of 250 Sq. Yards Plots in Precinct 16
Precinct 16 is beautifully comprised of the plots cuttings of 250 sq. yards in it. These residential plots of 250 sq. yards were launched at the easy installment plan of four years that is already completed. And now you can buy these plots exclusively on full payment.
Latest prices of these plots have confirmed that you can buy a plot of 250 sq. yards at the most amazing prices. These plots will be available to you at the price bracket of 52 lacs to 60 lacs.
Development Status & Expected Possession
Another amazing fact that makes Precinct 16 different from other precincts is its development status. Yes, the development of this precinct is 100% completed and just there is waiting for possession. We hope that it will be announced in the next few months. So buying is highly recommended as it's the right place to invest at the right time.
If you are interested in buying the 250 sq. yards plots in Precinct 16 – Bahria Town Karachi. Just contact the Universal Property Network.