Best Commercial Investment in 2023
by UPN
February 18, 2023
0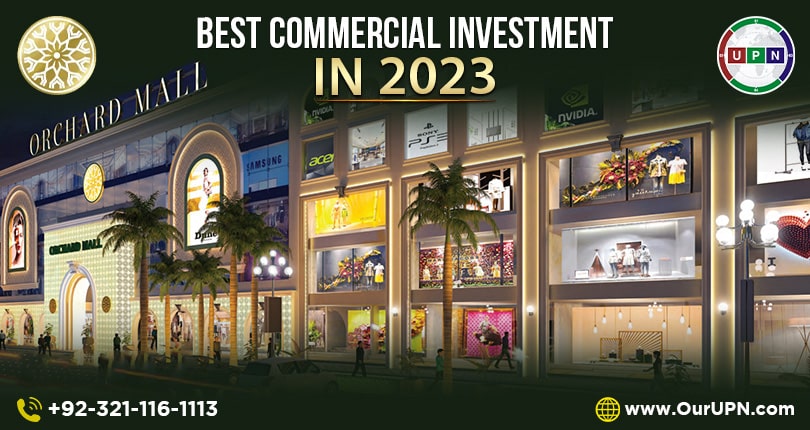 Are you looking to invest in property but in commercial not in residential? You are anxiously searching for the top options as you want to make the best commercial investment in 2023? Then, be happy! We bring you the most trending and profitable opportunity to buy shops and hotel apartments in Lahore. The life-changing investment of 2023 awaits you at Orchard Mall Bahria Orchard Lahore.
It is one of the biggest malls on Raiwind Road Lahore with bundles of attractive properties. Designed smartly, it's a popular development. All of its options were launched at the lowest prices with easy payment plans. But as it is now shaped into a graceful building, many of its payment plans are ended and availability is only on lump sum amount. Don't worry, we still have some of the beneficial properties for you with an easy installments plan. Before sharing their details, let's have an overview of Orchard Mall Lahore.
Basement
The spacious basement of Orchard Mall features Aslam Supermarket. This project offers the best rental opportunities. It's an ideal choice to earn good rental gains.
Ground Floor
Orchard Mall's Ground Floor is developed with spacious shops for brands. Different known brands have already booked their shops. Soon, you will see the opening of local and international brands there.
First Floor
The first floor features the heart-winning Wedding Arena. It's a unique development offering a one-stop solution to all wedding shopping and preparation needs.
Second Floor
The second floor offers you the best commercial investment in 2023. It holds significant importance for featuring Kidz Area, the spacious food court, and the kids' play area. This floor also has the best shops designed to provide mothers with ease of kids shopping.
Third Floor
Orchard Mall's third floor is planned with the first-its-kind IT Market on Raiwind Road Lahore. Here you will see the complete range of computers, laptops, electronics, and gaming gadgets. Not only this, but you will also find all the IT-related services under one roof.
Fourth Floor
The Fourth Floor features the best hotel apartments. These are fully facilitated apartments, ideal for investors. People looking to generate handsome rental gains can confidently choose these apartments.
Orchard Mall Location
This incredibly attractive mall holds importance for several reasons. However, it is among the best developments in Lahore because of its ideal location. It is located in the Bahria Orchard Phase 4 on Raiwind Road Lahore. This Mall is easily accessible from the Gate no 4 of this society and has direct access from the Main Road. Many well-known housing schemes, commercial projects, and other beneficial spots are closely located. The distance of Orchard Mall from the Thokar Niaz Baig Interchange is around 6 – 7 KM only. Lake City Lahore, Al-Kabir Town, Kings Town, and Maryam Town are also at a short distance.
Currently Available Options
All the properties in Orchard Mall Bahria Orchard Lahore are ideal to invest in. But because of the high demands and speedy development, the availability is limited. The available options are:
Few Number of Shops on the First, Second, and Third Floors
Hotel Apartments on Fourth Floor. These Apartments' Sizes are Studio, 1 Bed, and 2 Beds.
Still, these properties can be booked with a certain amount of down payment and the remaining will be payable in the flexible payment plan.
Benefits of Investment
Orchard Mall properties are among the best commercial investment in 2023 because:
It's an ideally located mall with beneficial surroundings.
The development work of Orchard Mall is impressive.
Most of its floors are ready and will have possession in the next few weeks,
The demand for the property in Orchard Mall is high as huge footfall is expected.
The shops and apartments of this project are ideal to grow your income smartly.
Many of the options are still available with a flexible payment plan.
Buying is secure.
Hotel apartments are excellent to generate rental income for the next 10 years. (On Full Payment Only)
Affordable prices and high returns on investment.
Conclusion
So, whether you are a buyer and wish to set up your business/brand or an investor who desires to grow your income, investment in Orchard Mall will be beneficial. Don't miss out on this chance of profitable commercial investment in 2023 as the available options are limited. Hurry up and get yours before it sells out!
Please contact us through WhatsApp, Contact Us form, or visit our UPN Youtube Channel for further assistance.