Orchard Mall Prices Increased by 10% – Latest Updates
by UPN
January 25, 2022
0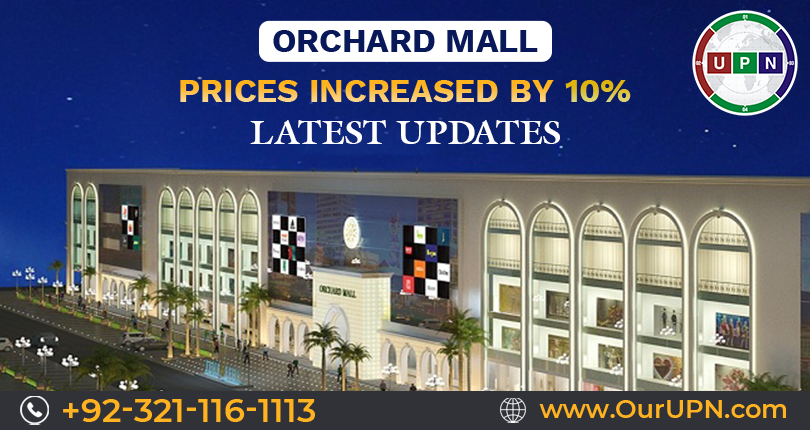 An iconic project, Orchard Mall Lahore, is developing at the prime location of Bahria Orchard Lahore. Planned smartly, this high-rise building project Is developing to provide everything under one roof. From grocery to wedding shopping or residing in a hotel apartment, Orchard Mall is a solution to all. Located ideally, this project will soon get operation with several local and international brands. Offering several sizes of shops, most of its options are available on installments. However, Orchard Mall prices are increased. This recent update is surely the happiest one for people who have invested in it. Those still planning to buy their desired property should be quick as only a few options are left.
Orchard Mall Prices Increased Good News for Investors
Designed with a range of outstanding projects, Orchard Mall is home to profitable investment on Raiwind Road Lahore. It is one of the largest malls in that locality, featuring several impressive developments. Orchard Mall shops for sale are reasonable moreover, comes with the convenient option of installments. But the prices are increased by 10%. This increase in Orchard Mall prices is big news for the investors of this top-class project. Finally, the time has come for them to enjoy their investments as the prices begin to increase.
Still, it's a long way to go. Orchard Mall property prices will continue to increase with increasing development, possession, and so on.
Can You Still Invest in Orchard Mall Bahria Orchard?
The answer is "Yes". You can confidently invest in Orchard Mall Bahria Orchard Lahore.  Buying in its properties has been profitable since its launch. Even many of the investors have earned good profits in the early stages. The latest increase of 10% is also offering handsome profit to investors. At the same time, this increase is an alarm for investors still thinking to invest in.
Orchard Mall prices are increased but still affordable. Undoubtedly, it's the last chance to make a profit by investing in the best shops for sale on Raiwind Road Lahore. These rates will continue increasing with the increasing developments, so; this is the last chance to get the best property deal. You must have to avail of this opportunity before all the options get sold out.
Investment Options in Orchard Mall Lahore
Following are the details of projects and properties:
Basement
The spacious basement of this project features the well-known Aslam Supermarket. This project offers the best rental opportunities. The shops in the basement are not for sale, but one can earn guaranteed rental income.
Ground Floor
Orchard Mall's Ground Floor is developing with spacious shops for brands. Different known brands have already booked their shops on ground floors. However, you may find any option on the profit amount. These shops are ideal for operating a local or an international brand on Raiwind Road Lahore.
First Floor
The first floor of this project features the heart-winning Wedding Arena. It's a unique development offering a one-stop solution to all wedding shopping and preparation needs. Wedding Arena shops for sale are affordable, and investment is possible with a flexible payment plan.
Second Floor
The second floor of Orchard Mall Lahore holds significant importance for featuring the spacious food court and kids play area. However, it also provides investors with a chance of rememberable investment in Kidz Arena. It is one of the top projects with shops on easy installments in Lahore. Designed to provide mothers with ease of kids shopping, this project is fabulous in all the terms. At the same time, it's an attractive project to shop and enjoy as have proximity to the food court and playland. Buying in Kidz Arena is 100% profitable for all.
Third Floor
The third floor of Orchard Mall is planned with the first its kind IT Market on Raiwind Road Lahore. This impressive project provides everyone with easy access to a complete range of computers, laptops, electronics, and gaming gadgets. Not only this, but you will also find all the IT-related services under the roof of Orchard Mall. These IT Market Shops are the best to choose from.
Fourth Floor
Orchard Mall's fourth plan features the best hotel apartments. Also, popular as service apartments, these are the fully facilitated apartments to get on rent. Investors looking to buy these can easily get them at affordable rates with an easy installments plan. People looking to generate handsome rental gains can confidently choose these apartments.
So, Orchard Mall prices are increased and will continue to increase in the coming years. Getting one of its best properties on installments will surely benefit you.
Please contact Universal Property Network For More Information click here or visit our youtube channel further assistance