Apartments in Bahria Orchard Lahore – Best Property for Sale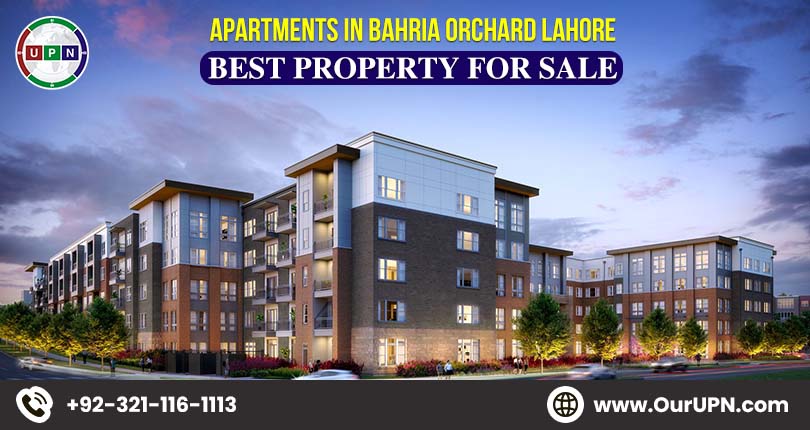 Lahore City is developed with several modern and facilitated housing societies. A large number of families from all around the country are migrating to enjoy a comfortable lifestyle in them. These societies have many options to choose from. However, the apartments in Bahria Orchard Lahore are one of the tops searched properties on Raiwind Road Lahore. The budget-friendly rates of this society and the availability of all trademark facilities of Bahria Town have made this place fantastic. If you are also in search of some appealing apartments, whether in cash or installments, here are the details:
Apartments in Bahria Orchard Lahore Phase 2
The best apartments to consider in the heart of Raiwind Road Lahore are available for sale in Bahria Orchard Phase 2. These are Awami Villas.
Located perfectly in Block D, Bahria Orchard apartments are completely developed. The entire block is beautifully developed and has all the living amenities nearby. Also, the surroundings of Awami Villas have a proper commercial market, near school, healthcare amenities and much more.
Awami Villas are the triple-storey apartment buildings where you can buy 2 beds and attractive living spaces. These apartments can be purchased on the ground floor, first floor and second floor. However, the prices are different as per the floors, such as:
2 Bed Ground Floor Awami Villa is available at 52 lacs to 60 lacs. Apartments that are slightly used will cost you less than the brand new. On the other hand, the first-floor apartments are available in the price range of 50 lacs. 2 Beds apartments on the second floor are available in 45 lacs only.
The location of these villas is ideal and easily accessible from Bahria Orchard Gate no 1 and Gate no 2 Raiwind Road Lahore. Moreover, Awami Villas also have good construction in the surroundings. So, it's a complete residential package for people looking to shift immediately in Bahria Orchard Lahore.
Apartments in Bahria Orchard Lahore Phase 4
Here we bring you another chance for easy investment, especially if you want to invest in installments. Yes, you can fulfil your needs for apartments in Bahria Orchard Lahore by investing in the beautiful living spaces of:
Times Square Mall and Residencia
It's a smart, modern multi-purpose project. Located at the prime location of Bahria Orchard Phase 4, it is a project by Sheranwala Group. Developing at the fastest pace on the main boulevard of this society, the apartments available in Times Square Mall and Residencia are:
1 Bed Apartments
2 Bed Apartments
Penthouses
Booking of these apartments starts from a 30% down payment. The remaining amount will be payable in 4 years flexible payment plan. Undoubtedly, these are the affordable price and fully facilitated apartments you can choose for investment and residential purposes. Once the development work completes, the prices will increase by 40 – 50%. Buying these apartments will surely benefit you.
Orchard Mall
Another appealing option to buy apartments in Bahria Orchard is Orchard Mall Lahore. This project is developing at the heart-winning location of Phase 4 and in proximity to Times Square Mall and Residencia. Orchard Mall offers hotel apartments in the sizes of:
Studio Apartments
1 Bed Apartments
2 Beds Apartments
Booking of these apartments starts from a 40% down payment. The remaining amount will be payable in 36 monthly installments. Moreover, 20% of the total is the possession amount.
The development work of Orchard Mall is satisfactory. Even the basement, ground floor, and first floor will have possession by the next couple of months. Orchard Mall apartments in Bahria Orchard Lahore are exceptional to invest in.
You can buy these to book the ideal property on installments. Also, you can choose this project to earn 8% annual rental gains. Yes, you can avail this offer by booking your desired hotel apartment in full cash. It is undoubtedly, a perfect chance to maximize your monthly income with a smart investment.
Orchard Homes
Another ideal option in apartments awaits you in the G5 Block of Bahria Orchard Phase 4. These are Orchard Homes Lahore. Launched by Q-Links Developers, these are triple-storey 2 beds apartments. Anyone interested can confidently buy his desired floor apartment at reasonable rates. The latest prices for the ground floor Orchard Home range between 40 lacs to 42 lacs. On the other hand, the upper floors apartments will cost you less. The possession of these apartments will be hopefully available by the next 6-8 months.
So, do invest in the best suitable apartments in the top housing society Bahria Orchard Lahore to fulfil your property needs within your budget.
Please contact Universal Property Network For More Information click here or visit our Youtube channel for further assistance.