Best Investment Opportunities Near Grand Mosque
by UPN
August 24, 2022
0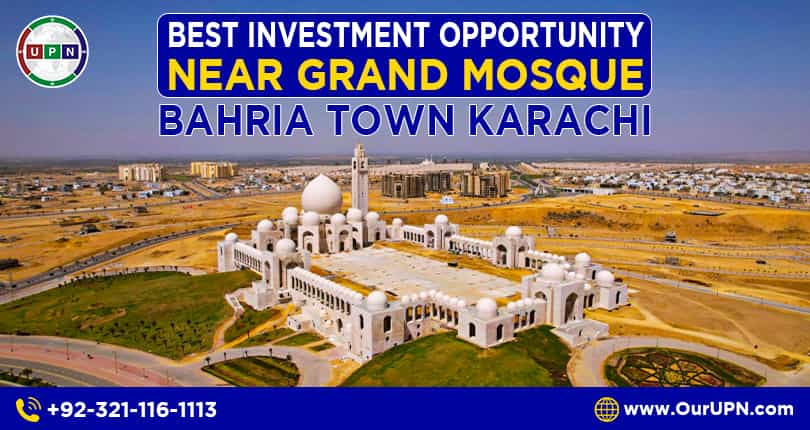 Are you looking for the best properties for sale in Bahria Town Karachi? Do you search for investment opportunities near Grand Mosque? Then, be happy as UPN brings you heart-winning opportunities. But before exploring the details, let's have an overview of Grand Jamia Mosque first.
About Grand Mosque Bahria Town Karachi
The Grand Jamia Mosque is a cultural complex, speedily developing at the graceful location of Bahria Town Karachi. Designed by Pakistan's top-notch architect Nayyer Ali Dada, it is one of the biggest attractions of this mega society. Features an awe-inspiring blend of Islamic and Mughal architectures, Grand Mosque Bahria Town has the capacity of 80,000 worshippers at the time. It is the third largest mosque in the world with several top-notch features and attractions.
Investment Opportunities Near Grand Mosque
Bahria Town Karachi, the entire society is exceptional to buy property for residence and investment gains. However, it does feature some of the best areas where everyone desires to invest in. One of these ideal destinations is the proximity to Grand Jamia Mosque. The overall planning of this masterpiece has undoubtedly increased the worth of every option in its surroundings. But, some of the latest investment opportunities near Grand Mosque where you can invest blindly are:
Bahria Hills
It is an ideal location precinct in Bahria Town Karachi located at the top height. Having complete development and a beautiful environment, this precinct offers you residential plots of 500 sq yards. These Bahria Hills plots are always high in demand but still, the prices are reasonable. Buying in Bahria Hills 500 sq yards plots for sale in Bahria Town Karachi is a highly profitable deal, especially for residential purposes.
Precinct 16
If you are looking for something attractive but within your budget, then Bahria Town's Precinct 16 plots can be the ideal option. It offers you one of the best investment opportunities near the Grand Mosque. Having 100% site development and a good number of constructions, Precinct 16 offers 250 sq yards plots for sale. Most importantly, this precinct has an ideal location and have a short distance from Bahria Town's main entrance. Also, the prices of plots are low, making it a dream choice for residence and investment growth.
Descon Towers
Another interesting option to consider for residence and investment purposes in the surroundings of Bahria Town's biggest mosque is Descon Towers. Previously, popular as Bahria Heights, these towers are now developing speedily. Almost 95% of work on these towers is completed so far. Offering fully facilitated residence in 2 beds apartments, Descon Towers are undoubtedly heart-winning.
A large number of buyers and investors are showing their interest in Descon Towers apartments for sale. The reason is the affordability and ongoing payment plan.
Midway Commercial 2
No one is unaware of the importance of Midway Commercial in Bahria Town Karachi. Located in the mid of the biggest society in Pakistan, it is attractive for several reasons. However, the prices of property in Midway Commercial are high. But don't you worry. We have the best investment opportunities near Grand Mosque in the form of Midway Commercial 2.
It's a new deal of commercial plots where buying is profitable. But if you are looking for shops on installments, you can also get that. Yes, several high-standard commercial projects are launched there. These projects are offering the ideal shops and offices for sale at affordable rates. Most importantly, you can get that property with flexible payment plans.
So, what else can be better than grabbing the graceful investment opportunities in Bahria Town Karachi within your budget? Be ready to surprise your family members by locking a profitable property deal in Bahria Town. You can confidently contact UPN to get the ideal option as per your requirements. We have profitable plots, shops, offices, and apartments where buying will be 100% worth it.
Frequently Asked Question
Here we have the answers to the most commonly asked questions about investment in Bahria Town.
What are the top investment options in Bahria Town Karachi?
All the properties in this society are good to consider. But currently, you can buy in Precinct 16, Bahria Hills, Descon Towers and Midway Commercial 2 for the best returns.
Is Investment Safe in Bahria Town Karachi?
Yes, buying in Bahria Town properties is 100% safe. You can happily choose the profitable options in the proximity of Bahria Grand Jamia Mosque.
Please contact Universal Property Network For More Information or visit our Youtube channel for further assistance.