Best Precincts for Investment in Bahria Town Karachi – Complete Details
by UPN
September 3, 2021
0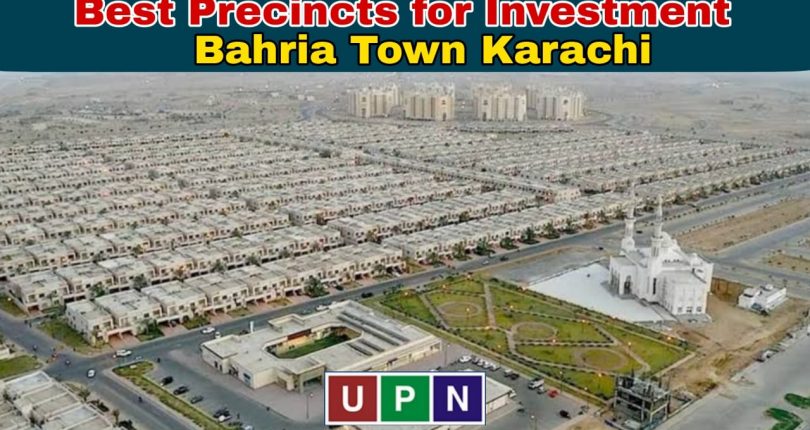 Are you planning for investment in Bahria Town Karachi? Looking for the best plots in the best precincts? Then, you have landed on the right page! Undoubtedly, Bahria Town Karachi is full of options for buying properties no matters residential or commercial. But still, there is some ideal to buy plots available in this mega society. Moreover, these plots are located in precincts where the rates are still reasonable, and chances of investment growth are very high. Learn more:
125 Sq Yards Plots – Investment in Bahria Town Karachi
Bahria Town Karachi has many precincts where you will find the best 125 sq yards plots. But the prices of these plots in many precincts are high. So, what to do if you are looking for affordable options? Buy your desire plots in:
Precinct 17, Precinct 23, and Precinct 26a
Rates are affordable in these precincts but increasing with time. A 125 sq yards plot in these precincts will currently cost you between 30 lacs to 35 lacs.
250 Sq Yards Plots – Investment in Bahria Town Karachi
This is one of the high in demand plots categories where people confidently invest in construction. However, plots prices in the top precincts like Precinct 1, Precinct 4, Precinct 6, Precinct 8 and Precinct 16 are high. So, what are the affordable options? The reasonable price 250 sq yards plots are available in:
Precinct 34, Precinct 47, Precinct 48, and Precinct 49, Precinct 22 and Precinct 32
The location of Bahria Paradise precincts is ideal, while the prices are also attractive. Here a plot of 250 sq yards is available in the price bracket of 70 lacs to 80 lacs. On the other hand, prices in Precinct 34 are around 60 lacs to 65 lacs. Moreover, Precinct 22 and Precinct 32 offers the same category of plots in 40 lacs to 50 lacs.
500 Sq Yards Plots – Investment in Bahria Town Karachi
This category of plots is easily accessible in the several precincts of Bahria Town Karachi. However, the reasonable price plots where we suggest you buying are:
Precinct 33 and Precinct 29
Prices of plots are starting from 70 lacs and goes high up to 1 crore.
1000 Sq Yards Plots – Investment in Bahria Town Karachi
Precincts that are offering 1000 sq yards plots at affordable rates are:
Precinct 33, Precinct 36 and Precinct 37
Buying in these precincts will cost you less while the chances of profits are high. Precinct 37 is considered the hot – favourite precinct for 1000 sq yards plots.
Prices of the plots in all these three precincts are starting from 1.45 crores to 2 crores.
Why Should You Invest?
All your searches for the plots of 125 sq yards, 250 sq yards, 500 sq yards, and 1000 sq yards plots ends here. These above–mentioned precincts features good development. Possession of plots is also available. Moreover, investors, by investing in these plots, can get high returns within 6 months.
So, don't waste this great investment opportunity and buy your desire option today!
Contact us for further assistance.
Please contact Universal Property Network  For More Information click here or visit our youtube channel further assistance