Earn Money by Investing in Property in Lahore
by UPN
June 11, 2021
0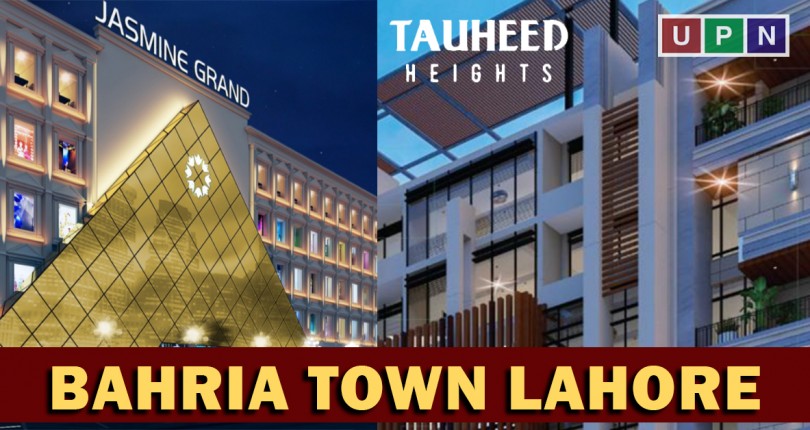 Do you want to earn money? or want to invest your money to increase your income? Looking to invest in Lahore as the property market of Lahore has so many options for you? Get ready to make the best property investment in Lahore 2021 with UPN. We have the best property investment opportunities for buyers and investors looking to invest in installments. Also, these are the ideal properties where you can invest to earn money in huge rental income. Let's discuss the best options we have for you!

Best Property Investment in Lahore 2021
There are several property options available for you. Some are government schemes, but today, we will only share the properties available for sale in Bahria Town Lahore.
Investment in Jasmine Grand Mall
It is the biggest project by any private builder in Bahria Town Lahore. Developing at the fastest pace, it's a basement + ground + six floors project with the best commercial properties for sale. The prices of shops in Jasmine Grand Mall are starting from 25 lacs. You can buy your shop with a down payment of 8 – 9 lacs. The monthly installment of these shops is ranging between 35 thousand to 40 thousand. Properties for sale in Jasmine Grand Mall come in several sizes and available at different prices.
Learn More: Jasmine Grand Mall Complete Details
The prices of properties in Jasmine Grand Mall are starting from 25 lacs. However, it goes high up to 1 crore plus. So, investing in this project completely depends on your requirements and budget. But again, more will be investing more will you get in returns.
Investment in Tauheed Heights
This is another best property investment in Lahore 2021. Tauheed Heights is a project by Q-Links Developers offering shops and apartments for sale. Located at the ideal location of Touheed Block Sector F, it is offering properties in installments.  The starting prices of shops in Tauheed Heights are 14.90 lacs. Investment in apartments starts with 22 lacs only. Booking is possible with a 4 – 5 lacs down payment. The remaining amount of the property will be payable in two-year easy installments.
Learn More: Tauheed Heights Payment Plan
How Can You Start Earning Now?
Both these projects Tauheed Heights and Jasmine Grand Mall, are the best property investment in Lahore 2021. These are offering properties in easy installments. Once the development work completes as well as the payment plan, the prices will increase.
However, there is another great option to start earning today with your investment in these projects? How? By paying the lump sum amount of your property. Once you pay the total amount of your property in Jasmine Grand Mall or Tauheed Heights, you will become eligible to enjoy monthly rental income from the next very first month.
The estimated rental income of a shops cost 15 lacs will be 7,500/-. Similarly, an apartment of 30 lacs will return with a guaranteed rental income of 15,000/-.
So, investment in property in Lahore is the best way to increase your income. We also have several other options available; you can contact us for further details!
Contact us for further assistance.
Please contact Universal Property Network  For More Information click here or visit our youtube channel further assistance