Buy Property in Bahria Orchard Lahore on Special Discounts
by UPN
January 14, 2022
0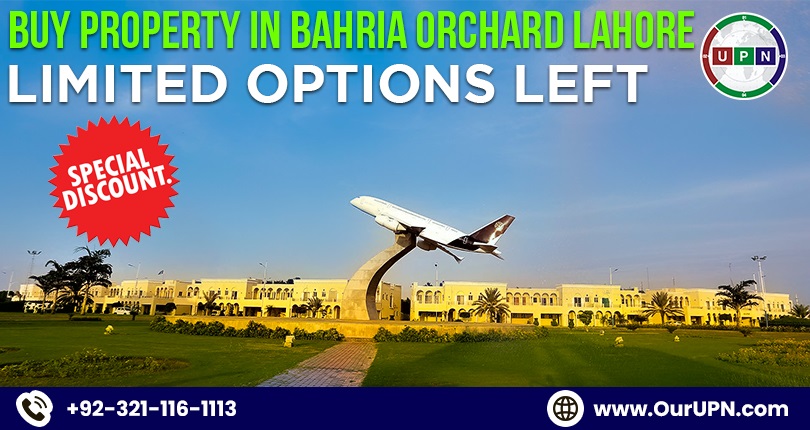 Are you in search of the best property in Lahore? Do you want to invest in the property in Bahria Orchard Lahore, the top and attractive development on Raiwind Road? Also, do you desire to buy it at affordable rates? Then, hurry up and buy the best residential and commercial options available in Times Square Mall and Residencia.
Its developers Sheranwala Group is offering you a special booking discount. Undoubtedly, it's the biggest discount offer of the year 2022. But before disclosing this golden opportunity, let's have an eye on the complete and useful details of this project below:
Times Square Mall and Residencia – An Overview
Times Square Mall and Residencia are appealing and one of the popular developments in Bahria Orchard Lahore. This project is planned thoughtfully and designed on unique and advanced ideas. Latest planning and the standards of development are making it the perfect option for living and investment gains.
Sheranwala Group has smartly planned it to fulfil all the property and investment needs of investors. Starting from the location selection to the development, properties and prices, all together makes it a complete project of this modern age. Also, it is equipped with all the modern-day facilities and features, adding value and charm to it.
Project Plan of Times Square Mall and Residencia
Times Square Mall is one of the most preferable options to buy property in Bahria Orchard Lahore. It is a multi-purpose project covering a land of 13.5 Kanal. It's a ten-storey high-rise building project offering the best commercial and residential properties for sale. This project features commercial shops and offices in the following:
Basement, Ground, First and Second floors
The remaining floors will feature (3rd floor to 6th floors) the luxury apartments of 1 bed and 2 beds. Moreover, the upper floor of this project will have penthouses with 3 beds accommodation.
Projects in Times Square Mall and Residencia
The entire is beautifully planned with the several types of projects essential to make it a complete shopping place. Following are the details of projects in Times Square Mall and Residencia:
Tech Valley in the basement
The ground floor has brand shops as well as offices
The First Floor features the very beautiful Gold Arcade shops
Second Floor Features Cosmetic Planet
Third to Eight Floors have Apartments
The ninth Floor Offers Penthouses
Top Floor is featuring Swimming Pool and Gymnasium
Developers of Times Square Mall and Residencia
This beautifully developing, the high-standard project was launched by Sheranwala Group. These are the well-known developers in Lahore, had already delivered a large number of projects.  Sheranwala Group is maintaining a good reputation in the real estate sector of Pakistan, especially in Lahore.
Some of the best projects by these developers are:
Jinnah Mall
Jinnah Tower Lahore
Sheranwala Heights
Ever Care Hospital Lahore
Now, this Times Square Mall is the most advanced project which encompasses the best luxuries and amenities one can dream of. Once the development work completes, these developers will surely achieve huge success.
Buy Property in Bahria Orchard Lahore
Times Square Mall and Residencia offer properties at economical prices. All these shops, offices, apartments and penthouses are affordable, while the easy installments option is available.  These reasonable rates provide people with a chance to meet their needs for peaceful living and profitable investment in Lahore.
Times Square Mall is one of the best choices to buy property in Bahria Orchard Lahore. It offers properties that are attractive and offers promising returns on investments.
The booking of shops, offices, and apartment starts with a 20% down payment.  However, Sheranwala Group brings you a life-changing discount of 22% on a down payment. Yes, it's a special discount on all the heart-winning properties planned in Times Square Mall and Residencia.
This special discount offer is valid till 15th January 2022. Once the booking process completes, the remaining amount will be payable in easy installments. Times Square Mall's payment plan spans over 4 years. At the same time, Sheranwala Group has a commitment of possession within the first three years of project launch. The prices of properties vary as per category, size, location and rates per sq ft.
Times Square Mall and Residencia Location
This appealing project is located at the ideal location of Bahria Orchard Phase 4. It is located close to the main entrance and developing in the proximity of Orchard Mall, Bahria School, Tower 3, and a State-of-the-Art Mosque. Moreover, the location of this project is perfect as many of the well-known bakeries and grocery stores are located nearby.
Major Highlights of this Project
Times Square Mall is perfect to buy property in Bahria Orchard Lahore because:
This building features advanced designing, i.e., beautiful and heart-winning interior/ exterior
It is an innovative style project with attractive facilities
Best security essential to invest in any project
A range of options available in residential and commercial properties
Reasonable prices and a convenient payment plan
Special discount on down payment
Buying in Times Square Mall and Residencia
This wonderful project is providing everyone with an opportunity for secure and profitable investment in Lahore. The prices of the commercials and residential properties are reasonable. Moreover, the special discount offers of 22% on the down payment is adding more attraction. The availability of these options on installments is simply mind-blowing.
Not only this, but this project offers you guaranteed rental income. In simple words, pay the price of your property and enjoy a handsome rental income every month.
For example, if you will pay the total amount of your property (which is supposed to be 60 lacs), you will start earning the rental income of 30,000/- per month. This rental income is guaranteed until the possession of the properties is announced.
So, which of the other options do you choose when the best property in Bahria Orchard Lahore is available at incredible discounts? It is best and suitable for residence and investment purposes.
Contact Universal Property Network for booking and further details.
Please contact Universal Property Network For More Information click here or visit our youtube channel further assistance