Capital Smart City Reschedule Balloting Date – Latest Property News
by UPN
December 3, 2019
0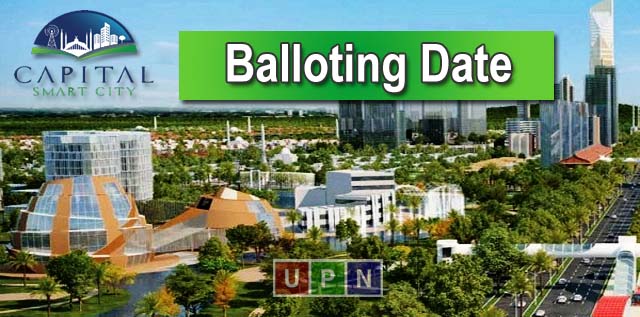 Capital Smart City
The very first smart city of Pakistan Capital Smart City is now beautifully developing in Islamabad. It is an ideally located project offering numerous properties to invest in. Located between Islamabad and Rawalpindi, it is a project facilitating every investor's needs.
Capital Smart City has recently announced the balloting date of plots files but unfortunately, now they have rescheduled it.  Yes, Capital Smart City Islamabad has revised its schedule for the first balloting of plots in Overseas and Executive Blocks.  All the commercial and residential plots of these both blocks will be a part of its first ballot. Further details of the upcoming ballot are:
Latest Balloting Update of Capital Smart City
Capital Smart City has recently revised its first balloting schedule. The first balloting of plots was scheduled for the 3rd week of November 2019. However, the administration of the society has postponed it for one month due to some "Political Unrest" in the country.
New Date of Plots Balloting in Capital Smart City
Now the computerized ballot to allot plot numbers of both residential and commercial properties will be held in the 3rd week of December 2019.
Development Updates & Latest Plots' Prices
Plots Selection Option for Eligible Investors
Capital Smart City file holders who have paid 100%, 50%, or even 40% upfront for their investment are now eligible to choose the location of their plot on the map without waiting for location ballot. However, it is essential to clear all your due payments first.
The society has already disclosed the official map of both Overseas Block and Executive Blocks. Eligible investors can now confidently choose their desired plots on the maps. The deadline for this selection of plots is December 2019.
Ones this selection of plots is over, the remaining files of plots will be a part of the location balloting.
 Launches Executive Block & Plots Shifting Details
Final Notice to Restore Blocked Files
The administration of Capital Smart City has also issued a warning notice with the deadline to clear all outstanding payments before the final cancelation of plots. This notice clears that all the canceled commercial and blocked files will only be unblocked after the payment of all remaining installments.
The criteria for the blocked or canceled residential files are the payment of 20% down payment + few installments before the 5th of December 2019. The restore general files will be converts to Executive Block.
Now the last date for the submission of all the remaining installments is 5 December 2019.
Check out our site for more detail. Latest News
Stay Updated with Universal Property Network
For more details, latest news, etc. please visit our YouTube Channel: