CC- Block, Sector D Bahria Town Lahore – Limited Number Possession Plots are Available
by UPN
November 29, 2018
0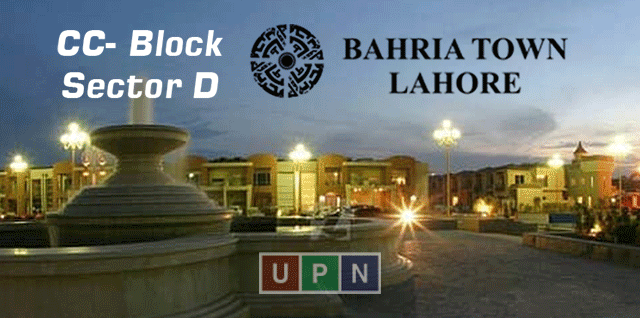 Bahria Town is an outclass housing project of the property Tycoon Malik Riaz that is amazingly designed with all the unmatched facilities in it. It is the only project in the country that is providing the high-class features designed on the bases of International Standards. The Sector-D of Bahria Town is among the populated and fully developed sector that is further divided into five blocks. Today, we have the latest updates on the CC-Block. There are two plot categories 5 Marla and 8 Marla are available in this fully-developed and populated CC-Block. The limited numbers of plots are available on first come and first, serve bases. Sector –D is hot-favorite among buyers as a separate entrance is provided to this sector from the Main Canal Road Lahore. Let's check out the further details.
CC-Block, Sector-D – Detailed Location and Approach Analysis
The best thing that makes the Sector-D hot favorite among buyers is the separate entrance of the Bahria Town given in its Sector-D. It is provided from the Main Canal Road. After entrance moving forward the first block is AA-Block, second is BB-Block and the third located on the Main Boulevard is the CC-Block.
The second easy approach to CC-Block is from the Main attraction of Talwar Chowk. Moving right from the Talwar Chowk to Gardenia the next is the CC-Block.
CC-Block – Updated Plots Prices and Details
There are two categories of plots are available in CC-Block. One is 5 Marla residential plots and the second is the 10 Marla residential plots. These are fully-developed and on-ground plots. As the area is already populated the possession of the plots is also available. The starting price of 5 Marla residential plots in CC- Block is 55 lac to 75 lac. The price ranges for 10 Marla possession plot in CC-Block is 85 lac to 1.5 crores. The limited numbers of plots are available in CC-Block. These are provided to you on first come and first serve basis. You can buy them on the Cash Payment method.
Best for Residency and Ideal for Earning Profit
As we have mentioned earlier, that CC- Block is a completely populated area and there are only a limited number of plots are available. These plots of 5 Marla and 8 Marla are limited that makes the prices for the plots higher. Bahria Town is providing you an ideal option to invest and to build your dream home at the beautiful, fully-populated block. It is expected that the demand for these plots will soon increase that will ensure a good profit return with short-term investment.
If you are interested in buying a plot of 5 Marla and 8 Marla in the CC-Block of Bahria Town Lahore, simply contact the authorized dealer that is only Universal Property Network.