CDR Tower Bahria Town Karachi – Location, Payment Plan, and Development
by UPN
January 30, 2023
0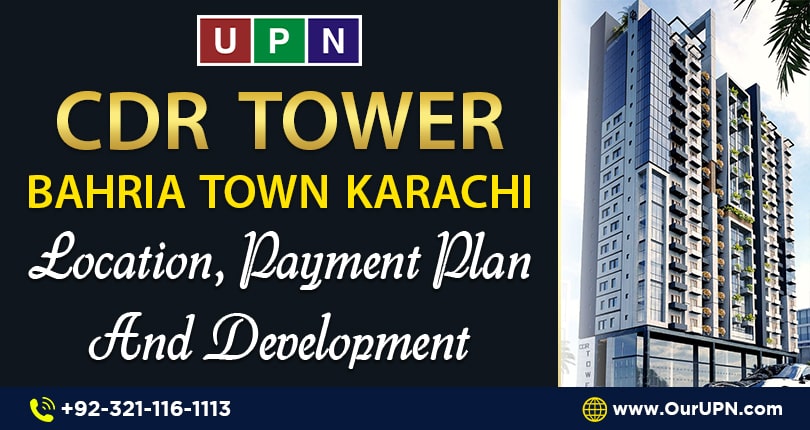 Do you want to buy property in Bahria Town Karachi? Are you searching for the best options for developing projects? Then, CDR Tower Bahria Town Karachi can be the right choice for you. This project is perfectly planned at the prime location of this mega society. Covering a large area, it's a high-rise development with a variety of residential and commercial options. Here you can buy shops and apartments in a wide range. Moreover, the prices are attractive and an easy installments plan is provided. CDR Tower is a delicate blend of luxury, class, and excellence. This project is developing speedily and the possession will be handed over before time. Check out the complete details below:
About this Project
Designed as per the latest trends and modes, CDR Tower offers an incredibly beautiful structure. It spreads over 1000 sq yards of land as planned on the two plots of 500 sq yards. Featuring a basement + ground + 18 floors, it's a high-rise development with the best shops and apartments for sale. Its shops are located in the basement and the ground floor. Moreover, from the 1st floor to the 18th, you will see the magnificent development of residential apartments. Its apartments are available in the following sizes:
2 Bedrooms and 3 Bedrooms
The starting size of 2 bedrooms luxury apartment is 1211 sq feet and goes high up to 1250 sq feet.  All of its 2 bedrooms apartments are Jinnah Facing and have a beautiful, very attractive view.
3 Bedrooms apartments' sizes are around 1560 sq feet. These apartments are available in front and back open as well as corner categories.
This project also contains 4 modern lifts for the easy moving of its residents and visitors. Undoubtedly, CDR Tower will have everything well-maintained as per the standards of Bahria Town.
CDR Tower Bahria Town Karachi Location
The location of any project matters a lot. It plays a vital role in the success of a real estate property. That's why its developers have chosen the perfect location. CDR Tower is ideally located on Jinnah Commercial located at a distance of 500 meters from the main Bahria Town Karachi gate. This project is actually developing on Jinnah Avenue plots no 65 and 66. These are two plots of 500 sq yards joined for the development of this marvelous project. The location of this high-rise project is outstanding as it has beneficial surroundings.
You will see it developed near Bahria Apartments (Precinct 19). Moreover, Bahria Hospital is within walking distance. Theme Park is also close as you can see it nearby. The very beautifully and impressively occupied Iqbal and Quaid Villas are at its back. Bahria Fuel Station and Imtaiz Superstore are also close. All the living amenities are available in its surroundings, as the area is already well-populated. You will surely find this place perfect for your dream living. Many of the high-level commercial and residential buildings are developed there.
CDR Tower Payment Plan
Like all the other striking features and attractive reasons to invest, the CDR Tower payment plan also makes it a prominent option. Its apartment prices are low and affordable starting from 1.09 crores only. The booking of apartments starts from 16.50 lacs and the remaining in 30 installments.
You can check the complete prices below:
2 Beds Apartment for Sale in CDR Tower
These apartments are available in the starting size of 1211 sq ft. The prices are starting from 1.09 crores whereas booking starts from 16.50 lacs. The monthly installment of the apartment is 2 lacs 5 thousand. There are 30 installments in the payment plan.
3 Beds Apartment for Sale in CDR Tower
These apartments' starting prices are 1.50 crores. Booking starts from 30 lacs and the remaining will be payable in monthly installments. Here each installment costs 2.90 lacs. Moreover, there are 30 monthly installments in the payment plan.
Expected Rental Income
Buying these CDR Tower apartments can be highly beneficial for comfortable and facilitated residences. From planning to location and top-notch development, it is heart-winning in all ways. However, its investment can also be very good in terms of rental gains. We can estimate CDR Apartments' rental value by comparing these with Bahria Apartment. The current monthly rent of 2 Beds Apartments in Bahria Apartments is 25 thousand to 32 thousand. Similarly, the monthly rent of 3 Beds Apartments in Bahria Apartments is between 40 thousand to 45 thousand. This state-of-the-art project is still under construction.
Hopefully, it will be completed within 1.5 years. So, by keeping in view the increasing inflation rate as well as the increasing demand for apartments in Bahria Town Karachi, we can expect that the rent will be high. Here 2 beds apartments rental value will be 40 to 45 thousand. On the other hand, 3 beds apartments monthly rent will be between 55 thousand to 60 thousand.
Is Buying Worth it?
CDR Tower Bahria Town Karachi investment will be the right decision because it is smartly planned to meet the property needs of everyone. It is not only offering the best apartments in the town but also prime location shops for sale. This tower is classy and stylish. It offers spacious apartments which reflect living similar to villas. There are four lifts, a spacious lobby, a mosque, and all the other facilities, one can desire. The prices are also kept reasonable.
Moreover, the availability on installments, further boosts its worth. You can confidently purchase property in CDR Tower for residence as well as investment growth. Here buying will surely return you as per your expectations. Don't miss out on this chance to easily purchase on installments where booking starts from 16.50 lacs only.
Contact Universal Property Network! We are the authorized dealers of Bahria Town Karachi and deal in almost all the top residential and commercial developments in BTK. We offer the best real estate and consultancy services. So, this is the right time to contact us and get the best property deal.
Please contact us through WhatsApp, Contact Us form, or visit our UPN Youtube Channel for further assistance.