Central Park Bahria Paradise Karachi – All You Need to Know
by UPN
May 19, 2020
0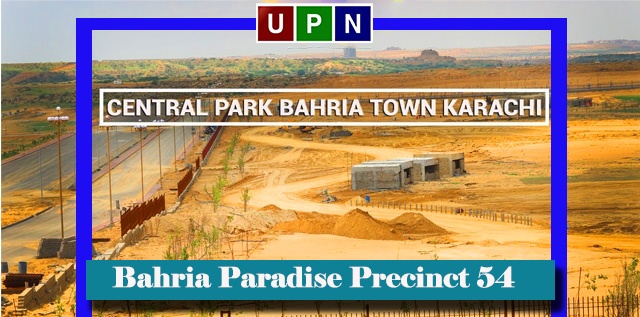 Bahria Paradise Karachi is one of the most popular sub-projects in Bahria Town Karachi. It is smartly planned and featuring international standard development and all the luxuries of Bahria Town. It is a dream place to live peacefully, where all the luxurious life facilities are waiting for you. Bahria Paradise further comprises many precincts that are featuring the best properties for sale. But this Sub-Project of Bahria Town has gained significant popularity for the iconic development of Central Park in it. It is the most significant landmark attraction of the entire project.
Inspired by Central Park New York, this replica is covering an area of 64 acres and consists of several unique features and attractions.
The complete details of Central Park Bahria Paradise Karachi are:
Central Park Bahria Paradise is located in Precinct 54. It is easily accessible from the different precincts of Bahria Paradise. A grand 5-Star hotel measuring 18.5 acres in size will also be constructed on one corner of Central Park. Furthermore, all the other corners of Bahria Central Park are featuring the best residential and commercial properties. Also, Bahria Paradise Villas and Bahria Carnival are located nearby.
Attractions of Bahria Central Park – Bahria Town Karachi
Just like the original landmark, Bahria Central Park in Bahria Paradise is also planned with number of appealing features and attractions. Some of the best interests at the iconic Central Park are:
Harlem Meer Lake
Flower Garden
Untermyer Fountain
The Great Hill
Recreational Center
Tennis Court
Onassis Reservoir
Museum
Open Air Theater
Skating Track
Sheep Meadow Park
Central Park Zoo
Cycling Track
Turtle Pound
Rat Rock
Amusement Park
Harlem Meer Lake
Harlem Meer Lake has a history in New York, but its replica in Central Park Bahria Paradise is developed to enhance the beauty of the project.
Flower Garden
Also, a beautiful flower garden will be a part of this iconic Central Park to offer a more natural environment for the visitors. It will be a garden full of beautiful and colorful flowers and greenery. Overall, it will be an appealing sight to watch.
Untermyer Fountain
An outdoor fountain is known as "Untermyer Fountain" is another beautiful attraction of Central Park Bahria Paradise. It is a real symbol of beauty.
Tennis Court
Playing tennis on the tennis court will be a wonderful experience, especially for sports lovers.
Turtle Pond
To boost the beauty of this project to an outstanding level, another replica of turtle pond would be built in Central Park.
Open Air Theatre
Central Park is also featuring state of the art, the open-air theatre where you will have a joyful experience of watching a movie.
Zoo
A zoo will also planned in Central Park Bahria Paradise where rare and unique species of animals will be kept under the international standards of animal care.
Other Attractive Features of Bahria Town Karachi
Rafi Stadium, the largest cricket stadium in Pakistan
Grand Jamia Mosque, the third-largest mosque in the world
The first-ever 36-hole GPA standard golf course of Pakistan
Hyatt Regency, the very first branded gold resort in Pakistan
The first-ever 36-hole GPA standard golf course of Pakistan
State of the Art Hospitals
An international standard theme park – first of its kind in Pakistan
Bahria Day N Night Safari and much more