New Deal of Central Park Facing Apartments in Bahria Paradise Karachi
by UPN
October 30, 2019
0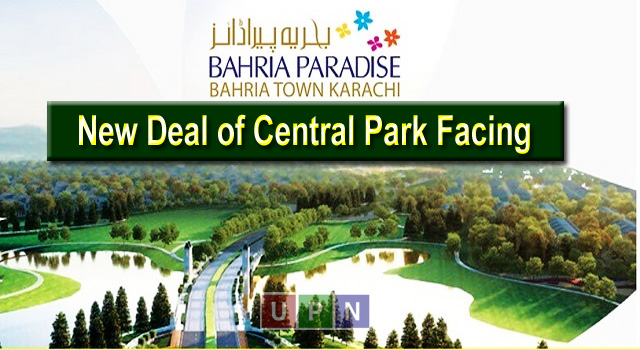 Bahria Paradise is one of the Sub-Projects of Bahria Town Karachi that is beautifully planned and rapidly developing. Further comprising of many precincts, Bahria Paradise is designed with numbers of properties to invest in. This largest sub-project of Bahria Town is also holding significant value because of its fabulous attractions such as the replica of Taj Mahal and Central Park. 
But now, the area is going to become more important and attractive with the launch of a new deal of apartments in it. 
Yes, this is definitely a big announcement by the officials of Bahria Town Karachi that they are soon going to launch Central Park Facing Luxury Apartments in Bahria Paradise. 
Details of Central Park Facing Apartment
This is a much awaited deal of apartments in Bahria Town Karachi. From the last few months, our regular customers were contacting us and were searching for an exciting as well as affordable deal by Bahria Town. So, this is a good and an ideal investment announcement from Bahria Town. 
According to information acquired through our sources, there were total 10,000 luxury apartments are going to be a part of beautiful Bahria Paradise. 
Three different sizes of apartments, such as 2 Bedroom, 3 Bedroom and 4 Bedroom luxury apartments will be available on the flexible payment plan of 4 years. 
The size and the layout plan of these apartments in not yet confirmed but we can expect that the size of these 2 Bed Apartments will be 1100 sq. ft. The launching price of these apartments will be around 75 lacs. 
Location of Central Park Apartments
As describe earlier that we are waiting for the official launch of these newly announced luxury apartments in Bahria Paradise. However, the data collected from our sources have confirmed that these apartments for sale in Bahria Town will be developed in Precinct 54 of Bahria Paradise. 
These apartments will be Central Park facing that is already a big attraction of Bahria Paradise. 
Why Invest in Central Park Facing New Apartments?
Well, there are so many reasons that will attract you to invest in these newly announced luxury apartments in Bahria Paradise. However, here we are listing down some top attractions of this new deal of flats that are enough to convince anyone for investing in them.
Luxury Apartments of three different sizes at the ideal location of Bahria Paradise

Prices are affordable; moreover, the easy installment plan is making this deal more attractive. 

This new deal of apartments will definitely give the boost to construction business in Karachi.

It is an official project of Bahria Town Private Limited, so you will be able to enjoy all the perks of top facilities and features, simply associated with their trademark. 

Your investment will be secure and offering huge investment potential. 
Check out our site for more detail. Latest News
For further details and updates, stay connected to Universal Property Network.