Citi Tower, Multan-Best Investment Opportunity In Commercial Project
by UPN
May 20, 2019
0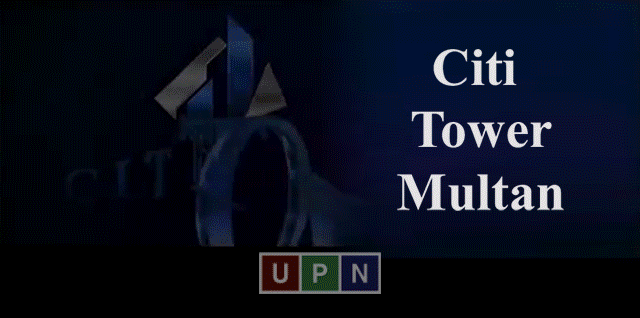 Multan is known "The City of Sufis". It's a city rich in historic culture and full of tradition. But from the last few years, Multan is emerging as one of the most attractive, modern city where you will find top residence and profitable investment options for you. As more and more people are choosing Multan for residence same like that, there is also an increase in the demand for business opportunities. To meet all these requirements of the people, Citi Developers are proudly presenting a new project "Citi Tower". It's an attractive opportunity in commercial projects that are offering retail shops suitable perfectly for well-known national and international brands of all kinds. Due to the state of modern planning and provision of all facilities on the prime location of the state, Citi Tower is set to be one of the top real estate developments of Multan.
Location Overview
Before making any investment or planned to start a new business, it is always needed to choose the best location for it. That is the reason; Citi Developers have selected the best location in business development point of view. Citi Tower is situated on the most attractive location of Multan. It is ideally located on the junction of Chungi number 9 Chowk, positioned on the corner facing Bosan Road Multan and LQM Road Multan.
Attractive Features
Citi Tower has modernistic facilities that are important for a truly modern architecture including CCTV round the clock security surveillance, wide lift lobbies, and monitoring, a fantastic entertainment area, spread over an entire floor with an exuberant cafe, children play area and games.
Central cooling system
Environmentally friendly structural design
Artistically pleasing designs for shops, lively interiors
RFID Cards for doors
Round the clock security and CCTV monitoring
Emergency exit and Fire alarm system
Elevators to ensure maximum security
High-speed elevators
Designated prayer area
Comfort Shopping Experience
Child-friendly play area & Food court and cafes
Health clubs
Electricity with 24 hours of standby generators
Purified water
Service and management offices
Car parking space with vacancy indicators
Latest Prices of Shops & Payment Plan Details
The booking of shops in Citi Tower Multan is already started and it can be made on a 10% payment. Its developers are offering an easy installment plan for 2.5 years. Further details are provided below:
| | | | |
| --- | --- | --- | --- |
| Floor | Area | Rate per sq. ft. | Price in PKR |
| Lower Ground Floor | 107—265 sq. ft. | PKR 45,000 | 4,815,000—11,925,000 |
| Upper Ground Floor | 107—312 sq. ft. | PKR 75,000 | 7,490,000—21,840,000 |
| First Floor | 72—295 sq. ft. | PKR 50,000 | 3,600,000—14,750,000 |
| Second Floor | 56—215 sq. ft. | PKR 40,000 | 2,240,000—8,600,000 |
| Third Floor | 64—219 sq. ft. | PKR 35,000 | 2,240,000—7,665,000 |
Recommendations for Buying
Citi Tower is one of the best opportunity to start your business but also a fantastic opportunity for those who want to invest in the commercial project for rental income. If you are considering starting any business in Citi Tower or looking to invest for handsome rental income, just book your shops today before all are sold out.
For any information about the project, call Universal Property Network.