Commercial for Sale in Bahria Town Karachi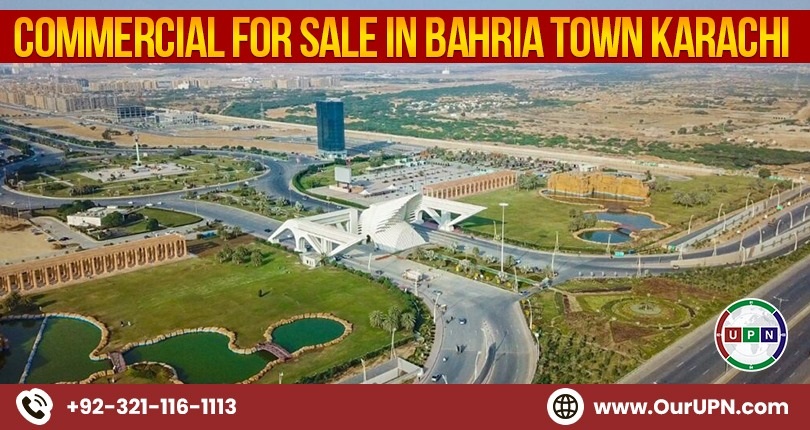 Bahria Town Karachi is always a perfect choice for buyers and investors. Commercial for Sale in Bahria Town Karachi holds significant importance in the real estate sector of Pakistan. Even it would be right to say that the whole Karachi property market revolves around this mega project. This state-of-the-art society offers a variety of options for residence and investment purposes. That's why not only locals but Overseas Pakistanis invest their hard-earn money in Bahria Town Karachi.  It's the largest housing society in the country where everyone will easily find suitable investment options as per his budget and requirements. However, the latest market trends show the high demand for commercials for sale in Bahria Town Karachi.
Yes, a large number of investors are investing their capital in commercials. Why? Because of the high returns. If you are also looking for a good commercial property where buying will surely be worth it, then please keep on reading.
Commercial for Sale in Bahria Town Karachi
When it comes to making commercial investments, we find many options in Bahria Town Karachi. However, Liberty Commercials is a project where buying and construction are highly profitable. This project is designed as:
Liberty Commercial 1, Liberty Commercial 2 and Liberty Commercial 3
The first deal of Liberty Commercial is located in the surroundings of Precinct 4, Precinct 6 and Bahria Hills. All these precincts are very well-developed have good construction and inhabitation. These Liberty Commercial plots in the surroundings of these precincts are 2.66 sq yards in size. Bahria Town administration allows the construction of ground + 8 floors on it. On the other hand, you can construct up to 12 floors by adjoining 2 – 3 plots.
Development on Liberty Commercial Plots 
Here is one thing important to clarify is that these are not purely commercial plots. You can call them semi-commercial plots because Bahria Town allows the construction of multi-purpose projects on them. For example, commercial shops or offices on the ground floor and remaining floors with apartments. The sizes of the shops and apartments depending on your project planning.
The first deal of Liberty Commercials was launched at the price of 6.50 crores on installments. However, the latest prices are ranging between 11 – 12 crores. Also, you can only purchase them on lump-sum payment. The availability of plots is also limited.
Similarly, the other commercial for sale in Bahria Town Karachi is Liberty Commercial 2 and Liberty Commercial 3. These commercials are located on the loop road of Precinct 8 and Precinct 10 A. The location of these 266 Sq Yards commercials is heart-winning. These plots were also launched in the price bracket of 5.30 crores to 6 crores. However, these plots are not available at launch prices. Even the plots at the entrance of Precinct 10A will cost you in 10 crores.  
It is clear that the prices of Liberty Commercial 2 and Liberty Commercial 3 will be similar to the prices of Liberty Commercial 1. Why? Well, there is no reason that the prices will not increase. Once several high-rise projects are developed on Liberty Commercial 2 and 3 plots, where 1800 – 2000 villas are already occupied, the demands will surely increase.
Good Opportunity for Investors
This commercial for sale in Bahria Town Karachi is providing investors with a life-changing opportunity to buy plots and start construction over there. Currently, Precinct 10A Villas are available at the price of 2.10 crores to 2.40 crores. But in future people will prefer buying a luxury apartment of 2 beds in 1 crore for residence. The only difference in these living spaces will be between a villa and an apartment.
The living amenities of Bahria Town Karachi will be the same for everyone. Buyers will surely invest in apartments available in 80 – 90 lacs then the villa available in 2.50 crores plus. In simple words, Liberty Commercials plots is a chance, an opportunity where you can multiply your investment.
Buying in Plots is Beneficial or Doing Construction?
Indeed, construction over the Liberty Commercial plots is more beneficial than plots trading. You can only earn a few percentages of profit upon buying and holding a plot. On the other hand, constructing a ground + 8 storey project will maximize your profits according to your desires.
At the same time, if you are busy or don't have any idea of construction, project planning, layout plan and more, you can contact Universal Property Network. We are here to offer you the best real estate and consultancy services to invest in Bahria Town Karachi without fearing any loss.
Please contact Universal Property Network For More Information click here or visit our youtube channel further assistance