Best Time to Buy Commercial Property in Bahria Town Karachi
by UPN
February 3, 2022
0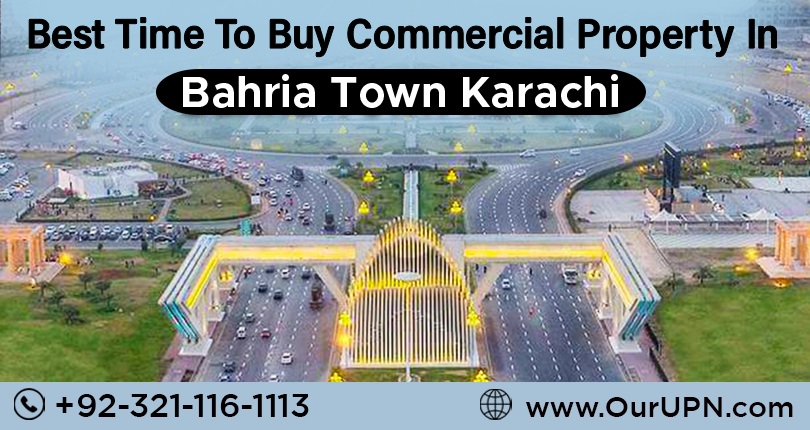 The home to opportunities Bahria Town Karachi is a mega venture with countless attractions. This society is much popular for a luxurious and comfortable lifestyle. People from all over the country, even overseas Pakistanis, are migrating to it. At the same time, no one can deny commercial property's value in it. Bahria Town commercials come in several categories, while the prices are different as per the location. These commercial properties are among the top options one can consider for business, investment and rental growth. The prices are increasing rapidly, so this is the best time to buy commercial property.
Yes, Bahria Town Karachi commercials are simply heart-winning. It would be nothing wrong to say that these commercials offer more potential than residential property. So, what are you still waiting for? Have a look at the best commercial opportunities that await you in Bahria Town Karachi.
Right Time to Buy Commercial Property in Karachi
Bahria Town Karachi offers the following categories of commercial properties for sale:
Commercial Plots

Shops and Offices

Plazas and Malls
Let's find out more:
Midway Commercials
Located in the mid of Bahria Town, Midway Commercials is one of the most attractive and beneficial options to buy commercial property. It features 125 sq yards commercial plots available with the construction permission of Ground + 6 floors. It's a well-developed area where you will find a range of options in shops, offices, plots and plazas.
Here are the prices for 125 sq yards commercial plots ranging between 4.25 crores to 6.50 crores. The difference in the rates is because of the location. Moreover, you can also invest in offices and shops on the ground floor to the 5th and 6th floors. The prices for offices on the ground floor are high, starting from 40,000 – 50,000 per square foot. On the other hand, it will be 35,000 to 15,000 per square foot on the 1st to 6th floors.
All these commercials are impressive to choose from. One can confidently buy plots, shops or offices as per requirements. Therefore, the potential for investment in Midway Commercial properties is very high.
Buying in Loop Road of Precinct 4, Precinct 6, and Precinct 8
These are some of the other attractive commercial options in Bahria Town Karachi. The commercial plots on the loop road are 266 sq yards. Highly beneficial, these plots come with the construction permission of Ground + 8 floors. These loop road commercials are available in the surroundings of Precinct 4, Precinct 6, and Precinct 8. Moreover, their location is close to Bahria Town Head Office and Midway Commercials.
All these plots are on-ground and feature speedy construction. Even many of the notable high-rise projects like Liberty Clock Tower are ready there. Not only are these commercial plots of 266 sq yards, but you can also invest in shops, offices and apartments available on installments.
Quaid Commercial and Iqbal Commercial
Located in the proximity of Quaid Villas and Iqbal Villas, these are 133 sq yards commercial plots. The actual location of these plots is Precinct 2, where Bahria Town allows the construction of multi-purpose projects. Offering investors a chance to invest in offices, shops, and apartments is the best commercials in Bahria Town. Providing the right time to buy commercial property, these Quaid Commercials and Iqbal Commercials are beneficial for investment and construction.
Here buying a commercial plot will cost you 4.5 crores to 5.5 crores.
Precinct 11A Commercials
These are 2.66 sq yards commercials located in the proximity of Precinct 11A residential area. Also, popular as Liberty Commercials, these plots are attractive for several reasons. Avenue 15 Bahria Town Karachi commercials are currently available at the best prices, making it time to buy commercial property. These plots prices will surely increase by the next 1-2 years.
Investment in Private Builders Projects
Bahria Town Karachi not only offers plots and investment chances in the projects by Bahria, but a large number of well-known private builders are working there. These private builders' projects are offering people the best commercial investment opportunities in shops and offices. Many of these properties are still available on easy installments. Therefore, we highly recommend buying in projects by Abul Qasim Real Estate and Builders, Dominion Builders, and Ali Saqlain Real Estate and Builders.
So, that's all about the commercial properties of Bahria Town Karachi, where the investment potential is high. But if you are still in search of something profitable and suitable to your requirements, please get in touch with us directly!
Please contact Universal Property Network For More Information click here or visit our youtube channel further assistance