Kidz Galleria Jasmine Grand Mall – Commercial Opportunities | Bahria Town Lahore
by UPN
July 15, 2021
0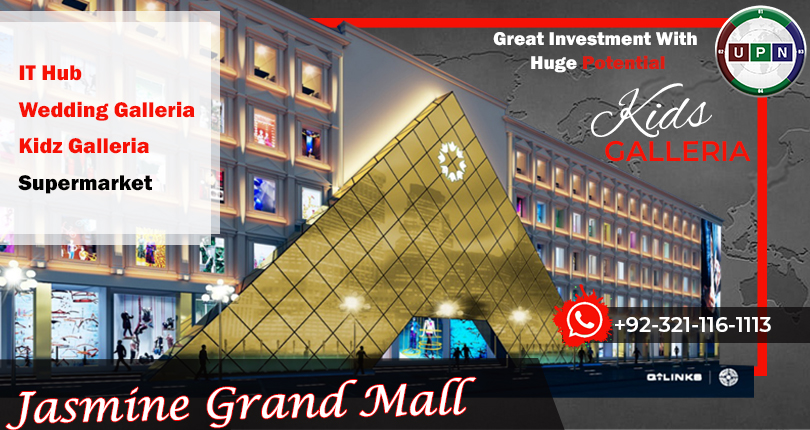 Kidz Galleria Jasmine Grand Mall
Kidz Galleria Jasmine Grand Mall is the latest, even the most beneficial property investment opportunity in Bahria Town Lahore. It's a unique development, the latest project completely dedicated to kids. Offering the best shops for sale, Kidz Galleria features bundles of business, investment, and rental opportunities for everyone. Kidz Galleria Jasmine Grand Mall is located ideally in Sector E. A project by Q-Links Developers, Jasmine Grand Mall is the biggest mall in Bahria Town Lahore. Developing a satisfactory pace, this project features several other attractions like:
IT Hub on Fourth and Fifth Floors
Wedding Galleria on the Second Floor
Kidz Galleria on the Third Floor
Aslam Supermarket in Basement
Kidz Galleria Jasmine Grand Mall – Complete Details
Launched on the 3rd floor of Jasmine Grand Mall, Kidz Galleria is an impressive project with several shops. Moreover, the sizes of shops in Kidz Galleria are starting from 120 sq ft to 150 sq ft. Most of these shops are main boulevard facing. Also, some of the shops are lobby facing, and others are standard shops.
Kidz Galleria shops prices are starting from 24.50 lacs and goes high up to 32.50 lacs. Also, the prices of shops are different as per size and location.
Booking in Kidz Galleria Jasmine Grand Mall starts with a 25% down payment. The rest of the amount will be payable in 36 monthly installments. However, 25% remaining will be payable at the time of possession.
Kidz Galleria Complete Details
Investment in Kidz Galleria comes with bundles of benefits. Anyone can confidently buy a shop for sale in Jasmine Grand Mall Kidz Galleria to:
Run a business related to kids clothing, accessories, as well as other stuff
Do invest in growing your capital as the shops are currently available at reasonable rates. Also, these prices will surely increase with time.
6% Guaranteed rental income. Yes, it's another valid reason to invest in Kidz Galleria shops. All the shops come with the benefit of good rental gains. Moreover, anyone who desires to maximize their income can earn it easily by paying the lump sum amount of Kidz Galleria shops. They will start earning handsome rental income from the next very first month.
Kidz Galleria Jasmine Grand Mall – Prime Location
A huge footfall and success of Kidz Galleria are expected because of its prime location in Bahria Town Lahore. This project is located in Sector E opposite Eiffel Tower and The Gold Souq. Eiffel Tower replica is the major landmark of Bahria Town. Moreover, the first petrol station of this society is lying close to Jasmine Grand Mall. Also, there are several major developments in the proximity, like SQ 99 Mall, Bahria Mart, Bahria Town Theme Park, and Tauheed Heights.
Buying in Kidz Galleria is 100% beneficial. So, don't miss out on this golden chance of safe and profitable investment in Jasmine Grand Mall and contact us for booking and details!
FAQ
What makes Jasmine Grand Mall a good investment?

Jasmine Grand Mall brings investors a unique buying opportunity. Regardless of purpose, whether it's to run your own business or to rent it out, Jasmine Grand Mall features multiple stories of world class high-end construction for you to invest and profit from.
Does the Jasmine Grand Mall provide a family oriented attractive ambience?

With a variety of different shops on each floor, Jasmine Grand Mall features multiple categories of shops for all age groups. From window shoppers to specified buyers, a place serving to be a one stop solution for all. A food court and a Kidz Arena on the 6th floor is the perfect place for a family to relax after a day of shopping.
Is Jasmine Grand Mall an attraction for Kidz?

YES! Jasmine Grand Mall has an entire floor dedicated to Kidz. With shops only selling children products on it's unique 3rd Floor, "Kidz Galleria", it proves to be a child's dream come true! Jasmine Grand Mall also has a play area on the 6th floor.
Are there any Installment Plans for purchasing shop spaces?

Shop spaces are available in the "Kidz Galleria" (3rd floor) of the Jasmine Grand Mall starting from a 30% down-payment and the rest spread over easy installations of a 36-month period. Booking starts from Rs.2,450,000/- on the "Kidz Galleria" floor.
Environment and Shopper Crowd at Jasmine Grand Mall.

With state of the art security systems and strict policy against chaos or any type of nuisance, it is rest assured that Jasmine Grand Mall shall be welcoming only to a decent crowd. No nuisance or chaos shall be tolerated and strict action to be taken against violators of mall rules and guidelines, hence proving to be a safe and friendly environment for its respected visitors.
What are the shop sizes available in the Jasmine Grand Mall?

Shops in the "Kidz Galleria" are available between 180sq. ft. and 400 sq. ft.
UPN
Average rating:
7 reviews
Jul 16, 2021
Purchasing in Kidz Galleria is 100% advantageous. Along these lines, don't pass up this brilliant possibility of protected and productive interest in Jasmine grand mall.
Jul 16, 2021
It was my first one. I had a great experience.
Jul 16, 2021
A good company with lot of quality product and services with well organized staff.
Jul 16, 2021
Even though was not able to invest due to shortage of funds but UPN provided excellent advisory and consultancy with regards to commercial property investment. Highly trained staff that is never willing to commit to more than the reality.
Jul 16, 2021
After much search for an investment opportunity, I came across UPN through a friend's reference who resides in Lahore in Pakistan. UPN guided me through all the procedures and steps and helped me invest in Kidz Galleria. Definitely see a bright future from word of mouth as well as after some basic research would be an investment to prove fruitful in the near future. Thank you UPN.
Jul 16, 2021
I went at upn office for the first time to have knowledge about kidz galleria and I am very pleased with the experience, staff behaviour was so supportive and they guided me well about buying shop.
Jul 16, 2021
With less guidance about commercial real estate opportunities, UPN was the only source of consultancy that I had faith in due to their clarity and transparency about prospects of all offerings. Amongst the options given by UPN, Kidz Galleria seemed to be the most appealing that I most probably would be interested to invest in.