Commercials in Bahria Orchard Lahore Phase 4
by UPN
November 12, 2021
0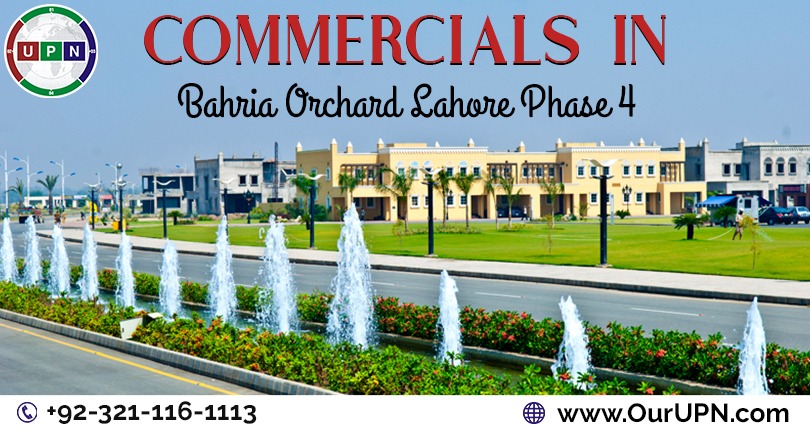 Bahria Orchard Lahore Phase 4 is the last but significant phase of this budget-friendly, modern housing society. Launched in 2017, this society is now developed into a ready to live place. Its location is promising, while the current development status is heart-winning. Bahria Orchard Phase 4 offers a variety of properties, i.e., both residential and commercials. It has blogs from G1 to G6, which provides the best investment and residential opportunities to buyers and investors.
From the last few months, the demands, as well as the prices of properties in Phase 4, have been increasing. As a result, not only the residents but investors are confidently investing in the commercial properties. In this latest blog post, we will discuss the details of all the commercial opportunities that await you on Main Raiwind Road Bahria Orchard Lahore.
Commercial Properties in Bahria Orchard Lahore Phase 4
This beautiful society is designed with the commercial plots of 5 Marla, 8 Marla 2.5 Kanal and 32 Kanal. However, the commercial plots of 32 Kanal and 2.5 Kanal are limited, and some of these have to develop mega-projects, i.e., Times Square Mall and Residencia, Orchard Mall, Tower 3 etc.
So, the major categories of commercial plots are 5 Marla and 8 Marla. Bahria Orchard Phase 4 plots of 8 Marla commercial are situated on 160 ft wide main boulevard starting from G1 to G6 Blocks.
The launching prices of 5 Marla commercial plots was 1.50 crores while 8 Marla prices were 2.25 crores. However, there was a downfall in the entire real estate market from 2018 – 2020; that's why the prices were negative.
Current Prices of Commercial Plots
in Bahria Orchard Lahore Phase 4
The latest market conditions are better, and rates are improving day by day.
G1 and G2 Blocks
The current prices of plots range between 3 crores to 3.25 crores. Prices are different as per the location. Similarly, some plots in G2 Block are available in the price bracket of 2.50 crores to 3.15 crores.
5 Marla commercial plots in Bahria Orchard Lahore Phase 4 will cost you around 1.70 crores.
G3 and G4 Blocks
8 Marla commercial plots near the park are available in the price range of 2.25 crores to 2.50 crores. Only a few months ago, the prices were negative, so, today, we are happy as the loss is covered.
G5 and G6 Blocks
The commercial plots in G5 and G6 Blocks still have negative prices. These plots will cost you 10 – 15 lacs less than the launching prices. But there is nothing to be worried about because the prices will increase soon. How? With the increasing developments.
These two blocks' features around 1000 villas and houses launched in several projects. Moreover, the development work of Safari Homes is also started. Once any of these residential projects are complete and families start residing, the prices of commercials will surely increase.
Other Commercials in Bahria Orchard Lahore Phase 4
Bahria Orchard Phase 4 not only offers commercial opportunities in plots, but several other options are also available. You can invest in shops and offices. At the same time, there is an opportunity to buy service apartments.  These commercial properties are available for sale in some of the mega projects such as:
Orchard Mall
It offers shops and hotel apartments.
Times Square Mall and Residencia
It's a mega-development project with shops and offices are available in the commercial category.
These commercial projects are by well-known developers. Have good construction status and speed while many options are available on easy installments.
Is Investment in Commercials on Raiwind Road Beneficial?
Yes, of course! Buying a commercial property on Raiwind Road is beneficial in all terms. For example, this place has become the hub of modern housing societies. A large number of buyers and investors are buying and investing in the properties available there. Moreover, the competition is huge. These projects are launching several new and exciting property deals to attract more and more buyers.
So, buying in Bahria Orchard Lahore Phase 4 commercials is definitely a suitable option for people with small to medium budgets.
We UPN suggest you buy because these commercial properties are best for:
Investment Growth
Setting Up Your Business
Huge Returns
Rental Purposes
So, what are you thinking about? First, do invest in Commercials in Bahria Orchard Phase 4, where buying will be worth it.
Please contact Universal Property Network  For More Information click here or visit our youtube channel further assistance