Commercial Plots Bahria Orchard Lahore – New Open Form Deal
by UPN
November 15, 2021
0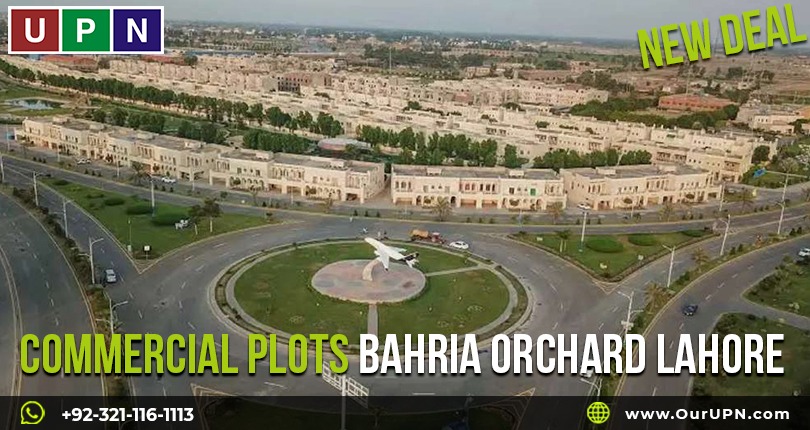 Are you planning to invest in commercial plots Bahria Orchard Lahore? Waiting for a new deal so that you can buy the best at reasonable prices? Then, be happy as the time has come. Bahria Administration brings you a golden opportunity for commercial investment by offering a new deal of plots.
This new deal is launched in one of the significant blocks of Bahria Orchard Lahore. Located at the prime location, plots' launching prices are also reasonable. Moreover, the investment potential is also high. Further details are:
3 Marla and 5 Marla Commercial Plots Bahria Orchard Lahore
Bahria Orchard provides you with the chance of profitable commercial investment in OLC A Block. A new deal of commercials is launched at the attractive location of 200 ft wide road. This new deal offers you 3 Marla and 5 Marla commercial plots. 3 Marla plots are two-sided open while both the general and category plots are available. The launching prices of the plots are:
3 Marla Commercial Plots: 1.20 crores
5 Marla Commercial Plots: 2 crores
Additionally, these are open form plots. It means no transfer fees will be charged to you. Map of the plots is launched. Also, the plots are available with plot numbers.
Booking of plots is only possible on lump-sum payments. However, you will get a time of one week after the token amount.
Comparison with Other Commercials
Around a year ago, a deal of 4 Marla commercials was launched in Bahria Orchard OLC B Block. Some of these plots have prime locations on 120 feet wide roads, while many have 200 feet wide road. The launching prices of that plots were 1.30 crores. But currently, these plots are available in the price bracket of 1.70 crores to 1.95 crores.
On the other hand, this new deal of commercial plots has a better location, more opportunities and easy connectivity.
Investment Potential
The potential of investment in commercial plots Bahria Orchard Lahore is high. These plots are good for:
Business Setup
Investment Growth
Construction and Rental Gains
Buying today in this new deal of commercials will return you good profits by the next 1 – 1.5 years. 3 Marla commercial plots prices will go high up to 20 – 30 lacs similarly, 5 Marla commercial prices will increase up to 50 lacs soon.
Also, an own amount is expected by the next couple of days because the plots are limited and demands are high.
So, don't miss out on this beneficial chance of commercial investment in Bahria Orchard Lahore and contact Universal Property Network for further details and bookings.
Please contact Universal Property Network  For More Information click here or visit our youtube channel further assistance