Bahria Town Lahore Sector G Launching Soon
by UPN
January 3, 2022
0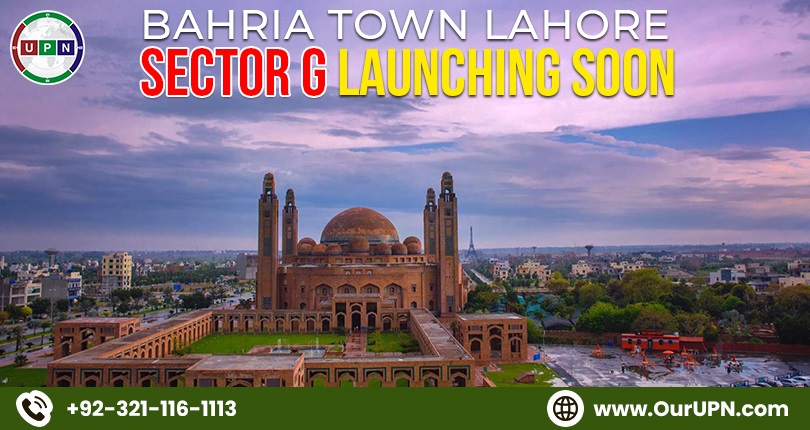 Bahria Town Lahore is always an appealing attraction for investors. It is undoubtedly, one of the significant developments in Lahore featuring heart-winning residential and profitable investment opportunities. Comprising six sectors and several blocks, it offers a wide range of options to fulfil the property needs of modern investors. However, these demands are increasing day by day. But don't you worry, as Bahria Town brings you a golden investment opportunity by launching another attractive sector. It is Bahria Town Lahore Sector G.
Designed smartly at the prime location of this society, Bahria Town Sector G Map is launching soon. This new sector has all the top-class amenities, modern developments, state of the art infrastructure like the previously developed sectors. Launching soon, it will surely be a great addition to the landscape of the city of gardens in Lahore. Further details are:
Bahria Town Lahore Sector G
This new sector is one of the advanced, aesthetic and peaceful gated communities. Offering immense residential and investment opportunities, Bahria Town Sector G will have several blocks. The first patch of Sector G will span over 900 Kanal of land. The entire area is acquired already. Once the legal requirements of this sector are fulfilled, Sector G will provide everyone with a chance of beneficial investment to get a remarkable return on property.
Everything in Bahria Town Lahore new sector is incredibly arranged, making it a complete society within the mega housing venture. All of its blocks will be developed on remarkably that none of it's remains in the dark. The properties for sale in Sector G Bahria Town offer futuristic returns and higher profits.
Bahria Town Lahore Sector G Location
This Bahria Town New Sector enjoys the supreme location in Bahria Town Lahore. Sector G is located adjacent to Sector F. The actual location of Sector G Bahria Town is right next to Tipu Block. Moreover, it will be accessible from multiple routes, i.e., Canal Road Lahore and Jati Umrah Road.
Yes, one can easily approach this Bahria Town Sector G after the entrance from Canal Road. However, the second main entrance to this sector is planned on Main Jati Umrah Road near Shareef Medical Complex. Undoubtedly, it's a new sector with new opportunities, but it also holds importance for:
Connecting Bahria Town Lahore with Bahria Orchard Lahore
Bahria Town Sector G, once launched, will provide a connection between Bahria Town Lahore and Bahria Orchard Lahore. The entrance of this new sector is planned opposite Gate no 6 Bahria Orchard Jati Umrah Road. People can easily come and move between the two mega-developments in Lahore through this entrance.
The location of Sector G is prime, making this place indeed an ideal option for investment and living purposes. This new sector is surrounded by major roads, significant developments, educational and healthcare facilities, important markets and much more. Most importantly, it offers easy connectivity between Bahria Town and Bahria Orchard, which boosts its value to the next extend. Furthermore, this location of Bahria Town is itself attractive; one can confidently consider buying it to experience the lifestyle he always desires.
Bahria Town Lahore Sector G Map
The official map of Bahria Town Lahore Sector G is launching soon. The master planning of this project is outstanding. It spans over hundreds of Kanal land. The entire land is further divided into several blocks. The name and details of these new blocks in Bahria Town will be available soon.
Plots for Sale in Bahria Town Sector G
Launching soon, Bahria Town new sector brings new investment opportunities in highly beneficial properties. It is one of the most significant sectors of this society, offering complete residential and investment solutions to everyone. This sector develops with incredible properties, designed excellently to meet everyone's desires and demands. Following are the details of plots in Sector G Bahria Town Lahore:
5 Marla Residential Plots
10 Marla Residential Plots
1 Kanal Residential Plots
2 Kanal Residential Plots
5 Marla Commercial Plots
8 Marla Commercial Plots
Bahria Town Sector G plots will be available with plot numbers.
All these plots' sizes are exceptional to choose for peaceful residence surrounded by all the heart-winning comforts. But, at the same time, you can also prefer buying to get huge returns, more than your expectations.
Bahria Town Sector G Prices
As it's a new sector with new plots, the confirmed price details will be available soon. However, the expected price of plots in Bahria Town Sector G are:
5 Marla Plots Prices: 50 Lacs to 60 La
10 Marla Plots Prices: 75 Lacs to 85 Lacs
1 Kanal Plots Prices: 1.10 Crores to 1.40 Crores
Note: The prices of Bahria Town Sector G are yet to be confirmed.
Bahria Town Lahore Sector G Payment Plan
Another major attraction of this Bahria Town Lahore new sector is the availability of plots on installments. Yes, this will happen after a long time, that Bahria Town Lahore will offer plots with convenient payment plans.
Many of the investors want to invest on installments in Bahria Town Lahore, but unfortunately, almost all the ongoing property deals are available on lump-sum payments only. However, this new Sector G provides everyone with a golden chance to fulfil their requirements of payment in installments.
Bahria Town Sector G plots are launching with flexible payment plans of 1.5 to 2 years. Booking of plots starts with a 30 – 40% down payment, while the remaining will be payable in monthly installments. Some of the amounts will be payable at the time of possession. Also, the possession of plots will be available within 8 – 10 months of the official launch.
Bahria Town Lahore New Deal
This new deal of plots in Bahria Town Lahore Sector G will prove a game-changer in the real estate sector of Lahore. It will offer buyers and investors a chance of lucrative investment to earn huge returns. Moreover, people who desire to live in Bahria Town but hesitate to invest due to high rates will surely consider buying in affordable plots on installments.
Investment in Bahria Town Sector G
Bahria Town Sector G, once launched, will stand prominent in the real estate of Lahore. It has attractive amenities, premium location, high investment yields, and more. Many other factors contribute to the attraction and value of this new sector Bahria Town Lahore.
The state-of-the-art planning, advanced development makes this new development most promising and highly beneficial. The Bahria Town administration is providing a positive and innovative environment for residence and investment by launching this sector. It is a life-changing opportunity for people to gain huge profits. But if you are still in search of some solid reasons for investment in Bahria Town Lahore Sector G, please keep on reading:
Latest Development and Modern Attractions
Undoubtedly, Bahria Town Lahore is a state-of-the-art development with modern amenities. But as it's a new sector, it will feature advanced development according to the latest standards. As we enter 2022, Bahria Town Sector G will be established as per international standards of urban planning. Starting from roads, plots, amenities, and access, everything will be planned remarkably. The innovative features will be a part of it, making it a complete residential and investment solution in Lahore.
Finest Amenities and Affordable Rates
Bahria Town has never made a compromise on amenities. This society is a beautiful reality of your settled vision where living is full of charms, facilities, and luxuries. Building on fabulous concepts, Bahria Town Sector G will have more to offer you. This Bahria Town Lahore new sector will have up to date facilities and features, hard to find anywhere else.
Moreover, the affordability is adding charm to the overall planning of Sector G. Plots for sale in Sector G are reasonable and come with the ease of installments plan. This new sector perfectly meets the requirements of people in search of something best but budget-friendly. So, nothing can be more attractive than investing in Bahria Town in installments.
High Investment Returns on Investment
Bahria Town is always the first choice of buyers for residential purposes. At the same time, it has a significant position among investors for generating huge profits for them. All these sectors, blocks, and properties in Bahria Town Lahore are good. But Sector G is a new development with plots on open forms and reasonable rate. This Bahria Town Lahore Sector G offers higher future returns of your today's investment.
It's a safe and promising investment option for the investors of this modern age. The prices of plots will increase rapidly, providing its buyers with surprisingly higher returns. Offering the best value on money, Bahria Town Sector G is the right choice to turn your dream into reality. Here we assure, this sector is ideal for all the perspectives; you can consider it for peaceful living and huge investment gains in Lahore.
So, what are you waiting for? Contact Universal Property Network to book the best options in Bahria Town Sector G before it gets sold out!
Please contact Universal Property Network For More Information click here or visit our youtube channel further assistance