Construction of House in Bahria Town Lahore
by UPN
December 7, 2019
0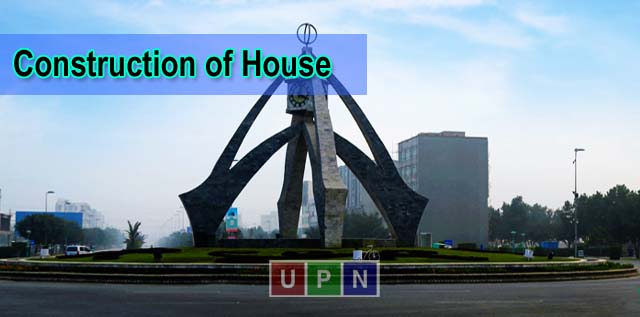 Starting the construction of own house is a very critical and important decision of life. Most people in Pakistan construct one house in their lifetime which is their biggest asset.  Not just an asset part, but there are many feelings attached to the construction of a house. Buying the right plot at the best location is the just beginning to construct your dream house. And if you consider buying a plot for sale in Lahore, Bahria Town Lahore is the one and the only appealing choice.
After making an investment in the desirable plot for sale in Bahria Town Lahore, the next step is to start the construction of your house. So, here in this latest post, we will share the details about constructing a house in Bahria Town Lahore.
First Step – Brainstorming
The most essential thing before starting the construction of a house is to decide about certain things like:
How many bedrooms do you need in the house?
Do you need two separate portions?
Do you have a plan to rent a portion in the future? and so on.
This is the very first stage where you will decide about the rooms in your house, washrooms, kitchen, living rooms, etc. Your first decision/idea of the complete picture will help to construct the map of your house.
So, take your time while deciding it and don't rush at this stage.
Map of the House
After finalizing or making an ideal of your house to share these details with your architect so that he can make a proper house map for you.  In case of constructing a house in Bahria Town Lahore, you will have to visit the design wing of Bahria Town. Bahria management will collect some fees before starting your house. Fees like
Possession Fee
Map Approval Fee
TMA map Approval Fee
Utility Installation Fee
Once you paid all of the above fees, Bahria will not disturb you in the whole construction process.
Bahria Design Wing will first set a meeting with you where you can share your plans with them. In the next meeting, they will give you a draft created as per your prescriptions. If you want to make any changes in the given draft, let them know and they will definitely work on it.
Finding Contractor for the Construction of House
There are two ways of constructing a house in Bahria Town Lahore. One you made it by yourself and second you can hire a professional to do it for you. No doubt, constructing a house is a hectic job so if you don't have much experience, then hiring a contractor will be a good move.
While finding the contractor for you, please keep in the notice the transparency of the construction contract. Nowadays it is easy to set standards.
Setting Standards for Construction of House in Bahria Town Lahore
These days, it is very easy to put quality in numbers and names. You can easily name the brands of products and put the price range of it.
For example:
Floor Tiles: Master Brand within Rs. 1,200 – 1,400 sq. /meter
Washroom Fixture: Faisal Brand within Rs. 18,000/- per set
Electric Wires: Pakistan Cables or GM Cables
Sanitary Pipes: Popular or Pak Turk
These are a few suggestions that you can follow while constructing your house in Bahria Town Lahore.
Check out our site for more detail. Latest News
For further details, contact Universal Property Network.