CPEC Projects and Their Effects on Pakistan's Economy
by UPN
January 25, 2020
0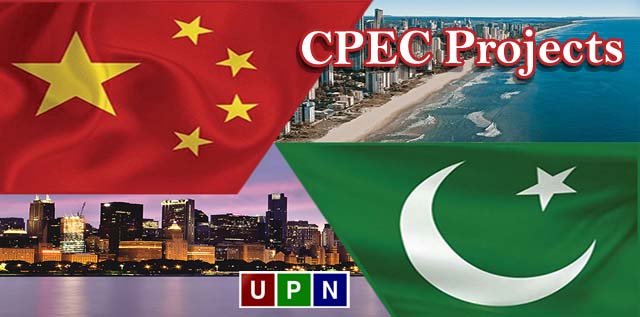 CPEC
Latest developments in Gwadar are considered the game-changer for Pakistan's economy. Especially, the major project CPEC is a route to world trade. It development will provide the route for major trade for Pakistan, Iran, China and the Gulf countries.
It's a project developing with the collaboration of China. Our government is providing the best security along with all the other resources for its development. Once its development complete, it will change the economic conditions of Pakistan. It will also open the number of job and investment opportunities.
Today, in this latest blog, we will discuss the details of all the major CPEC Projects and its effects on the Pakistan economy.
Major Developments in Gwadar are:
Gawadar Port Complex             
Gwadar is going to become the central hub of world trade. That's why its development is the top priority of Pakistani Government. The development of Gwadar port was mainly started on 2002 and completed in 2007. However, according to the new Master Plan of Gwadar, it will be develop again through proper resources.
Now this project will be upgraded with high security, best industry, and special zones for docks and large ships. Moreover, there will be special Economic Zones in China. These will be controlled by China.
Projects in Gawadar City
Gwadar City is now planned to be develop with the best residential places, lush green parks, and different routes. The Chinese government has also spent 230$ million on Gwadar International Airport. Further, there are many other energy projects such as the construction of East Bay Express and which connect Gawadar with Makran Coastal Highway.
There are almost 8 to 9 major projects developing in Gwadar City. Pak- China Technical and Vocational Institute at Gwadar is also one of the major projects in Gwadar.
Roadway Projects in Gwadar
Karakoram Highway
Development of different Routes and Infrastructure are the most important part of CPEC. There are different project of reconstruction and up-gradation on National Highway 35. These projects  includes road construction of 887 kilometers near Hasan Abdal. It also includes a 487 Kilometer from Burhan near Hassan Abdal to Havelian.
Eastern Alignment
This includes the different roadway projects in Sindh and Punjab. A very well-planned network of roads is planned as 1152 KM that will link two of the top major cities of Karachi and Lahore. It will be a 6 lane motorway which is designed to move transport very fast.
Western Alignment                
Western Alignment is also very much important for the transportation network from different provinces of Pakistan like Punjab, Balochistan, and KPK. This motorway will have routes expended in KPK, western Punjab and the main cities of Balochistan like Quetta. It also connected the routes with the Gwadar and that's why it carries a lot of importance.
Linked Roadway Projects          
 ADB Funded Projects     
Asian Development Bank is also funding the different important projects of CPEC. It contains a 184 Kilometer long M-4 Motorway between Faisalabad and Multan. It's mainly not a CPEC project however it still very much important in CPEC from transportation point.
Future Central Alignment
These future plans are for the conversion of all the roads into a central state in such a way that it will connect all the routes in a central Alignment. It contains major cities like Basima, Khuzdar, Sukkur, Rajanpur, Layyah, Muzaffargarh along Dear Ghazi Khan in direct connection with karokarm.
Energy Sector Projects
After working on all these road networks and motorways, the energy sector of Gwadar is very much important.
Renewable Energy
Pakistan has decided to prioritize renewable energy as it is a better source of energy. The first target is on hydropower projects as the government is looking forward to gaining 25% of its all electricity requirements with hydroelectricity up to the year 2030.
Another important project is in Jhimpir Wind Power Plant which is built by a Turkish company. Zorlu Enerji is already working under CPEC. The other major projects are Dawood Windpower Project and Hydro China.
3.SK Hydro Consortium for 870 MV along with Suki Kinari Hydropower Project in Kaghan Valley KPK.The China Silk Road Fund to 720 MW Korat Dam which is under construction under the CPEC plan.
4.44500 MV Project is also in discussion with china on Diamer Basha Dam. It is also financed under the banner of CPEC. There are other major Hydro Projects including Kohala Hydropower Project. Of $2.4 billion of 1100 MV.
Coal Projects
Many of the CPEC projects are also based on coal energy. Different coal-based projects are under construction that will provide coal-based electricity 660 KV between Multan and Lahore with the capacity of 2000 MW.
Punjab
Punjab is the most important part of different projects in CPEC. One Sahiwal coal power project with a cost of 1.8 billion$ is fully operated and providing 1320 MV.
In Pind Dadan Khan there is another small coal project of 300 MV.
Baluchistan
The most important and the closet province to Gwadar in Baluchistan. It has major energy projects under development.
Sindh
 It contains two major coal projects of 660 MV under Thar –I along with Thar – II. These projects are expected to be expanded in the future and will add in the National grid Station with the help of Nepra. There are other major projects such as Pakistan Port Qasim Power Project and more.  
Railway Projects
The development of the railway is the major source of transportation for carrying goods and imports and Exports.  Major railway projects include the rebuilding of the entire Line 1 railway between Karachi and Peshwar.
 Its single track will handle 70% of the traffic. There are also plans regarding 4693 KM Khunjerab Pass. These lines will provide direct access for Chinese and East Asian goods to Pakistani seaports at Karachi and Gawadar by 2030.
Moreover, 21 new stations and coaches are also added to CPEC Projects.
Others Sectors of Development.
CPEC is a large project and it is not limited up to energy and transportation. China and Pakistan are collaborating are working in many other sectors which can play an important role.
Other major sectors of Development in CPEC are
 Skilled Education
 Agriculture
 Science and Technology
Real Estate Sector and More!