All the Details of DHA City Karachi- The First Ever Smart and Green City
by UPN
February 16, 2020
0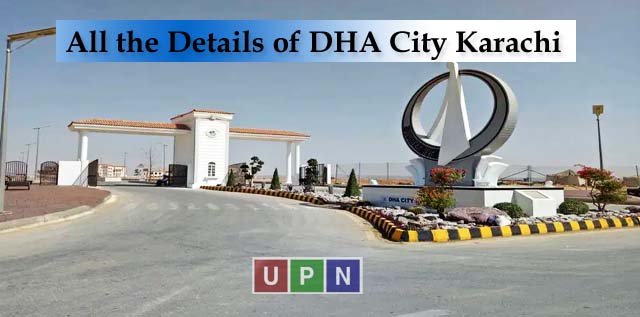 DHA City Karachi holds many attractive features that attract buyers to it but above all, it is the first sustainable, green and smart city of Pakistan.
It was launched back in 2010 and the construction work was started off in 2012. Many sectors are already developed and inhabited however; the development work is underway in various sectors.
DHA City Karachi is beautifully divided into a mixed-use sub-districts and multi-unit housing zone. It is beautifully divided into 17 sectors and comprises of a culture and art sub-district, a sports hub, university complexes, healthcare city, mall zones, and central business district. In short, it is a project with countless opportunities and mind-blowing facilities that's why every average to big investor considers investment in DHA City Karachi. Let's discuss some important details that make it's a popular choice among investors:
Things to Consider
The first sustainable, green and smart city of Pakistan
Sector 3 of DHA City Karachi is already developed and is functional
Offering mixed-use land & provides the best shopping, market, and healthcare facilities
State of the art solar energy park
"Knowledge Park" will comprise remarkable educational institutions
First Sustainable Project at Ideal Location
DHA City is located on the outskirts of Karachi, on Super Highway. It is situated at a distance of many kilometers from the main city but still one of the best real estate projects in K-Town. It's a project designed under the administration of DHA Karachi.
Spanning over an area of 20,000 acres, it is planned to accommodate around 1 million people in Karachi. DHA City has introduced new – concept of modern living by developing a sustainable plan for the distribution of energy and water, waste management and transportation.
Properties Available in DHA City Karachi
Residential Plots in DHA City Karachi
DCK is offering different sizes of plots such as 120 sq. yards, 200 sq. yards, 300 sq. yards, 500 sq. yards, 1000 sq. yards and 2000 sq. yards.
The starting price of 125 sq. yards plots are 26 lacs to 29 lacs. The price ranges for 200 sq. yards plots are 34 lacs to 55 lacs. DHA City plot prices for 300 sq. yards are 35 lacs to 55 lacs. 500 sq. yards plots prices range between 42 lacs to 90 lacs. For the land of 1000 sq. yards plots, the prices tend to vary between 77 lacs to 1.09 crore. Moreover, you can buy 2000 sq. yards plots in DHA City Karachi at the price starting from 95 lacs to 1.50 crores.
Farmhouses in DHA City Karachi
DHA City Karachi is offering numbers of farmhouses in area sizes ranging from 2000 sq. yards, 2500 sq. yards and 3000 sq. yards.  This farmhouses project is known as DHA Oasis. Currently under-construction but the development work is progressing in accordance with international standards. The prices of DHA Oasis vary between 35 to 64 lacs profit.
Commercial Properties in DHA City Karachi
There are different commercial properties are available for sale in DHA City Karachi. The available sizes of commercial plots are 200 sq. yards, 500 sq. yards, 1000 sq. yards and 2000 sq. yards. The starting prices of these commercial plots are 90 lacs to 2 crores.
Most Popular Sectors in DHA City for Investment
No doubt, DHA City as a whole a complete package for investment but still, there are some sectors holding significant value because investors are showing more interest to invest in them.  These top 5 sectors are:
Sector 6
Sector 14
Sector 9
Sector 3
Sector 2
Lifestyle in DHA City Karachi
Malls in DHA City
DHA City Karachi has an extensive mall zone. There is a total of six zones in this society that will have malls, showcasing both local and international brands, in the near future.
Restaurants in DHA City
DHA City is located at the ideal location where one can easily find a number of restaurants located alongside M-9. Some of the best restaurants located near DHA City are Madina Hotel, Burraq restaurants, Al-Jeddah restaurant, and KFC.
Parks in DHA City
DHA City Karachi is planned with two theme parks both will be located on the northern and southern sides. In addition, the breath-taking Lake View Parks will also be built here. This park will cover an area of 55 acres however, the lake is spread over 13 acres of land.
Conclusion: DHA City is designed with an aim to provide the highest quality of living and comfortable lifestyle to its residents. Not only residency but it is offering different life-changing investment opportunities where one can invest to secure his future.
Check out our site for more detail. Latest News