DHA Bahawalpur – Official Date of Balloting Is 31 January 2019 – A Good News for File Holders
by UPN
January 29, 2019
0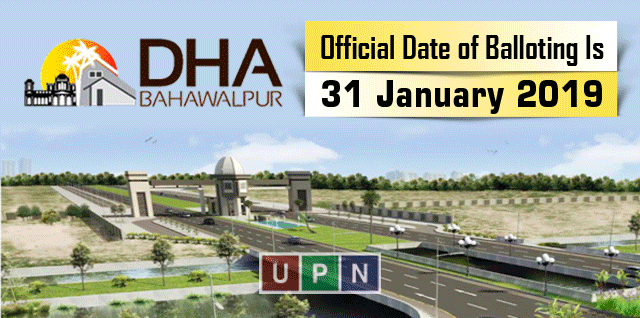 From the last few months, the balloting of plots and villas of DHA Bahawalpur has been under discussion. The file holders of DHA Bahawalpur have long waited for the balloting of their villas and plots. But now their wait is going to over as the administration has confirmed that the balloting will be done on 31 January 2019. It's good news for the file holders who have been waiting for a long time. Recently, the management of DHA Bahawalpur has also asked the file holders to get their allocation letters ready as well as they have announced a deadline for it.
Official Date of Balloting Announced
Today, UPN is bringing to you delightful news that the official date of balloting is announced and the administration has also confirmed that balloting will be held on the given date. DHA Bahawalpur Balloting will take place on 31st January 2019. This announcement has been officially announced and confirmed via DHA Bahawalpur official website & facebook page.
Balloting of Plots & Villas Confirmed
The official post by DHA Bahawalpur has confirmed that the most-awaited balloting of plots and villas will be held on 31st January. The announcement also refers that DHA Bahawalpur will allocate plot numbers, as well as villa numbers and all such files which do not have outstanding payments, will be included in the computerized ballot.
Last Date to Get Your Allocation Letters Ready for Balloting
To become eligible for the balloting of plots and villas, the file holders of DHA Bahawalpur will have to convert their open affidavit files into allocation files with the due date. Last date for updating your file from intimation to allocation is 18th January. It is advised to gear up all your concerns to become a part of this balloting before the mentioned deadline; as it is already made clear that no file will be considered eligible for balloting after the due date.
Recently, DHA Bahawalpur has changed the date of balloting from 25th December to 31st January 2019 for the valued customers who failed to update their affidavit files on the given time period. But this time, no extension will be made so keeps your files ready for the balloting.
For more updates and details of DHA Bahawalpur, stay connected to Universal Property Network.