DHA Bahawalpur Balloting Date Officially Announced for December 2018
by UPN
September 9, 2018
0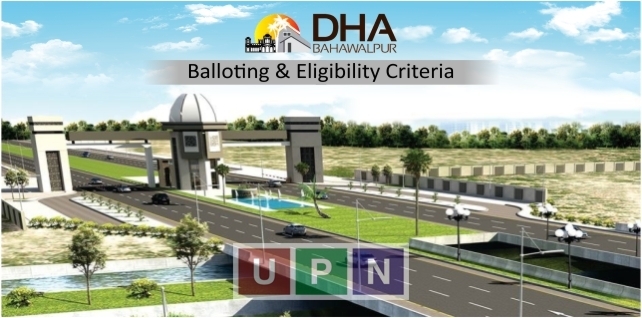 DHA Bahawalpur balloting has been under discussion since we are close to the last quarter of year 2018. Earlier we have informed our readers about DHA Bahawalpur Balloting in second half of 2018 and now officially it is about to come true. The management of DHA Bahawalpur has now officially announced ballot date in December 2018 and a few big announcement to come up with this major development. As we all know that eligibility criteria to be included in this balloting is to get your allocation letter ready, so administration has also fixed a deadline for this matter.
DHA Bahawalpur Ballot Date Announced
DHA Bahawalpur Ballot Date has been finalized and announced after a meeting held at its office where Project Director and authorized dealers were present. Later on it has been officially announced for all concerned via DHA Bahawalpur official facebook page. DHA Bahawalpur Balloting will take place on 25th December, 2018 and it's a delightful news for all including customers and dealers.
DHA Bahawalpur Balloting of Plots & Villas
The official post of DHA Bahawalpur facebook page which has been referred above clearly mentions balloting of its plots and villas. 25th December balloting of DHA Bahawalpur will allocate plot numbers as well as villa numbers which is equally good for those who have DHA Bahawalpur Villas files.
Last Date to Get Your Allocation Letter Ready
To be eligible for this balloting, DHA Bahawalpur customers will have to update their files by getting allocation letters. Last date for converting your file from intimation to allocation is 31st October. All concerned should gear up for get it done before the mentioned deadline, otherwise their files won't be considered for this balloting. The procedure of how to get your files ready for balloting has been previously mentioned in a detailed post.
Future Developments in DHA Bahawalpur
In the light of DHA Management meeting which was held a couple of days ago, following details about possible future developments were briefed.
Sector D Villas will be completed till Dec 2018 as per expectations.
Overseas Block to be launched soon.
5 Marla plot files will be launched for booking after December on installments.
Surcharges will be waived off 100% to make sure participation of maximum customers. Details to be shared shortly.
For file transfer facilitation, Temporary Container Office will move at site.
Main Entry from Canal will be open in 90 Days approximately.
Sui Gas line installation has been completed and exclusive connection has been taken from Sama Satta Line. 11 KVA Feeder expected to be installed soon.
Shopping Mall, Marquee, DHA Club and DHA Tower (5-Storey Office/Corporate Building) are in the plans.
50 Acres of Area reserved for development of Shaukat Khanam Memorial Cancer Hospital (SKMCH) and MoU to be signed soon.
Sareena Hotel team visited a site for a new beginning (details not unveiled).
1 Kanal affidavit files can be converted into 10 or 8 Marla files (details/procedure not shared yet).
For more information and details regarding DHA Bahawalpur Balloting and its results, keep visiting Universal Property Network (UPN).