DHA City Karachi – Latest Development & Latest Prices of Property
by UPN
May 8, 2019
0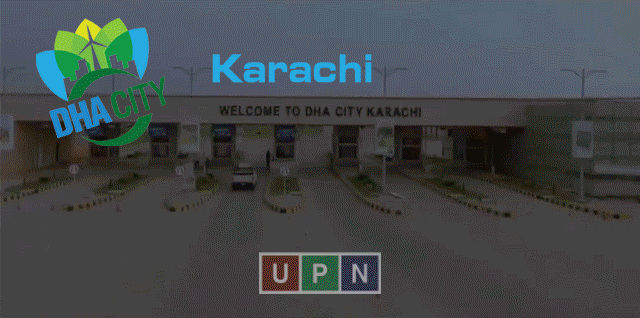 DHA City Karachi all presents unique residential and commercial options in it that makes it's a top housing project ever.
It is a brilliantly planned housing project that will provide you a residential friendly place with having the best facilities of education, healthcare, and family entertainment and friendly facilities. It developers have smartly incorporated the horticultural element just to make the place a green, healthy town for residents.
DHA City Karachi is expanded over an area of 20,000 acres of land. This venture is designed to provide its residents with an atmosphere of contemporary, comfort and security. The rapid development on continuous bases, with world-class planning, institutionalized strength and sustainable conditions of DHA are some of the remarkable features that give this largest housing project of Karachi a global standard.
Latest Updates
DHA City Karachi was launched in 2010, and now the price of the property in this grand venture is high and the demand for the plots is also high. However, the development work is moving at a satisfactory pace in various sectors of the project. The administration has already handover the possession of plots in Sector 3.
Everything You Want to Know
DHA City Karachi is the top residential project of the country that is designed brilliantly to use the most sustainable lines just to ensure that the environment is not affected by such extensive development. Impressive developments and smart planning of DHA City, has attracted many well-known educational and medical institutions have shown interest to become a part of it.
These institutions include Shifa University Institute of Business Administration,  Shaukat Khanum Cancer Hospital, and Dow University. There is a hospital building at the Dow University has actually started operations in DHA City Sector 3.
DHA has also recently handed over the commercial parts to successful bidders in addition to the Dow University Hospital. We should therefore now expect that the vast area of DHA City will be thoroughly developed as high-rise buildings.
Sector 3 of this luxurious project already has a kindergarten School, a junior school of DHA City and numbers of recreational buildings.
Recent Developments
The most recent project DHA City is the development of DHA Oasis (Farm Houses and Villas). These luxury villas will redefine the life of modern living in a resort as a peaceful environment, of the DHA City Karachi.  All these latest development makes this wonderful project more attractive and proves that DHA is the strong housing and development organization across the country.
Latest Prices of Property In DHA City Karachi
Residential Plots:
125 square yards
| | |
| --- | --- |
| Sector 14A | PKR 35 to 38 Lacs |
| Sector 14B | PKR 36 to 40 Lacs |
200 square yards
| | |
| --- | --- |
| Sector 3B | PKR 66 to 77 Lacs |
| Sector 4E | PKR 42 to 45 Lacs |
| Sector 6D | PKR 52 to 55 Lacs |
| Sector 9C | PKR 47 to 50  Lacs |
| Sector 11E | PKR 41 to 44 Lacs |
| Sector 13A | PKR 44 to 47 Lacs |
| Sector 13B | PKR 46 to 49 Lacs |
| Sector 13C | PKR 46 to 49 Lacs |
300 yards
| | |
| --- | --- |
| Sector 2A | PKR 69 to 72 Lacs |
| Sector 2B | PKR 69 to 72 Lacs |
| Sector 2C | PKR 68 to 71 Lacs |
| Sector 4A | PKR 59 to 63 Lacs |
| Sector 4B | PKR 59 to 63 Lacs |
| Sector 4C | PKR 59 to 63 Lacs |
| Sector 6D | PKR 61 to 64 Lacs |
| Sector 9C | PKR 55 to 58 Lacs |
| Sector 11E | PKR 45 to 48 Lacs |
| Sector 13F | PKR 45 to 48 Lacs |
| Sector 14B | PKR 53 to 57 Lacs |
500 yards
| | |
| --- | --- |
| Sector 2D | PKR 95 to 98 Lacs |
| Sector 3A | PKR 96 to 117 Lacs |
| Sector 3B | PKR 91 to 112 Lacs |
| Sector 4D | PKR 75 to 78 Lacs |
| Sector 4E | PKR 59 to 62Lacs |
| Sector 5A | PKR 76 to 97 Lacs |
| Sector 5B | PKR 76 to 97 Lacs |
| Sector 5C | PKR 76 to 97 Lacs |
| Sector 6A | PKR 85 to 88 Lacs |
| Sector 6B | PKR 85 to 88 Lacs |
| Sector 6C | PKR 75 to 78  Lacs |
| Sector 7A | PKR 66 to 87  Lacs |
| Sector 7B | PKR 66 to 87 Lacs |
| | |
| --- | --- |
| Sector 7D | PKR 66 to 88 Lacs |
| Sector 8C | PKR 79 to 82 Lacs |
| Sector 8D | PKR 79 to 82 Lacs |
| Sector 9A | PKR 79 to 83 Lacs |
| Sector 9B | PKR 79 to 82 Lacs |
| Sector 9D | PKR 75 to 78 Lacs |
| Sector 10A | PKR 71 to 74 Lacs |
| Sector 10B | PKR 71 to 74Lacs |
| Sector 10C | PKR 71 to 75 Lacs |
| Sector 10D | PKR 71 to 74 Lacs |
| Sector 11A | PKR 71 to 74 Lacs |
| Sector 11B | PKR 71 to 74 Lacs |
| Sector 11C | PKR 71 to 74 Lacs |
| Sector 11D | PKR 71 to 74 Lacs |
| Sector 12A | PKR 77 to 80 Lacs |
| Sector 12B | PKR 77 to 80 Lacs |
| Sector 12C | PKR 72 to 75 Lacs |
| Sector 12D | PKR 72 to 75 Lacs |
| Sector 13D | PKR 63 to 66 Lacs |
| Sector 13E | PKR 61 to 65 Lacs |
| Sector 14C | PKR 71 to 76 Lacs |
| Sector 14D | PKR 71 to 76 Lacs |
| Sector 15A | PKR 71 to 74 Lacs |
| Sector 15B | PKR 71 to 74 Lacs |
| Sector 15C | PKR 71 to 74Lacs |
| Sector 16B | PKR 70 to 76 Lacs |
| Sector 17 | PKR 55 to 62 Lacs |
1000 yards
| | |
| --- | --- |
| Sector 4D | PKR 127 to 133Lacs |
| Sector 5D | PKR 112 to 154 Lacs |
| Sector 7C | PKR 95 to 136 Lacs |
| Sector 8A | PKR 115 to 126Lacs |
| Sector 10E | PKR 105 to 116 Lacs |
| Sector 11D | PKR 110 to 123 Lacs |
| Sector 15D | PKR 110 to 122 Lacs |
| Sector 16A | PKR 110 to 121 Lacs |
| Sector 16D | PKR 110 to 123 Lacs |
2000 yards
| | |
| --- | --- |
| Sector 8A | PKR 235 to 253 Lacs |
| Sector 8B | PKR 235 to 255 Lacs |
| Sector 10E | PKR 195 to 223 Lacs |
| Sector 11D | PKR 195 to 224 Lacs |
| Sector 15A | PKR 195 to 226 Lacs |
| Sector 16C | P KR 195 to 226 Lacs |
Commercial Plots
| | |
| --- | --- |
| Sector 2 | PKR 184 to 255 Lacs |
| Sector 3 | PKR 256 to 315 Lacs |
| Sector 4 | PKR 196 to 225 Lacs |
| Sector 5 | PKR 206 to 255 Lacs |
| Sector 6 | PKR 156 to 205 Lacs |
| Sector 7 | PKR 186 to 255 Lacs |
| Sector 8 | PKR 194 to 225 Lacs |
| Sector 9 | PKR 157 to 185 Lacs |
| Sector 10 | PKR 155 to 185 Lacs |
| Sector 11 | PKR 156 to 185 Lacs |
| Sector 12 | PKR 155 to 185 Lacs |
| Sector 13 | PKR 156 to 187 Lacs |
| Sector 14 | PKR 154 to 186 Lacs |
| Sector 15 | PKR 154 to 186 Lacs |
| Sector 16 | PKR 156 to 186 Lacs |
| CBD | PKR 306 Lacs to 322 Lacs |
DHA Oasis (Farmhouses)
| | |
| --- | --- |
| 2000 Yards | PKR 86 to 96 Lacs Profit |
| 2500 Yards | PKR 96 to 106 Lacs Profit |
| 3000 Yards | PKR 96 to 106 Lacs Profit |
For booking and further details contact Universal Property Network