DHA City Karachi FWO Towers Tallest Building of Pakistan Groundbreaking Ceremony
by UPN
July 31, 2018
0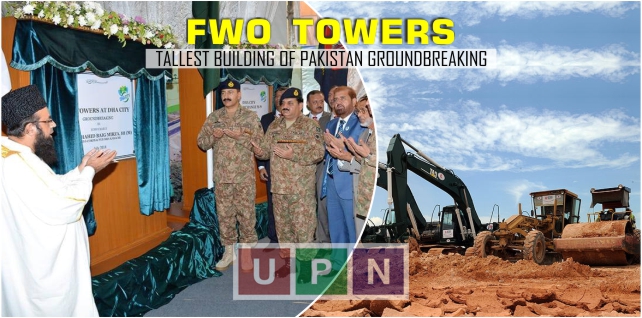 DHA City Karachi Super Highway M-9 Interchange is all set to take urban living standards to new heights in Pakistan. The official groundbreaking ceremony truly indicates that 'sky is the limit'. Sources say the announcement of constructing these buildings within DHA City Karachi was unexpected. Chief guest Commander 5 Corps Lt. General Shahid Baig Mirza HI (M) also President Executive Board DHA, did the honors of unveiling the plaque marking groundbreaking of the project. A large number of army & FWO personnel, DHA & DCK officers, reps of Dow University of Health Sciences, IBA, DHA residents' associations, realtors, notables and locals attended the ceremony.
DHA City Karachi Project Details – Completion Time
The project, under supervision of Frontier Works Organization – FWO is set to complete in one year. DG FWO has pledged the project's construction will set a new record assuring the quality and design won't be compromised at any cost. Upon completion, the 65 Storey FWO Towers will have multiple connectivity and direct approach to DHA City Karachi.
Frontier Works Organization – FWO, established on 31 October 1966, well known for its quality and reliability will have the project completed in a year. There are many achievements to boast about the company where it has achieved the impossible. Achieving goals in the shortest time limit is not new for FWO and the nation is curious about the announcement. Further details are not yet available; you can keep visiting our blog to stay updated on the subject.
UPN Services Regarding FWO Towers Karachi
Universal Property Network – UPN, has earned a great name with its unmatched services in Bahria Town Karachi. Owing to our hard work and dedication in bringing our investors the best deals available, we were asked multiple times to start dealing in FWO Towers. We are pleased to announce that we have now formally started dealing in FWO Towers also. Our mission is to break the traditional property trading pattern. We are committed to sincerity and fair deals and this is why we have grown to become the biggest property network in Pakistan within a course of 15 years.
We strive to keep our investors informed with updates and development process thru our blog and our offices. You can contact us or you can visit us at our offices in Bahria Town Lahore & Bahria Town Karachi for investment opportunities in real estate.