DHA Gujranwala Balloting Date Announced 2021
by UPN
September 30, 2021
0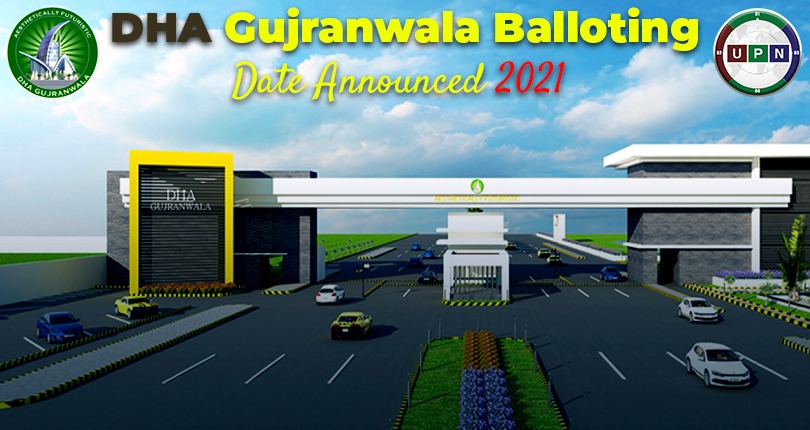 DHA Gujranwala balloting date announced; it's a recent and important update that everyone was waiting for. Yes, DHA Gujranwala has recently flashed the news that they are going to held balloting very soon. It's big news that has strongly impacted the properties of DHA Gujranwala as the prices begin to increase. Further details are:
DHA Gujranwala Balloting Date 2021
DHA Gujranwala has indeed announce the balloting, but still, no date is confirmed. Also, it is yet to be ensured that either this balloting is for residential plots or commercial plots. So every one of us is waiting for further details.
However, the expected date of balloting in Gujranwala is till December or before December 2021.
DHA Gujranwala Location
This biggest housing society by DHA is developing ideally on Main GT Road adjoining Rahwali Cantt.
DHA Gujranwala is also popular as the "Industrial Golden Triangle" because, when you move from Lahore towards Gujranwala, the entire area is an industrial-based agriculture-based area. Similarly, when you move from Sialkot towards Gujranwala, there is a whole industrial-based agriculture-based area. Moreover, approaching from Gujrat or Hafizabad side also have industrial-based agriculture-based area.
Properties in DHA Gujranwala
It's a mega housing project featuring thoughtful planning. This society has all the properties one can desire for residence, investment, and business in Gujranwala. DHA Gujranwala properties are:
Residential Plots
5 Marla
10 Marla
1 Kanal
2 Kanal
Commercial Plots
4 Marla
8 Marla
Apartments
1 Bed
2 Bed
Villas
5 Marla
6 Marla
10 Marla
DHA Gujranwala Property Prices
5 Marla plots are not available on installments. These are Allocation Files available in the price bracket of 44 lacs.
10 Marla Allocation Files are available in the price range of 64 lacs to 65 lacs. Also, some of these 10 Marla plots are available on installments that you can buy by paying 1 down payment and 9 installments.
1 Kanal Allocation Files will cost you around 94 lacs to 95 lacs. Moreover, 1 Kanal plots on installments total prices are 74 lacs. You can buy these plots by payment it's a down payment + 9 installments. Currently, these plots are available on a profit amount of around 20 lacs.
2 Kanal launching plots prices are 1.40 crores. However, these plots are currently available on heavy own amount.
Development Update
DHA Gujranwala development is moving on smoothly. One gate of this society is ready while the second one is developing. The road patch between gate 1 and 2 is around 2.5 – 3 KM, also carpet. Also, the development of villas is progressing at the good pace.
DHA Gujranwala properties come with bundles of benefits. This society is like a gem where your investment will be safe, secure, and 100% beneficial. Furthermore, the DHA Gujranwala Balloting Date announcement is another big reason to consider this society for investment.
Please contact Universal Property Network  For More Information click here or visit our youtube channel further assistance