DHA Multan Issues Alert for File Holders – DHA Multan Latest Update
by UPN
June 25, 2018
0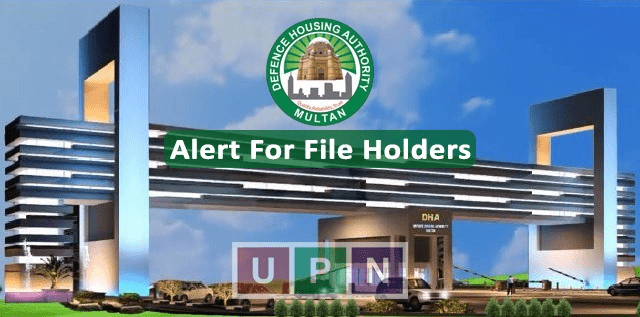 DHA Multan files are being traded since it appeared on the scene and now development has also picked up pace. The mega residential community is said to become livable by 2019 and we can see the efforts on ground to stand by these words. With everything is on right track now, issues have been reported to the management of some wrong practices pertaining to trade of files. The management has addressed the issue in a public notice and alerted file holders to don't get trapped by deceivers like DHA Bahawalpur did it previously.
DHA Multan Public Notice for File Holders
The management has come to know that some cheaters with nefarious intentions are fooling DHA Multan files holders. They are getting their files against monthly rent or profit which is neither allowed officially nor authorized by the management. All instructions for buying and selling of DHA Multan files can been seen on reception of DHA Multan main office. A written hard copy of these instructions is also given to the buyers.
DHA Multan has always preferred the interest of their valuable clients and wants to save them from any fraudulent activity. The administration has informed and bewared all its customers to stay away from this type buying and selling of files which violates NAB Ordinance 1999. The sale and purchase done via subjected pattern is neither acceptable nor authenticated. Therefore all files holders have been warned to don't sell out their files in this manner; otherwise management won't be responsible for any loss.

DHA Multan Electrical Works – Extension in Last Date
DHA Multan had called for expression of interest (EOI) of Electrical Contractors for pre-qualification in a press advertisement. Previously, it was till next four weeks of advertisement which got over recently. Now they have decided to extend the last date for submission of EOI till 09-07-2018.
For more information and latest updates, keep visiting Universal Property Network (UPN).