DHA Quetta Latest Update – Best Time to Invest
by UPN
July 8, 2022
0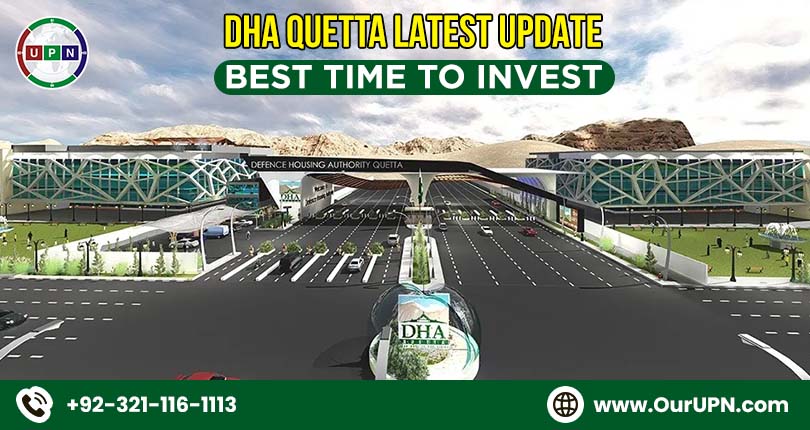 DHA Quetta (DHAQ) is a cutting-edge housing society developing speedily on RCD Highway Quetta, close to Kuchlak and Quetta International Airport. DHA Quetta Latest update is satisfying, making it a prominent option for investment these days. Defense Housing Authority is building the community in Quetta with the assistance of other experienced Quetta developers with extensive experience in real estate development. The required land for the 1st phase is 8,000 acres, and agreements are complete for it. This society has guaranteed investors that it will provide every Pakistani citizen, particularly those who live abroad, with a high-quality, disciplined, organized, inexpensive, and secure living environment. To support the bereaved families of martyrs, war-wounded, disabled, and other persons of the military, DHAQ is also offering the perfect living spaces.
DHA Quetta NOC Details
The Defense Housing Authority Quetta Act has previously been passed by the provincial law-making authority, the Balochistan Provincial Assembly; therefore, DHA Quetta NOC could be regarded as approved, making it a legal housing society. Following the 2015 Defense Housing Authority Quetta Act's provisions, the Supreme Court of Pakistan also gave the DHA Quetta permission to develop society.
DHA Quetta Latest Update
This DHA in Quetta is undoubtedly a smartly planned, modern venture where many buyers and investors have invested. It has numerous opportunities and several attractions as well. But the DHA Quetta latest update has confirmed the slow market. There is less trade. The reason is the implementation of heavy taxes. These taxes are, however, not that much suitable for DHA Quetta. But as these are affecting the whole real estate sector, so the market of this society is also get affected. The prices of developed plots and files are down, making it the right time to invest. These new government policies and taxes will keep stimulating the properties of DHA Quetta for the next 6 – 8 months. However, the chances of investment growth are high. People with a desire to earn good profits should definitely invest there.
These affordable rates of plots and files provide investors with a chance for smart and profitable investment. Buying in this society is ideal for both short-term to long-term gains.
This society is 100% secure to invest. Don't get panic. We advise you to hold your properties until the market gets stable so that your investment can benefit you.
DHA Quetta Location
Location always matters, whether it's a commercial development or a residential project. Thus, the Defense Housing Authority has chosen the perfect location for it. DHA Quetta location is RCD Highway Quetta, close to the Kuchlak and Quetta International Airport. DHA is undoubted the most easily accessible housing society in Quetta due to its excellent location and beneficial surroundings. This place can be approachable from 11 min drive from Quetta International Airport and 10 min drive away from Western Bypass. Similarly, Baleli Road and Smungli Road are at the drive of 10 – 15 minutes. DHA Quetta latest update is also good because of its heart-winning location in the heart of the city.
DHA Quetta Masterplan
The highly qualified engineers and architects, who have years of experience in real estate development, assisted in the creation and planning of the DHA Quetta masterplan. It is Quetta's most eco-friendly, smart, and successful housing society, with affordable prices and simple payment plans. DHA Quetta Masterplan comprises three zones such as:
Zone A (Spreads Over 8000 Acres of Land and Features Business and Residential)
DHA Quetta Zone B (Covering 2200 Acres of Land and Features Education, Health and Sports Facilities)
Zone C (It Spreads Over 1800 Acres and Have Farmhouses and Recreational Amenities)
The properties for sale in DHA Quetta are:
5 Marla Residential Plots
8 Marla Residential Plots
10 Marla Residential Plots
16 Marla Residential Plots
1 Kanal Residential Plots
2 Kanal Residential Plots
4 Marla Commercial Plots
8 Marla Commercial Plots
1 Kanal Commercial Plots
4 Kanal Farmhouses Land
5 Kanal Farmhouses Land
8 Kanal Farmhouses Land
Many of the properties mentioned above are still available for booking with easy installments options. So, what else can be better than reserving a good property at reasonable rates? It's an opportunity to get maximum profits through smart and timely investment in the real estate of Quetta.
Please contact Universal Property Network For More Information click here or visit our Youtube channel for further assistance.