Best Investment in DHA Housing Societies
by UPN
August 22, 2022
0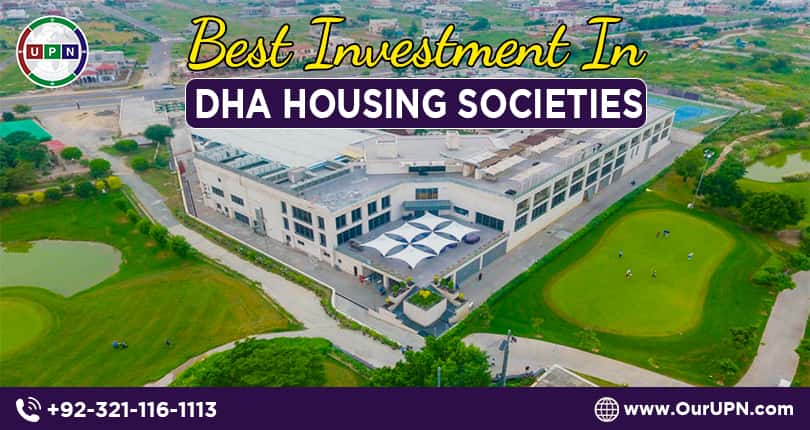 Are you looking to invest in DHA Housing Societies, Pakistan's best real estate investment option? Want to make a profitable investment at reasonable rates so you can earn maximum? Be ready! Universal Property Network brings you an opportunity to make a good profit. DHA projects are always an attractive choice for investors to grow their capital. But choosing the right phase, the right property at the right time, makes the best deal. If you also want to make a real estate investment in 2022, especially in the most suitable options in DHA, please keep on reading!
Investment In DHA Housing Societies
Despite the low-rank market and downward trends in the real estate market of Pakistan, DHA still offers some profit-making options in the following phases:
DHA Phase 10, DHA Phase 13, and DHA Quetta
Following are the complete details:
Investment in DHA Phase 10 Lahore
It is a smartly planned one of the major phases of DHA Lahore. DHA Phase 10 offers both the allocation and affidavit files for sale. The plot files you can purchase in this project are:
Residential Files
5 Marla
10 Marla
1 Kanal
Commercial Files
4 Marla
The latest prices for investment in these options are:
5 Marla residential plots files are the only allocation files available at the price of 51.50 lacs. Availability is on full cash only.
10 Marla residential plot files are both in affidavit files and allocation files. However, the prices for affidavit files are around 74.25 lacs. On the other hand, allocation files will cost you 75 lacs, but availability is rare.
1 Kanal residential plot files are affidavit files available at the approximate price of 1.13 crores. On the other hand, the allocation file of 1 Kanal will cost you around 1.12 crores.
Similarly, 4 Marla commercial files are also available for sale in DHA Housing Societies, especially in DHA Phase 10. These plots are priced between 2.55 crores to 2.60 crores. The current rates of plots in DHA commercial plots are reasonable and have huge potential. Only 1 year ago, the same plots were available for 1.60 crores. But you can still earn handsome returns through long-term investment. Here we highly recommend investing in 10 Marla and 1 Kanal plots as these are top options these days. Please note: All these DHA Phase 10 plot files are available in full cash only. There is no availability on installments.
Investment in DHA Phase 13 Lahore
It is another outstanding option to invest in DHA Housing Societies in 2022. The current location details of this project are near Thokar Niaz Baig. But there are some market rumours that this location will be changed. But again, these are still rumours and no official confirmation. One more thing, your investment in DHA Phase 13 is 100% safe and secure. This project was almost launched 4 years ago. Till today, it is offering the best investment opportunities to DHA investors.
5 Marla plot files in DHA Phase 13 are available in the price range of 35.10 lacs. These files can be purchased in full cash only. Moreover, the highest rates of these files are 45 lacs.
Similarly, 10 Marla plot files currently cost 55 lacs. The maximum price/highest price of these plots was 70 lacs.
1 Kanal plot files in DHA Phase 13 Lahore will cost you around 92 – 93 lacs. These plots were previously available at 1.25 crores maximum rates. So, basically, these plot files are currently 30 lacs below the actual price, providing a good chance of a safe, secure and profitable investment.
Investment in DHA Quetta
All the DHA Housing Societies are good to invest in. But DHA Quetta has scored more points because its sub-office gets operational in DHA Lahore. So, now the investors no need to travel to Quetta for the transfer and other document procedures. This is also a good sign that indicates the growth of DHA Quetta properties and demands. This society offers both the affidavit and allocation files. At the same time, there is some availability of first ballot barcode files.
The 1 Kanal affidavit files are available in the price range of 78 lacs. On the other hand, allocation files cost around 84 lacs to 86 lacs. The 100% confirm files included in the first ballot are approximately priced in 96 lacs. Buying these plots is highly recommended. You will surely earn handsome returns with an investment of 2-3 years.
So, that's all about the latest investment opportunities in DHA Housing Societies. You can also contact us directly for a complete analysis and investment guide.
Please contact Universal Property Network For More Information or visit our Youtube channel for further assistance.