DHA Quetta Allocation Files Ballot Date
by UPN
May 25, 2022
0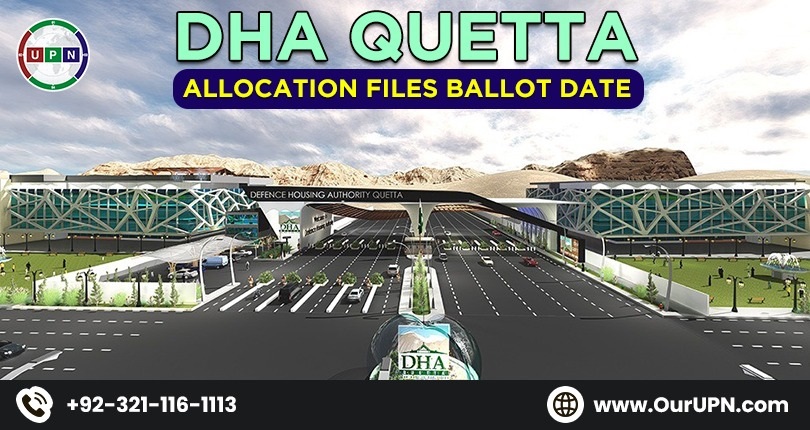 DHA Quetta allocation files ballot is one of the most-awaited events this year. This project, DHA Quetta, is in the news since its launch. It's a mega project where many buyers and investors have invested their capital. This magnificent venture offers a variety of options providing everyone a chance for a safe and suitable investment. Designed brilliantly, this society is heart-winning for its prime location, project planning, land area, state-of-the-art development, and investment potential. Only a month ago, the balloting of the Early Bird block had taken place; now, everyone is waiting for allocation files balloting. But the time is not that much away. Be ready for it.
DHA Quetta Allocation Files Ballot Date
DHA Administration has recently published a banner indicating the soon held balloting. Yes, the DHA Quetta allocation files ballot date will be announced soon. It's official.
For the last many months, there have been rumours that DHA Quetta allocation files balloting will take place anytime in September 2022. However, the updates have confirmed (not official) that this ballot will take place in the last week of June 2022.
Here we congratulate all the file holders of DHA Quetta who were waiting so long for this announcement. The time to get the location of your plot is not too far.
The official date of balloting will be disclosed soon. We will surely update you with it.
Which Files are Eligible?
All the 1 Kanal files whose allocation is done by or before 31st March 2022 will be a part of this upcoming location ballot.
Investment Potential in Allocation Files
Investment in DHA Quetta plots is always beneficial. But these recent updates have made allocation files the ideal choice. The potential for investment in these files is between 25 – 35 lacs. How? The current rate of this file is 1 crore. However, the pre-ballot rate of this file will be around 1.25 crores to 1.35 crores. Once the balloting is done, the rate will surely go high, up to 1.45 crores.  
We UPN highly recommends buying these allocation files of DHA Quetta.
Best Plots for Sale in DHA Quetta
As described earlier, DHA Quetta is a masterpiece, a magnificent society where you can buy your desired property confidently. It offers a diverse range of options such as:
5 Marla Residential Plots
8 Marla Residential Plots
10 Marla Residential Plots
16 Marla Residential Plots
1 Kanal Residential Plots
2 Kanal Residential Plots
4 Marla Commercial Plots
8 Marla Commercial Plots
1 Kanal Commercial Plots
4 Kanal Farmhouses Land
5 Kanal Farmhouses Land
8 Kanal Farmhouses Land 
All these properties are affordable. At the same time, many of these options can be purchased with flexible ongoing payment plans. Your investment in this attractive society will surely be worth it.
So, if you desire to earn quick profits with investment in DHA housing societies, we suggest you buy in DHA Quetta. It is one of the most prominent options these days. For further details on the balloting date, results, and latest prices, please stay in touch with us.
Please contact Universal Property Network For More Information click here or visit our youtube channel for further assistance.