Different Types of Properties in Pakistan
by UPN
April 15, 2020
0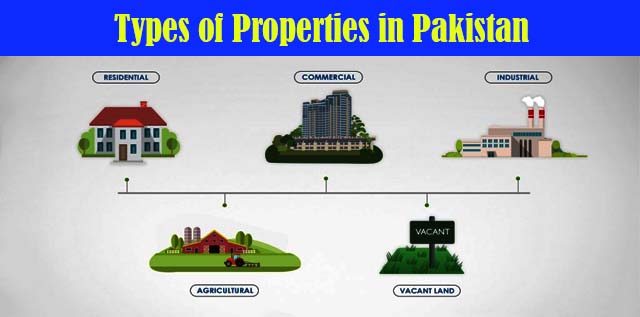 Pakistan real estate sector is full of investment opportunities. If you will make a smart investment, you will earn a handsome profit from it. If you are planning to step into the real estate market of Pakistan, you will first need to understand different types of properties in Pakistan. Once you will have the basic knowledge and details of these properties, you can easily choose the best property as per your needs and budget.
 Different Types of Properties for Sale in Pakistan
Here are the basic categories of real estate properties in Pakistan:
Vacant Land
Residential Properties
Commercial Properties
Agricultural Properties
Industrial Properties
Mixed-Use Properties
Special Purpose or State-Owned Properties
Vacant Land for Sale
This type of real estate property is used for various purposes. It depends on local laws and zoning restrictions. Vacant Land is used for the development of residential, commercial, industrial, and agricultural land. Buying a vacant land in Pakistan means to buy an earth surface along with everything attached to it. It means the trees, lakes, water or any other natural or man-made resources attached to it.
Residential Properties for Sale
Residential real estate is the most popular type of real estate property in Pakistan. It is a type of property specifically used for residential purposes. These properties can be bought, can sell,  as well as can rent out for the same purpose.
Residential properties are further divided into few subcategories that are mentioned below:
Apartments
Apartments are also known as flats. These are multi-family units that are shared by various families. Many investors prefer to live in an apartment due to its lower level o of risks, less completion, easy maintenance, and convenient management.
Houses
This is the most important and widely used type of residential property in Pakistan. But unlike apartments, buying a house for sale requires a large chunk of investment. However, the biggest advantage of owning a house is that you can build and modify it according to your desires and requirements.
Vacation Homes
Vacation Homes are also known as secondary homes that people usually use for their recreational and holiday purposes. These homes are mostly located on hill stations or any remote areas. People living in colder areas often shift to their secondary homes when the winters get too hard in their areas. Meanwhile, Overseas mostly prefer to buy their vacation houses in their home town. So, whenever they visit their home town, they can live with their families.
Cooperative Housing Societies:
Cooperative housing is a distinctive type of homeownership. In such type of housing, if you buy a property there, you will become a shareholder in a corporation that owns the real property. Next, you will be entitled to occupy a residential unit as per the agreement signed.
Commercial Properties for Sale
Commercial real estate is the second most common type of property for sale in Pakistan. It is a type of property that is only design for business activities. We can also define it as the property that we use for generating income is a commercial property. It also comprises subcategories that are:
Offices and Shops
Departmental Stores
Shopping Malls
Hotels and Resorts
Restaurants and Cafes
Cinemas and Theatres
Privately Owned Parking Facilities
Commercial properties can be both a vacant piece of the plot as well as can be a building.
Industrial Properties for Sale
The next most common type of properties in our country is Industrial properties. It is a type of property that is used for manufacturing, producing, storing or packing goods for the consumer market. It can also be used for the distribution of goods as well as for research purposes. Also, industrial properties can co-exist with agriculture properties.
Industrial real estate is also known as the subdivision of commercial properties since it is used to generate income. However, it is classified differently due to many reasons. The most common types of industrial properties are:
Factories
Power Plants
Warehouses
Agricultural Properties for Sale
Agriculture properties are used to produce crops, plants and to raise cattle. It is usually found in rural areas. The biggest perk of owning an agricultural property is that you can buy it, sell it, and can also rent it. Furthermore, agricultural properties are also subdivided into the following categories:
Cultivation Farm
Ranch
Forests
Orchard
Mixed-Use Properties for Sale
Mixed-use property is a type of real estate that serves both as a residential as well as commercial property. Taking the example of Theme Park Tower in Bahria Town Karachi that has various and mixed purposes.
Mixed-use property features:
Houses, Shops, and Offices
Shops and Houses
Office and Houses
State-Owned Properties
It is a type of property that is usually owned by the government and given to the public for special purposes. These purposes can include education, religious centers, libraries and also government buildings.
Conclusion
Property buyers or real estate investors in Pakistan have the number of options to choose from. But it depends on what kind of property they require and how they want to grow their property portfolio. So, those looking to buy the best properties for sale in any of the above-mentioned categories can confidently contact us for further assistance. We will offer you the property deal of your dreams.
Stay Updated with Universal Property Network!
Check out our site for more detail. Latest News