Educational Facilities in Bahria Town Karachi – UPN
by UPN
October 12, 2021
0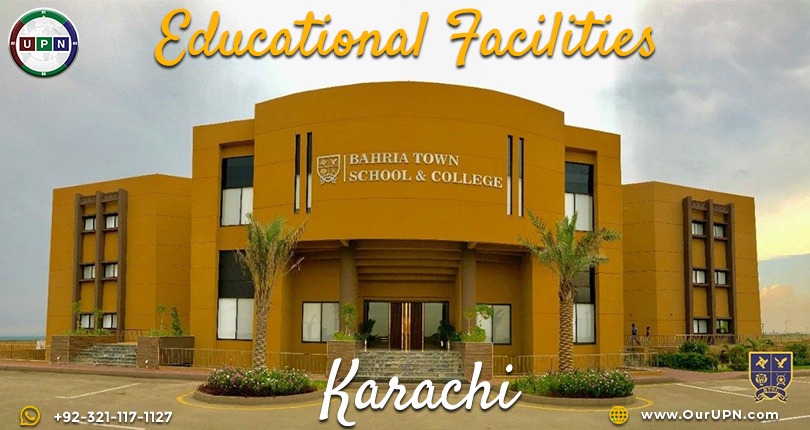 People who desire to live in Bahria Town Karachi mostly have one of the primary concerns: education. Good quality education is one of the basic necessities of life. Standard education not only educates but plays a vital role in a child's development. Undoubtedly, a welcoming educational environment and a cooperative atmosphere are essential for a child's proper character and mental development. Bahria Town understands all these things very well. Therefore, educational facilities in Bahria Town Karachi are available and of high standards.
Educational Facilities in Bahria Town Karachi – Schools, Colleges, and University
Bahria Town has made good quality education accessible to its residents. Different campuses of Bahria Town Schools are operational there, while several private educational institutes are also there.
Bahria Town International School Junior Campus is in Precinct 1; it is easily accessible after the main entrance.
The senior campuses of Bahria Town International School are located in Precinct 20 A. While travelling from Main Jinnah Avenue toward Golf City and then Avenue 19, purpose-built campuses lie on the top height.
Roots Millennium is one of the known international school schooling systems, proudly operational in Precinct 1. It is offering education till O-Levels.
Another top educational institute operational in Bahria Town Karachi is Iqra University. The state-of-the-art IU Campus is in Precinct 12. No doubt, this university has an easily accessible location.
Academies/Extra Educational Facilities in Bahria Town Karachi
People searching for academies or extra education centres should also be happy as the best institutes are available in Bahria Town. These centres are lying in:
GM Trade Center
Dominion Business Center 1
Educational Institutes Near to Bahria Town Karachi
The educational facilities in Bahria Town Karachi are good. There is no need to move out of this society for schooling and education purposes. However, those who are searching for some other good options can choose from:
Two Schools, i.e., Commander Schooling System and Kingston Schooling System, near the boundary of Bahria Town Karachi
FW School Near Toll Plaza
Schools in DHA City Karachi
While summing up all these details, we are confident that the educational facilities in Bahria Town Karachi are enough to choose it as your living place. Moreover, the branches of several other international schools will soon get operational. So, be happy and plan your investment and residence in Bahria Town by contacting us directly!
Contact us for further assistance.
Please contact Universal Property Network  For More Information click here or visit our youtube channel further assistance