Bahria EMC Lahore – A Project to Invest Now!
by UPN
October 11, 2021
0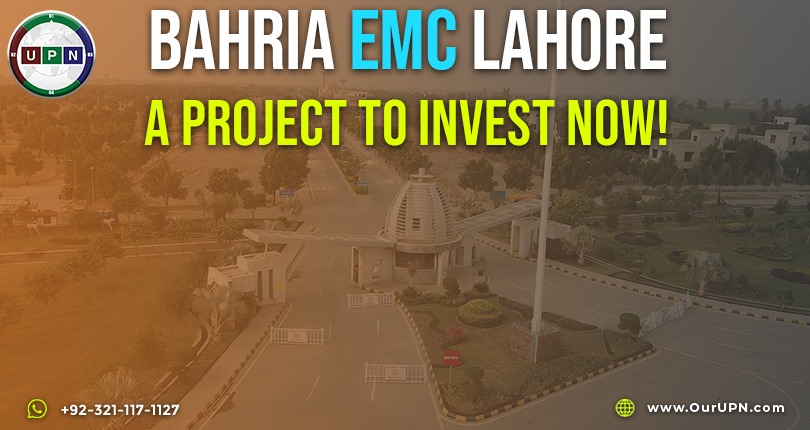 Bahria EMC is the most admirable project of Bahria Town Private Limited. It is a housing society and divided into four blocks which are remarkably designed. These blocks are alphabetically named A, B, C, and D. Bahria Education, and Medical City is growing fast and providing the best features, just like other projects of Bahria Town. It is also one of the significant branches of Bahria Town. The location, rates, and developmental status of society are forceful factors to invest in this magnificent project for future savings.
Location of Bahria EMC Lahore
The Bahria EMC Lahore location is one of its attractive features. It is located on Sue-e-Asal road. It is accessible from Ferozpur Road at a distance of 5-6 km.
Rates in Bahria EMC Lahore
The rates of A, B, C, D blocks are increasing. People who want to buy a plot in EMC can easily buy it on a limited or low budget. The people who want long-term investment or want to save their money through investment can buy plots of 5 and 8 or whatever suits them according to their budget in EMC. However, the rates of A, B, C, and D blocks are different. The plots prices in Bahria EMC are very reasonable. The prices of 5 Marla plots in these blocks are approximately 18 lacs to 26 lacs.
Moreover, the price of 8 Marla plots in A block is 26-35 lacs according to location. The B block rates are almost the same as the A block. The prices of 8 Marla plots in the C block are comparatively low such as 20-30 lacs. Hence, current prices in Bahria EMC are very accommodating.
Developmental Status of Bahria EMC Lahore
The developmental status of Bahria EMC is good and growing. There are homes in A and B blocks. Moreover, you will be able to find the commercial activities here very soon. The trademark facilities in Bahria Orchard are also available in EMC. The most prominent feature is that investment in low budget in EMC today will prove fruitful in the future.
Furthermore, the roads are complete; only a few patches are under construction. It's A Block have LDA approval, and here you have to pay all the FBR taxes. But the other block, such as B, C, D, are awaiting approval.
Conclusion
The Bahria EMC Lahore is in its growing process, and it is the right time to invest.  Moreover, the prices of plots are lower than other Bahria's projects. If you want to invest at an economical rate and earn a high profit in the future, then it's the best time.
Contact us for further assistance.
Please contact Universal Property Network  For More Information click here or visit our youtube channel further assistance