Etihad Town Lahore – Booking Details of Commercial Plots, Location and Development
by UPN
February 2, 2018
0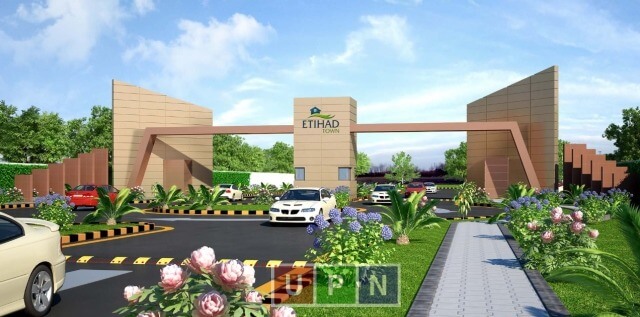 Etihad Town, the debut housing project of Etihad Holdings, has proved to be a major success as it got incredibly great response from buyers. All residential plots were booked in record 13 days which is enough to tell its huge appeal. The journey continues as development work started right after ballot and now it has picked up pace to bring the town in shape. For commercial buyers, still a few opportunities of your own choice (selecting from map) are left to be grabbed. The administration has promised to award possession to plot holders by the end of this year. One can easily judge from the pace of Etihad Town Development that society management will fulfill its all commitments.
Etihad Town Lahore Latest Development
Etihad Town is focused on fast-paced development to make it ready-to-live place for plot holders and the society will be completely on ground soon. Development and construction activities are in full swing with heavy machinery on the roll all across in this regard.

Etihad Town Main Entrance
Working at main entrance from Raiwind Road has been started and the grey structure of main gate accordingly design is almost near completion. Further face lifting and finishing would be done upon finishing concrete work.
Main 150 Ft Raod Development
The main 150 ft road leading towards residential area of Etihad Town is ready to be carpeted. It has been well rolled over and now working is under way at 40 ft, 60 ft and 70 ft wide roads adjacent to this main one. Electric polls and street lights have been installed at main 150 ft road but power supply has not been provided yet.
Electrification & Sewerage
The equipment for underground electrification and sewerage has been arrived on site. Apart from road infrastructure, electrification and sewerage work is also going parallel side by side. Water supply network and water tanks' construction is in progress as well. It would be a matter of few weeks when the area alongside main 150ft road will be fully developed in terms of road network, infrastructure, sewerage and underground electrification.
Etihad Town Commercial Plots Available
A limited number of commercial plots (4 Marla & 8 Marla) are available on first come first serve basis through authorized dealers. Booking is available at 20% down payment and rest of the amount is payable in 8 quarterly installments. Already brands like McDonalds and few others have made an entry to this approved commercial arena of Etihad Town, so it is ideal investment opportunity with flexibility of payment in 2 years installments. In the wake of property prices in Lahore, Etihad Town's commercial plot rates seem quite reasonable.
For more updates and information about realty sector, please keep visiting Universal Property Network (UPN).