Lake City Plots New Deal of 1 Kanal Plots Affordable Payment Plan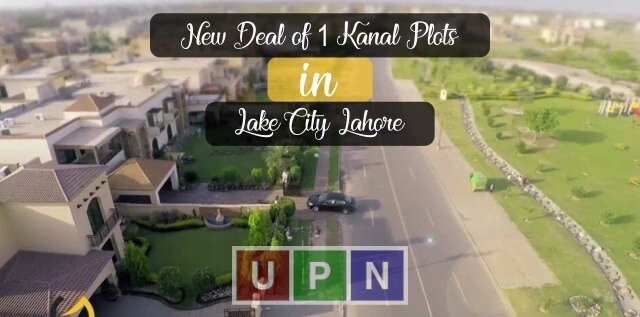 A New deal of Lake City plots is launched in 1 Kanal category. Limited numbers of 1 Kanal plots are offered for sale that are ideally located in the developed blocks of M2 and M3 in Lake City Holdings Lahore. An easy payment plan spread over 30 months is also available to pay the prices of these Lake City Plots. In case of lump sum payment, 10% discount can also be availed by the buyers from Lake City Holdings.
Lake City Plots Location
This new deal includes 1 Kanal plots of M2 and M3 sector. Located across the road from each other, both of these sectors are fully developed and ready for possession as well. Lake City Interchange of Lahore Ring Road is at a drive of 2-3 minutes from these 2 blocks. It means that if you decide to buy a 1 Kanal residential plot in this new deal, you will be able to travel to DHA Lahore, Ferozepur Road, Lahore Airport and G.T. Road within 30 minutes. A descriptive map of Lake City will help you better understand the awesome location of these plots.
These 1 Kanal Lake City Plots are situated close to the state of the art Golf Course as well. Serene and beautiful landscape will be at walking distance from your home and if you are a golf enthusiast, then there can be no better option for residence then these 1 Kanal plots in Lake City Lahore.
Lake City Plots Prices
According to this new deal of 1 Kanal plots, all the prices are set at Rs. 20,000,000. 10% amount is payable at the time of booking in the form of down payment. Rest can be paid in 10 quarterly installments. Here is the break down of flexible payment plan offered for these 1 Kanal plots:
Down Payment: Rs. 2,000,000
Quarterly Installment (10): Rs. 1,800,000
Total Price: Rs. 20,000,000
Lake City Holdings is offering 10% discount in case of lump sum payment as it is the best option for buyers who want to start construction on their new home right. With possession available for these developed plots, lump sum payment seems to be the ideal choice of payment.
Lake City Holding Features
Lake City Holdings is located on Main Raiwind Road and most of the area falling under this project is now fully developed. Just recently, Lake City hosted the unveiling ceremony of FIFA World Cup Trophy – an event that was attended by more than 50,000 people. Hundreds of families are already living in this grand housing scheme that is filled with family-friendly facilities. All the basic necessities are available for residents and this 1 Kanal plots deal is an ideal opportunity to build your future home in this luxurious housing scheme.
Contact Universal Property Network now, if you are interested in this 1 Kanal deal of Lake City plots. We have already assisted dozens of customers to buy an ideally located plot in Lake City Housing Scheme.