Why the Prices of Property Increasing in Bahria Town Karachi?
by UPN
January 21, 2021
0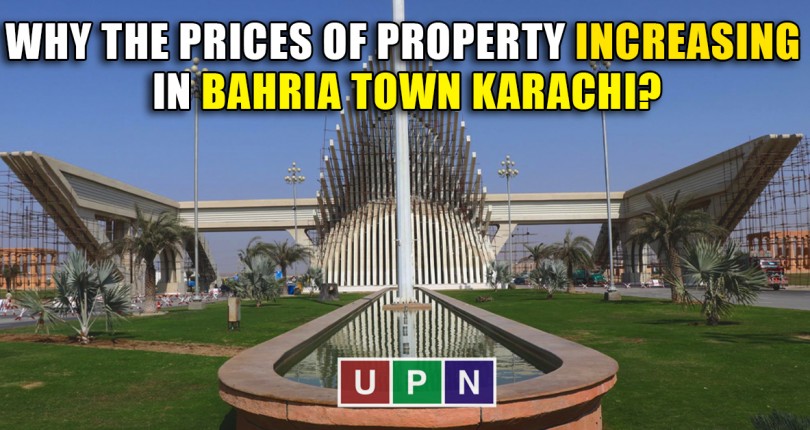 The prices of property have started increasing in Bahria Town Karachi. The rates for the plots, villas, and apartments are increasing day by day. Even the prices of properties launched by private builders are also revised. So, here the question is that what is the reason behind the sudden increase in prices? Which factors are affecting the prices of properties in Bahria Town Karachi? Today, in this latest blog, we will discuss the major reasons and upcoming announcements directly or indirectly influencing Bahria Town Karachi's property prices!
The Launch and Completion of Different Commercial Projects
One of the most significant reasons behind the increasing prices of Bahria Town Karachi properties is different commercial projects. In the last few months, we have noticed that many private builders have launched their commercial or mix-used projects. These projects are announced on bookings on the several locations of Bahria Town Karachi. Commercial properties such as shops and offices are available in them.
Additionally, the announcement of possession in some of the on-going projects is also playing its part. Possession of shops and offices in many high-rise projects is announced, which means that soon there will be more commercial facilities in Bahria Town Karachi.
Opening of Shopping Galleries and Different Super Markets
The year 2020 was indeed a great year for Bahria Town Karachi. Its management has completed different shopping galleries, even some of them are operational. So, in simple words, more will be the commercial facilities, more people will attract to live in this mega community.
The Announcement of Dolmen Mall in Bahria Town Karachi
Any Bahria Town official does not yet confirm this news; however, different authentic sources have confirmed it. Yes, Dolmen Mall, which is the most prominent name in Karachi's shopping malls, is launching soon in Bahria Town Karachi. This project's location is expected in the proximity of Bahria Town Head Office.
This is indeed big news that has shown its direct impact on the property prices in Precinct 4, Precinct 6, and Liberty Commercials. More and more investors are ready to buy the commercial and residential plots nearby as Dolmen Mall's development will be a major attraction of Bahria Town Karachi.
Opening of a Super Market and Shopping Gallery in Precinct 19
The prices of two-bed apartments of Precinct 19 were ranging between 50 lacs to 65 lacs from one year. Both the general and category apartments were available in this price range. But with the opening of a supermarket and a shopping gallery, Precinct 19, the prices of apartments are increased. Now, these apartments are available in the price range of 70 lacs to 85 lacs.
The High Demand of Properties in the Projects by Private Builders
Several good names are working brilliantly on their commercial and mix-used projects. Most of these are high-rise building projects where the apartments, shops, and offices are available for sale. These projects by the private builders also come with the facility of file adjustment. The affectees of Bahria Town are confidently merging their disputed files in them, increasing the demand for property in them. So, in short, higher will be the demand, high will be the prices.
Expected Shifting of Bahria Town Head Office
Also, there is some news that Bahria Town is soon shifting their head office in Precinct 26A. This transfer of the head office to Precinct 26A will definitely increase the demand for property in the precincts nearby. Prices of plots in Precinct 27, Precinct 28, and Precinct 29 will for sure go high.
Overall, the real estate forecast 2021 also shows that property prices will continue to go high in the first six months of this new year. If you plan to buy any of the properties in Bahria Town Karachi, do contact Universal Property Network before the prices go much high.
Do make an affordable deal by contacting Universal Property Network  now. For More Information click here or visit our youtube channel further assistance