Fazaia Housing Scheme Gujranwala Announces 100% Surcharge Waive Off
by UPN
July 25, 2018
0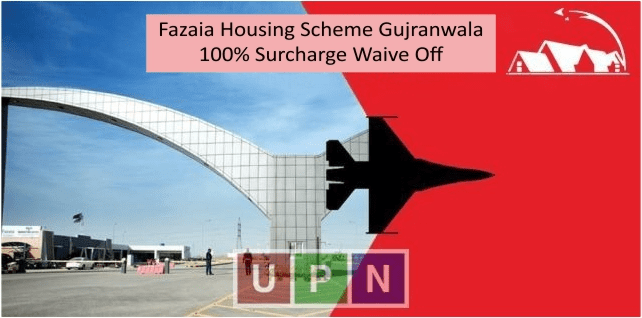 Fazaia Housing Scheme Gujranwala, which is a joint venture of Fazaia Housing and Samhan Group, is on road to development. Some significant proceedings in the past have been quite helpful to restore the investors' interest. It includes the development of plots, groundbreaking of Grand Masjid and delivery of possession of Falcon Commercial. These were termed and advertised as the biggest happening of Fazaia Housing Scheme Gujranwala in the press. Now to serve its clients and to safeguard their interest Fazaia Housing Scheme Gujranwala has come up with relief for them.
Fazaia Housing Scheme Gujranwala Surcharge Waive Off
There is good news for all those files holders who could not pay their due installments on time. Fazaia Housing Scheme has announced 100% waive off of late payment surcharge on installments for all customers. All those who have not submitted their installments yet are directed to pay it till 14th September without any surcharge. However in case of non-payment of due installments surcharge will be applicable after the mentioned date. The administration has given this offer to customers for ease in paying their pending installments without any additional charges.

Installment Completion Certificate
After paying due installments, Fazaia Housing Scheme Gujranwala will issue Installment Completion Certificate in name of file holder. This certificate is key for plot transfer and other procedures in future.
Fazaia Housing Scheme Gujranwala Contract with NESPAK
For development, it has signed a contract with reputed firm National Engineering Services Pakistan (NESPAK) for project consultancy.
Fazaia Housing Scheme Gujranwala Balloting
As soon as the town planning gets completed by NESPAK, the balloting of Fazaia Housing Scheme Gujranwala will be held. This will be a huge milestone for the project which will bring more investments in future. We can also expect a rise in its plots prices with progress of development work and balloting update.
For more updates of real estate, stay connected with Universal Property Network (UPN).