Fruitful Investment in Bahria Town Karachi
by UPN
March 4, 2022
0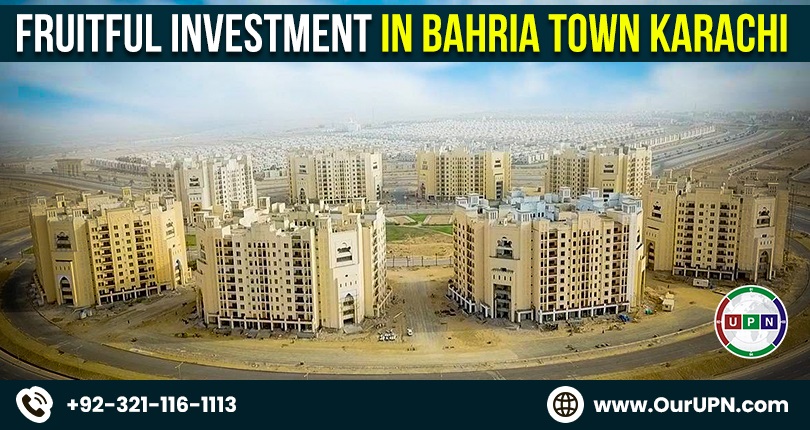 Bahria Town Karachi is a state-of-the-art, mega housing project in the city of lights. It's the only residential community where investors and buyers confidently invest their capital. Located ideally, this project plays a vital role in the overall real estate market of Karachi. Full of options and the latest opportunities for investment, Bahria Town is equally beneficial for residence and profits generation. However, many of its property's prices are high as they are already at their peak. So, what to do if you are looking for fruitful investment in Bahria Town Karachi, where you can earn quick returns? Then, stay in touch with us and keep on reading.
UPN brings you the latest details of plots options available at prime locations and at affordable rates. Most importantly, we will share the information of precincts that are the part of Old BTK where buying is 100% safe and profitable.
Fruitful Investment in Bahria Town Karachi
The precincts of this beautiful housing society where you can invest happily in 125 sq yards, 250 sq yards, and 500 sq yards residential plots are:
Precinct 32 Residential Plots of 250 Sq Yards
This impressively designed precinct is located on the drive of 10 – 15 minutes from Bahria Town's main entrance. Precinct 32 location is outstanding, as it lies close to several major attractions of this mega venture. It offers the best plots of 250 sq yards in the price range of 70 lacs to 85 lacs. The prices of the plots depend on the location and category. However, the launching price of the plots was 28.50 lacs.
Currently, buying in this beautiful precinct is recommended because of the heightened location and impressive views. The surroundings of this precinct are beneficial as lying close to Rafi Cricket Stadium. Moreover, it's a Sports City Villas facing precinct offering plots at reasonable rates.  
Precinct 25 Residential Plots of 125 Sq Yards
If you are searching for an affordable but ideal location precinct with 125 sq yards plots, then, Precinct 25 can be the perfect option. This precinct is located in the surroundings of Precinct 27. The distance of Precinct 25 from the Bahria Town main entrance is also short. This appealing development also offers a range of 125 sq yards residential plots launched at the price of 17.25 lacs. However, the latest prices of the plots are starting from 48 lacs to 56 lacs. Plots available in this precinct are park facing, corner, and semi corner. The location of this precinct is near Sports City Villas.
Moreover, the construction of houses can be seen on the site. The prices of the plots are reasonable, while the possession charges on these plots are 2.18 lacs only. It's a beautiful precinct where buying is 100% profitable.
Precinct 28 Residential Plots of 125 Sq Yards
People with desires to get the best plots of 125 sq yards can easily buy them in Precinct 28. The biggest attraction of this precinct is Bahria Dancing Fountain. Also, the villas of Precinct 27 are lying nearby. The iconic Eiffel Tower is also at a short distance. Precinct 28 offers residential plots of 125 sq yards in the price range of 55 lacs to 75 lacs. The prices of the plots are different as per the location. However, these rates will surely increase once the construction begins. It's an impressive precinct with an eye-catching view of the Golf Club.
Furthermore, it's a fruitful investment in Bahria Town Karachi. Because once the villas of Precinct 27 are completely occupied, people will surely prefer buying and construction in the beautiful Precinct 28.
Conclusion
All these above-mentioned precincts of Bahria Town Karachi are attractive to choose from. However, considering one option over the other is completely your choice. The residential plots in Precinct 32, Precinct 25, and Precinct 28 are equally suitable for fully-facilitated residence and investment gains.
So, don't wait and contact us before the best options are sold out!
Please contact Universal Property Network  For More Information click here or visit our youtube channel further assistance