Ghouri Block Bahria Town Lahore – A Round-Up
by UPN
December 10, 2018
0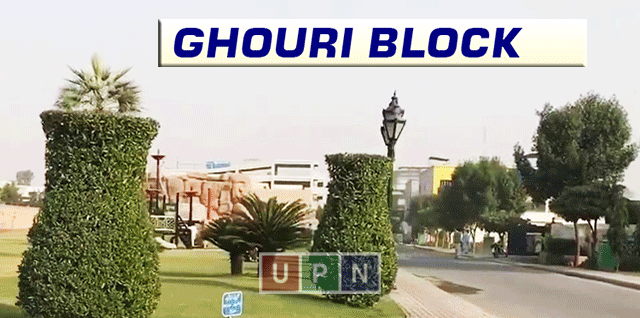 Ghouri  Block is located at the ideal location of Bahria Town where all the basic and luxurious facilities have beautifully surrounded it. Ghouri Block Bahria Town Lahore is completely developed block. About 90% of the area is populated and families are enjoying a peaceful atmosphere that is the utmost desire of every resident. Ghouri Block is wonderfully designed with the plots of three categories. Plots of 10 Marla, 1 Kanal and some plots of 2 Kanal are available in Ghouri Block.
The amazing facilities and countless attractions have made this block the hot-favorite one for families. It is one of the best blocks of Sector-B that is located close to the Main Hospital of Bahria Town Lahore. There is a proper commercial area in Ghouri Block where different restaurants, marts, and other shops are available for you. Let's check out the further details.
Location Overview and Amazing Attractions
Ghouri Block is located in Sector B of Bahria Town Lahore.
There are two main approaches of Ghouri Block. One is from the Main Entrance of Bahria Town Lahore. Moving left from the Mor Chowk, the very first block is Ghouri Block.
The second main approach is from the crossing the Main Bahria Hospital.
Ghouri Block is located attached to Bahria Meadows.
Safari Villas Bahria Town Lahore are also located at the drive of one minute from the Ghouri Block.
In attractions, an operational Cinema, food court, Commercial area, Many Parks, Bahria Meadows Lahore and the Main Bahria Hospital is positioned at the walking distance of Ghouri Block.
Limited Number of Plots and Updated Prices
Ghouri Block is highly recommended to end-users. A limited number of plots is available in this block that is served on first come first serve basis. Basically, the plot cuttings of 10 Marla, 1 Kanal, and 2 Kanal residential plots are available in Ghouri  Block.
10 Marla residential plots are available at the starting price of 90 lac to 1.15 crores.
1 Kanal residential plots are available at the starting price of 1.40 crore to 1.85 crores.
2 Kanal residential plots are available at the minimum price of 3.50 crore to 4.15 crores.
Only the limited numbers of plots are available that is a big opportunity for those families who desire to have the best entertainment and all the other facilities in their surroundings.
Ghouri Block – Best for Luxurious Residency
This beautiful block of Sector B is amazingly designed with top-notch facilities and the world-class features that makes it's best for residence. The prices of the plots are higher as compared to other blocks of Bahria Town. The reason for the higher rates is that the area is all designed with almost everything that a resident can dream in its surroundings.
So let's avail the opportunity and buy your plot at the most luxurious place of Bahria Town Lahore. For further details contact Universal Property Network.