Golf View Residencia Phase 3 Launch & Balloting – Bahria Town Lahore
by UPN
February 7, 2018
0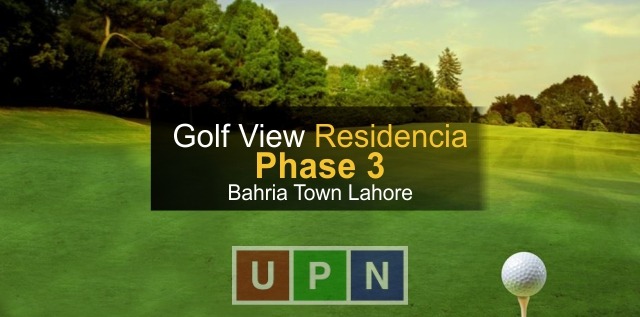 One of the most exciting news has come from the arena of Bahria Town Lahore that Golf View Residencia Phase 3 has been launched. Not only this launch happened but also management has done with the balloting of the mentioned phase. As Phase 1 and Phase 2 of Golf View Residencia (GVR) are on way to fast-track development which is near completion, this indeed is a sigh of relief for the affectees of this particular project of Bahria Town Lahore. These were the people who paid 2 installments on time then in 2013 and Bahria Town fulfilled its commitment of plots allotment to them. From then to till now, their entire payable surcharge has been waived off.
Golf View Residencia Phase 3 Balloting
As per information received, Golf View Residencia Phase 3 comprises of only 10 Marla plots for which the balloting has taken place. The plot number has been allotted to the files.
Location of GVR Phase 3
The Phase 3 of GVR is located at the southern side of Bahria Town Lahore nearby boundary wall opposite to Ring Road. The direct access to Lahore Ring Road will be a major plus point for the residents of this phase. Phase 1 and Phase 2 of this project are already positioned alongside Ring Road on each side. We will share Map of GVR Phase 3 with our readers in future as soon as it is released officially.
Golf View Residencia Phase 3 Development
As the development work in this zone is going on at rapid scale, so machinery has been arrived to the Phase 3 site yesterday. The commencement of development right after ballot is great news for plot holders here.
Golf View Residencia Phase 4
For the remaining affectees of Golf View Residencia who have not paid their due installments till now, Bahria Town will come up with Phase 4 of GVR. It will be last of the GVR phases which will consist of 10 Marla and 1 Kanal plots.
Latest Development Update of GVR Phase 1 & Phase 2
GVR Phase 1 is almost on ground now and its possession is expected soon after completion. On the parallel side, 60% of development work has been completed in the Phase 2 of Golf View Residencia. Initially, the administration decided to develop it phase wise so the focus of development was tilted more on Phase 1, but now Phase 2 and Phase 3 development would go on side by side.
For more updates, please subscribe our newsletter.