Grand Jamia Mosque Karachi – Development Status & Features
by UPN
November 25, 2017
0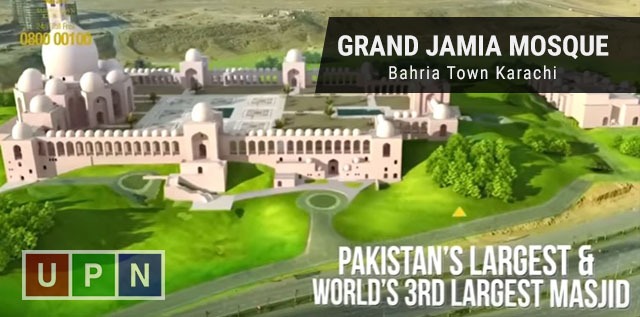 Grand Jamia Mosque of Bahria Town Karachi is rapidly completing its various stages of development. Once completed, it will become the 3rd largest mosque in the world, right behind 2 Holy Mosques in Saudi Arabia. With a capacity to house 8 lakh Muslims at the same time to offer prayer, Grand Jamia Mosque is going to be a true crown jewel of not only Bahria Town Karachi but entire Pakistan.
Grand Jamia Mosque Location
Grand Jamia Mosque will be located in the heart of Bahria Town Karachi. It will have centralized location relative to all major projects of Bahria Karachi like Bahria Paradise, Bahria Sports City, Bahria Golf City and Midway Commercial. 400 ftwide Jinnah Avenue that runs next to Grand Jamia Mosque makes approach easy for entire populace of Bahria Karachi to the grand landmark.
Grand Jamia Mosque Features
Grand Jamia Mosque of Bahria Karachi will have distinctive features to make it a true representation of Islamic grandeur and spirituality.
Covers 200 acres of land
Constructed on a 60 ft. high hill, which gives it greater visibility from miles away.
150 feet high steel structured dome – Tallest Dome in Pakistan
350 ft. long minaret
Separate basement in Grand Jamia Mosque that will be solely dedicated for females to offer their prayers.
Pakistan's largest concrete structure is built for the mosque
Natural flow of breeze, light and sound ensured within the infrastructure and design of mosque
Contains 500 arches and 150 domes
5 million sq. ft. marble will be used in the construction of Grand Jamia Mosque.
5 colossal entrances based on Mughal Style of Architecture.
12 Unique types of Natural Stones and titles are being used, that are originally extracted from Lasbella, Balochistan.
Central Hall of Grand Mosque will be able accommodate 40,000 people at a time
Kofi Calligraphy used in addition Sindhi styled wood work and Glass art.
In addition to being a mosque and landmark of Bahria Town Karachi, Grand Jamia Mosque will also consist of:
Islamic Community Center
Library containing 500,000 Books
Islamic Museum spread on 200,000 Sq. ft area
Audio Visual Auditorium with over 700 Seats
Grand Jamia Mosque Development Status
Construction of Grand Jamia Mosque was started in 2015. Thousands of engineers, masons and laborers are working day and night on completing the grand undertaking. Development has reached 50-60% completion and the grand structure is visible from miles away. Modern day technology and machinery is used in the development of Grand Jamia Mosque of Bahria Town Karachi.