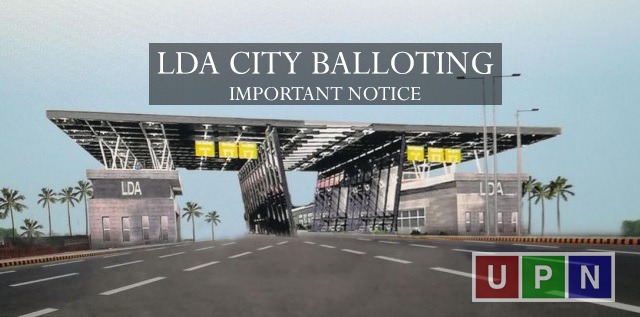 Lahore Development Authority will conduct balloting for plot files of its grand housing project LDA City very soon. The news surfaced today as a notice from authority published in today's newspapers subjecting allotment of plot numbers through ballot. LDA has clearly mentioned in this press notice LDA City balloting will take place in the start of next year. Addressing plot-file holders, director LDA City has defined and explained eligibility criteria for balloting in this notification.

LDA City Files to be Included in Balloting
The administration has made it clear about files that will be considered for balloting. As Exemption Files and Intimation Files for LDA City plots are available in the market, LDA City management has categorically explained and guided about everything through this notice to avoid confusion.
Only those files will be included in the balloting for which LDA has issued exemption letters.
All plot-files holders who don't have exemption letter against their files are directed to contact their developers immediately for issuance of required letter from LDA. Otherwise their files won't be included in the upcoming balloting of LDA City.
All buyers can check and confirm validation of their files through LDA official website. All data of LDA City files is available on website to ensure transparency and highest level of trust.
In case if any file holder's name is not available on website, he/she must submit a written complaint along with all relevant documents to Director LDA City by 31st December, 2017.
LDA City Development Update
Earlier, LDA had decided to develop the whole LDA City overall but plan changed later on with gradual development of Phase I and Phase II. Further, it moved on to sector wise development as Phase 1 is divided into five sectors and Phase II comprised of four sectors. Currently, the development is in full swing in Sector V, Phase 1 of LDA City and most probably the first balloting will held for this Phase.
LDA City Updated Plot Prices
Following are the updated buying and selling prices of LDA City exemption and intimation files.
| | | |
| --- | --- | --- |
| Plot Size | Buying Price | Selling Price |
| 5 Marla | 15.4 Lacs | 15.6 Lacs |
| 10 Marla | 23 Lacs | 23.25 Lacs |
| | | |
| --- | --- | --- |
| Plot Size | Buying Price | Selling Price |
| 5 Marla | 15 Lacs | 15.25 Lacs |
| 10 Marla | 23 Lacs | 23.25 Lacs |
| 1 Kanal | 36 Lacs | 36.5 Lacs |