Gwadar Golf City 8 Marla Commercial Plots – Booking Details and Price Update
by UPN
August 27, 2018
0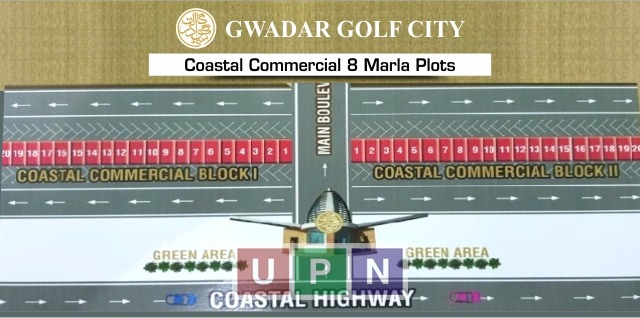 Gwadar Golf City has recently launched commercial plots after huge success of its residential plot cuttings. The Mid Rise Commercial plots of 4 Marla which were recently offered for booking, got overwhelming response. The management had announced to offer 8 Marla commercial as well at that time but no details were unveiled. Now the commitment has been fulfilled by the management of Gwadar Golf City as its 8 Marla commercial plots have been launched. It is highly expected that these plots will get booked instantly as Gwadar Golf City is so far on top of the list of Gwadar Real Estate projects.
Gwadar Golf City Coastal Commercial – 8 Marla Plots
The 8 Marla commercial plots of Gwadar Golf City has been launched as 'Coastal Commercial' with respect to their premium location. These plots are ideally located facing main coastal highway and available in limited number. These plots are located right after the entrance (main gate) and are divided in two blocks Coastal Commercial Block 1 and Coastal Commercial Block 2.

Coastal Commercial Block 1 and Block 2
Coastal Commercial Block 1 and Block 2 of Gwadar Golf City comprises of 20 commercial plots of 8 Marla each. All these plots are double side open which is an added value and the wonderful location makes it even more promising opportunity for commercial investors.
Gwadar Golf City Coastal Commercial 8 Marla Plot Prices & Booking Details
8 Marla commercial plots prices are reasonable but not available on installments like Mid-rise commercial plots of 4 Marla. Gwadar Golf City has launched these 8 Marla plots at Rs. 30 Lacs and it will be available on upfront payment. The processing fee for coastal commercial 8 Marla plots is Rs. 35,000 and the price mentioned is just cost of land. Development charges will have to be paid later on when these plots will be on ground.
Coastal Commercial Plots of Gwadar Golf City – Documents Required for Booking
To book these commercial plots in Gwadar Golf City, following documents are required.
Passport Size Photographs (2)
CNIC/NICOP/ Copy of Passport of Both Owner and The Nominee
Coastal Commercial 8 Marla Plots – Ideal for Investors
These 200 sq. yards plots are ideal for investors for many reasons and facing main coastal highway is one of them. The double-side open plots are suitable for any type of business and can earn you handsome profit in return. The project name and BSM developers itself guarantees that it would turn out to be a profitable investment opportunity.
For more updates and information, keep visiting Universal Property Network (UPN).